Jewelry Anniversary Gifts For Every Year
Written by Anna Currell
November 21, 2022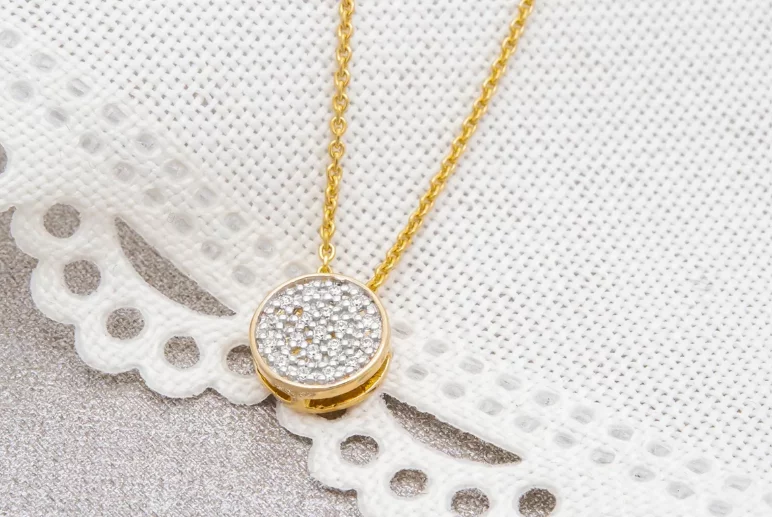 Stumped about what to get your sweetheart for this year's anniversary gift? We can help! Whether you've been together for one year or sixty, there's a perfect piece of jewelry to help you commemorate the time you've spent together. Traditional anniversary gifts center around a specific material for each milestone year; let's explore the best ways to incorporate those themes into modern jewelry gifts that your partner will wear and love.   
Traditional Anniversary Gifts
In this tradition, each anniversary year correlates with a specific material or theme that's supposed to be incorporated into a present. The practice of giving anniversary gifts that tie each year to a specific material may date all the way back to Ancient Roman times, but there's not a lot of evidence proving exactly how the custom began. It became popular in the 1800s, and has morphed a lot in the centuries since. The idea is that the gifts grow in value as a relationship matures. But you don't have to take each milestone literally; using symbolism is a great approach to these anniversary gifts because you'll be able to play on the theme to make it work for you.
Jewelry Anniversary Gift Ideas
With a little creativity, you can stay true to tradition while still adding your own personal flair; here are some of our favorite jewelry anniversary gift ideas for each year:
Year One: Paper
Your first anniversary is a special one! Instead of handing them a card and calling it a day, get your partner something that they can wear often while still honoring the paper theme: consider gifting a paper clip pendant necklace (like this one from our sister brand, Miki & Jane) or a simple paper clip chain bracelet. These styles play on the tradition of paper without taking it too literally, and they're both subtle enough for everyday wear and unique enough to make for a memorable present.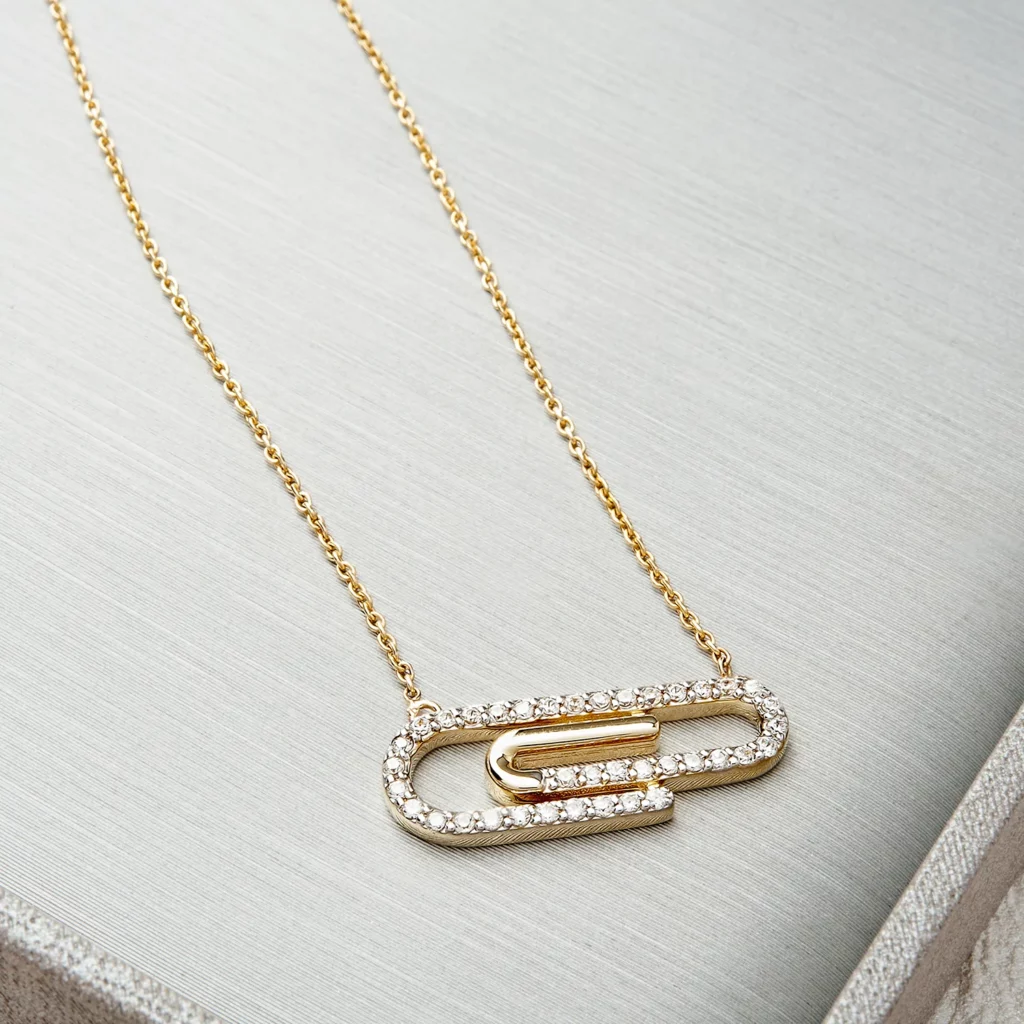 Year Two: Cotton 
Since cotton isn't a material normally used in jewelry, year two is a chance to really think outside the (jewelry) box. Find a piece of jewelry that your partner will love, and then include a cotton polishing cloth as a nod to the traditional anniversary theme. You can even embroider the cloth with a custom phrase, your wedding date, or your partner's name. We recommend using a polishing cloth every time you wear your jewelry as standard practice, so having a beautiful one on hand is extremely practical.
Year Three: Leather
There are plenty of interesting pieces of jewelry made from leather: lightweight earrings, braided bracelets, and lariat necklaces, for example. But if you're looking for a timeless gift that your partner can wear every day, look for an elegant leather watch band. To go the extra mile, you can get the watch engraved with something meaningful, too. 
Year Four: Fruit or Flowers 
To incorporate flowers in your fourth anniversary gift, go for a completely custom piece of jewelry. Find your partner's favorite flower or the same bloom from your wedding day and suspend a few petals in a resin pendant. Not only will this create a beautiful design and a completely unique piece of jewelry, but it will also preserve your precious memories for your partner to think about each time they wear it. 
Year Five: Wood
After five years of gifts, your partner is going to need somewhere special to keep all their jewelry! For the anniversary theme of wood, consider buying a wooden jewelry stand or dish so your partner can display all their precious pieces and the memories that they represent.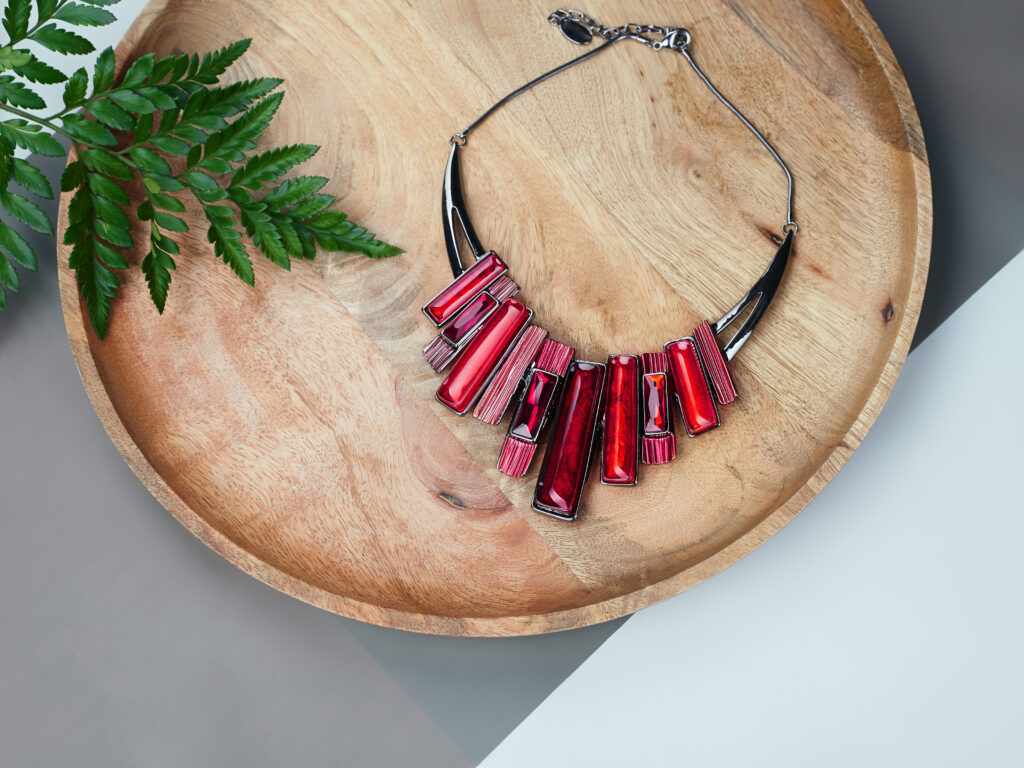 Year Six: Iron 
Traditional sixth year anniversary gifts might come in the form of household gifts like cast iron skillets or even iron sculptures. With jewelry, you can go literal or get creative: an iron bracelet engraved with a meaningful symbol, a simple solid iron ring, or a pendant engraved with Iron & Wine lyrics. 
Year Seven: Copper 
For year seven, look for a beautiful copper medallion or a lucky penny pendant that your loved one can hang from their favorite necklace or chain. Malleable copper bracelets are also an interesting choice, and copper coins are often fashioned into rings in unexpected ways. Lots of jewelry uses copper as a base metal, but keep in mind that this material is a common irritant for people who have metal allergies, so be sure to find out if your partner has any sensitivities first. 
Year Eight: Bronze 
Bronze lends itself to a more classical style of jewelry often inspired by ancient times. Find a vintage locket that already has a lovely patina, or look for an ornate bronze jewelry box for an elegant way to store jewelry. Jewelry boxes are a great way to keep jewelry safe and protected, not to mention that they're beautiful in their own right. (Bronze often contains copper, so be sure to follow metal sensitivity advice for bronze as well.)
Year Nine: Pottery 
Just like jewelry, pottery can come in all colors, shapes, and sizes. Instead of a traditional gift of a vase or pot, consider a pair of clay earrings or jewelry made with clay beads. Clay jewelry often leaves room for more interesting textures and patterns that can add a whole new flavor to a classic jewelry collection.
Year Ten: Tin or Aluminum 
Instead of buying jewelry made of tin, a more creative option to celebrate this anniversary is to look for a horseshoe pendant. Historically, horseshoes were made of aluminum and were believed to symbolize luck and protection. That keeps you on theme for year 10 with the added bonus of a little wearable magic to boot!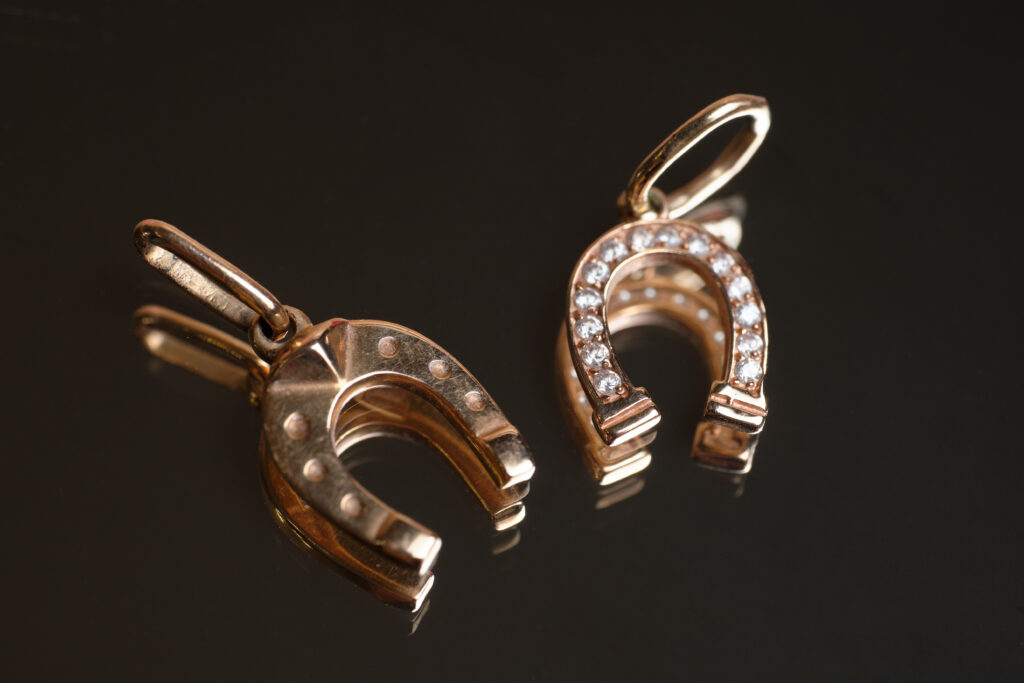 Year Fifteen: Crystal 
While crystal anniversary gifts normally take the shape of delicate drinkware or home decor, you can make your gift a little more portable if you look for crystal jewelry. There are all kinds of crystals to choose from, and many people believe that each kind has a specific meaning. Whether you choose a crystal based on its significance (like opal for luck and happiness, or jade for longevity and health) or based on its color, this gift will be one to remember. 
Year Twenty: Porcelain
Instead of traditional dishware, look for lovely patterned earrings that resemble the floral designs you might find on an antique porcelain vase or tea set. A glossy-textured and enamel-coated pendant that is reminiscent of elegant porcelain is a beautiful way to honor the twentieth year anniversary theme without getting too old fashioned.
Year Twenty-Five: Silver 
Turning the silver anniversary tradition into a jewelry gift unlocks endless possibilities: sterling silver can be made into a fine bracelet, a pair of delicate earrings, or a shiny pendant. You can go trendy, classy, minimal, vintage, or bold with this kind of gift, so it'll be easy to find a piece that matches your partner's style. 
Year Thirty: Pearls 
Pearl jewelry can come in so many shapes, colors, and styles. You can find classic pearl earrings, rings, necklaces, and bracelets in either shimmery white or dark opalescent colors. Pearls are an elegant and timeless choice for jewelry, and a beautiful way to celebrate three decades together.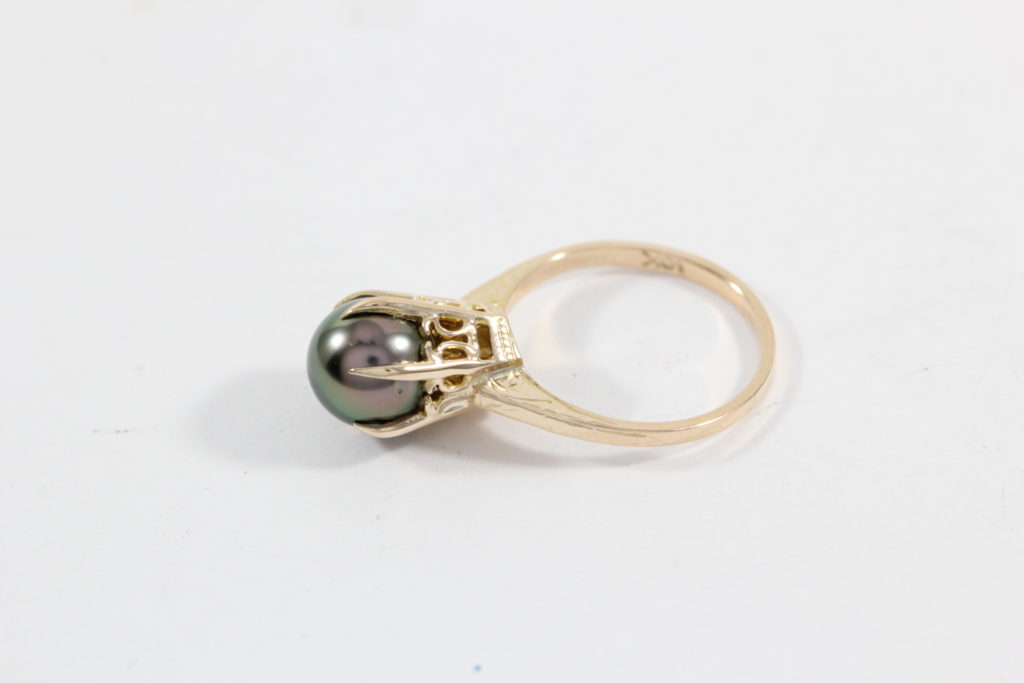 Year Thirty-Five: Coral
There are a lot of gorgeous pieces of jewelry that use ethically sourced coral or substitute the real thing for bright coral-colored enamel. Traditionally, the color we think of as coral is a bold orangey red that makes for a dramatic statement necklace, chunky bangle, or pair of drop earrings.
Year Forty: Ruby
Rubies are known for their romantic red color and are more durable than other precious gems, which makes them a nice metaphor for 40 years of marriage. Find a delicate ruby necklace set in silver or gold, or a bright pair of ruby earrings that will frame your loved one's face. Ruby is the birthstone for July, which could make an even more meaningful gift if your partner's birthday or your wedding anniversary falls in July. 
Year Forty-Five: Sapphire
Did you know sapphires come in many different colors, and are technically the same stone as rubies? The most popular variety of sapphire is a deep blue color that has given the special its sophisticated look and reputation (think Titanic's Heart of the Ocean). To celebrate 45 years of romance, find a special piece of sapphire jewelry that your partner will associate with your many years together. Bonus points if you're celebrating in September; sapphire is the September birthstone!
Year Fifty: Gold
The best part about gold jewelry is that it is easy to come by, so you can always find something that fits your partner's taste. Hammered thin, smooth matte, or diamond-studded; the options are endless. And if your partner isn't crazy about traditional yellow gold, you can always choose a white gold, a more unique rose gold, or even gold jewelry with rhodium plating.
Year Fifty-Five: Emerald
Emeralds have a gorgeous green color that looks lovely in many types of jewelry. The gemstone pops against silver or gold settings, and looks great paired with neutral-colored pearls or diamonds. You can select a special emerald ring or a lovely pair of emerald earrings, like these dangling hoops from Miki & Jane.
Year Sixty: Diamond
We hope every love lasts over 60 years. You have so many options for this theme — find an everyday piece like a stunning pair of diamond stud earrings or an elegant diamond tennis bracelet, or go glam with a bold diamond cluster ring or dramatic drop earrings. Whatever you choose, you can't go wrong with the classic sparkle of diamonds.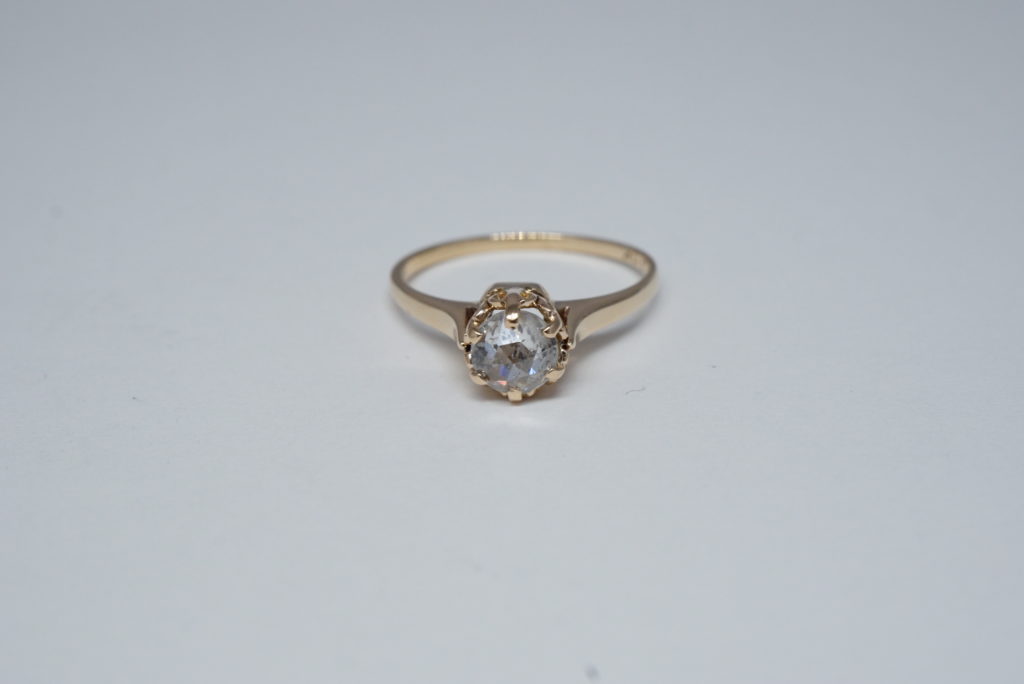 Be sure to take good care of your beautiful anniversary jewelry; just like your relationship, it requires TLC. In addition to daily care, we recommend having your jewelry professionally polished and cleaned every six months to keep it lasting as long as your love. As your relationship grows, your jewelry can also grow with you; check out our chain lengthening or shortening, ring resizing, or earring back conversion services to make sure your precious gifts evolve along with you over time.