A Guide to the Minimalist Jewelry Trend: How to Shop It and Style It
Written by Anna Currell
October 14, 2022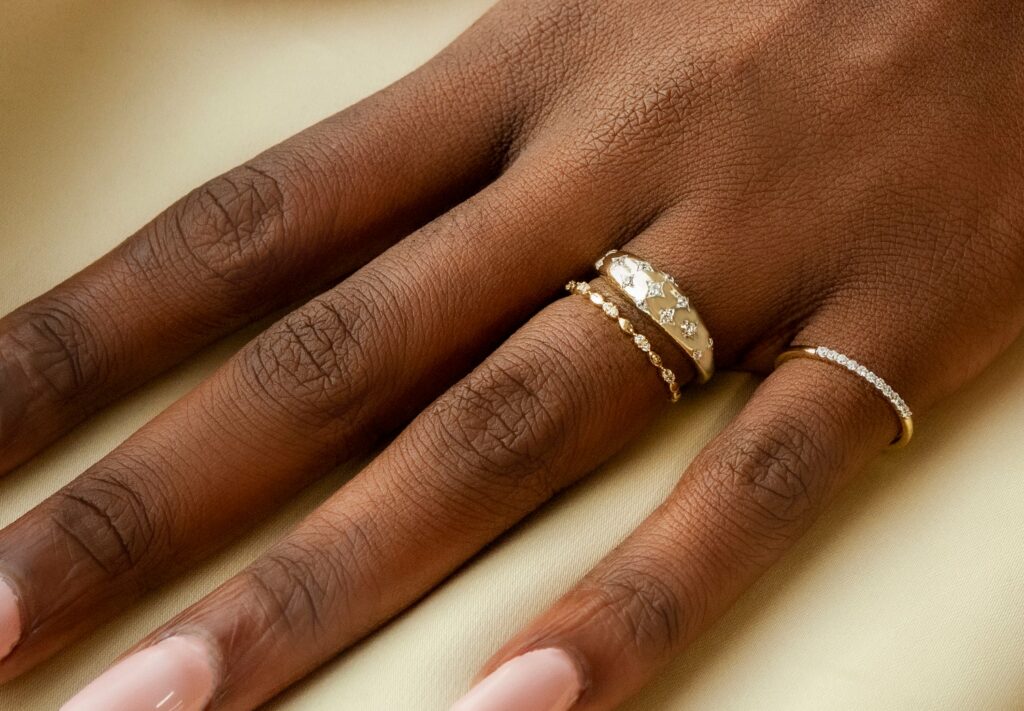 Minimalism is a trend across many realms; from fashion to home decor and everything in between, there are so many ways to simplify in a stylish and intentional way. That's why minimalist jewelry is more than a passing fad; it's timeless, flattering, and endlessly adaptable, giving it the staying power to last longer than a single season. Here's what you need to know about minimalist jewelry and making minimalism your own:
What is Minimalism? 
Minimalism is about making things simpler. In the art world, minimalism manifests as sparsity and restraint; artists often limit the materials or colors they use to create a dramatic impact with less. Minimalism can also be a way of life; some people commit to paring down their possessions in order to create a lifestyle free of complications and clutter. How much do we really need, after all?
When it comes to jewelry, the minimalism trend can borrow from both of these definitions. You may have heard Coco Chanel's rule about taking off one thing before you leave the house — it's a friendly approach to jewelry minimalism since it's relevant no matter how much you started wearing in the first place. If wearing fewer items doesn't feel right for you, another approach is to opt for uncomplicated, sleek pieces so you can wear as many as you want without feeling like you've lost the minimalist vibe. There are so many ways to interpret and utilize this trend; make the minimalist mentality work for you!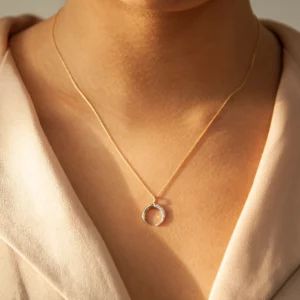 How to Shop for Minimalist Jewelry
Did you know that on average, adults make more than 35,000 decisions every single day? That's a lot of decisions, and you can save some of that energy by investing in minimalist jewelry staples that you don't have to consider when getting dressed. One way to achieve the minimalist jewelry trend is to build a capsule jewelry collection. By finding a go-to piece for every category of jewelry, you will have what you need to accessorize any outfit effortlessly. Having staple minimalist pieces on hand to complete your outfit will help minimize your decision fatigue and let you focus on the things that really matter throughout your day. Here are some ideas for minimalist jewelry staples to add to your collection: 
Huggie earrings:

Huggie earrings are tight little hoops that fit snugly to your earlobe. They're an excellent minimalist item because they add a polished accent to your outfit without taking it over; they're a simple but effective way to complete a look. They're also versatile: you can wear them on their own, or you can add cuffs, studs, or more huggies along your ear to create a more dynamic minimalist look.

Necklace strands:

A few dainty necklaces are an excellent minimalist addition to a capsule collection. The

layered necklace trend

is a great way to try out the minimalist approach; try mixing and matching different necklace lengths together for a variety of combinations.

Stacked rings:

Stacked rings are a stylish way to keep it simple while adding your own unique

 flare. Stocking your collection with a few different types of rings will unlock tons of combinations: midi rings, tube rings, baguette rings, and textured gold bands are really simple and classic touches that can balance out flashier rings and gemstones.
Dainty bracelets:

Pairing one or two dainty bracelets is another way to pull off the minimalist look while still making a statement. Select a bold golden cuff that goes with your necklace or earrings, or choose a variety of delicate slim chains to adorn your wrist.
How to Style Minimalist Jewelry
Now that you have some ideas for minimalist jewelry to add to your collection, let's talk about how to wear it. Here are some ideas for how to achieve your own minimalist look:
Go for the Geometric Approach
Choosing geometric patterns in your jewelry is a great way to embody the spirit of minimalism in art; a bold but simple shape draws attention and makes a big impact with just a few lines. Try a simple pair of triangle earrings, a hexagonal necklace, or a square bangle.
Mix It Up with Texture and Color
Minimalism doesn't have to be boring! Simplifying your look can mean decluttering your style, but it doesn't have to take all the fun out of jewelry. Look for interesting materials, shapes, and patterns that can add a subtle statement to your outfit, or throw in a splash of color. Paring down your options gives you an opportunity to pick individual pieces that really pop.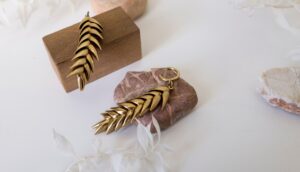 Find the Minimalist Version of Your Own Style
Make this trend fit you instead of the other way around. Minimalist jewelry can be made to fit with any kind of overarching style: geometric, dainty, sparkly, bold, bohemian. Lean into the aesthetic with your favorite colors, gems, metals, and jewelry types, and when in doubt, think "less is more." 
Have fun with the minimalist trend; shop for pieces you love, and play around to rediscover the jewelry that you already own. However you wear your minimalist jewelry, be sure to take good care of your pieces so you can wear them forever. We recommend getting a cleaning and polishing every six months to keep your items in tip top shape. Visit Quick Jewelry Repairs cleaning services to keep your jewelry shining.