How to Accomplish the Layered Necklace Trend
Written by Anna Currell
October 4, 2022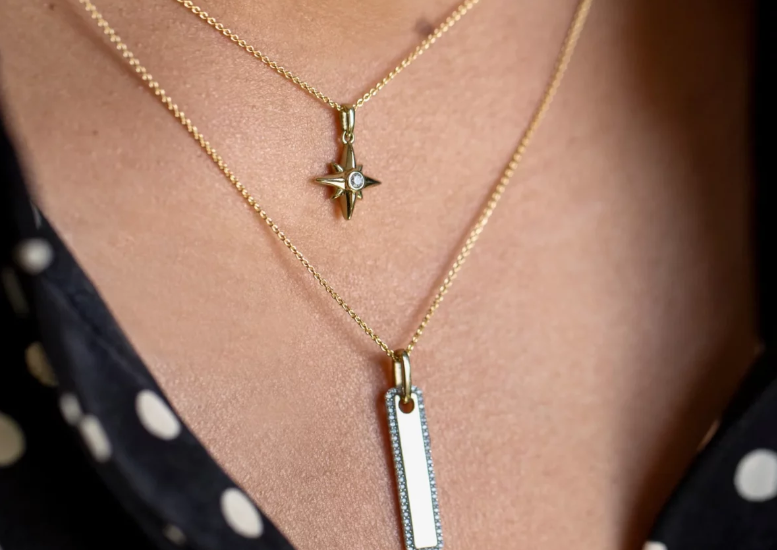 It's official: the layered necklace trend is "in"! An assortment of curated strands make such an effortlessly chic look. If you're struggling to get started, we get it — it sounds simple, but getting the right combination is a delicate art. Too many layers can feel crowded, and not enough variation can feel cluttered. You might be unsure about which type of necklace to shop for, or you might already have some great pieces in your collection that you aren't sure how to wear together. If you're trying to achieve the layered necklace look, here's what you need to know to get started.
The Long And The Short Of It
When it comes to layering, it's all about length. As a general rule, you'll want a difference of an inch or two between strands to create visual separation. Finding that sweet spot with a variety of lengths might take some trial and error; try pairing a princess length and a matinee length necklace or a choker and a princess length piece, for example. Try out a few different combinations until you find the vibe you're going for; you might like them stacked closer together, or you might prefer to stagger them widely for a dramatic effect. Just make sure that they're not all the exact same length or you'll end up with a messy jumble. If you happen to have some necklaces that you think would look really good together but just aren't the right length, don't worry — you can always get them shortened or lengthened.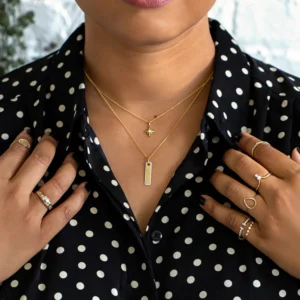 Find the Right Number of Strands
You don't have to stop at two necklaces; you could keep going with three or four strands, or even more. There's no hard and fast rule here, but try to avoid overdoing it. Two pieces can work as an elegant style that goes with most outfits, or three to four can turn your necklaces into the centerpiece of your outfit. This is another instance where testing out different combinations is a good idea to see what works best for your style. When in doubt, follow Coco Chanel's advice: look in the mirror and take one thing off before you leave the house.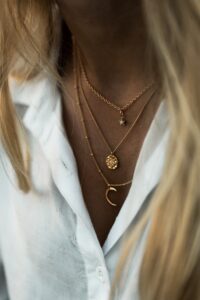 Don't Get Into a Tangle
One of the trickiest parts of this trend is avoiding letting your necklaces get tangled when you're not wearing them (or when you are). Choosing chains of different lengths will certainly help prevent tangling, but if you're still worried about a knot or two, you've got options. Here's a helpful trick to try: take the clasp of one necklace and clip it onto the opposite end of the other necklace, then repeat the same step for the other clasp. Watch this video for a tutorial:
If you've already tried this and your necklaces are still all tangled, there's always a way out with the help of professional untangling services (truly a godsend for those impossible knots).
Work Around a Focal Point
A great way to create a layered look that isn't too heavy or cluttered is to start with a focal point and build around that. A classic way to rock this style is to begin with a medallion or charm and then add on a shorter and thinner chain of a similar metal. With one statement piece as your starting point, you can pair smaller or longer chains to complement the main highlighted style and keep yourself from going overboard by trying to wear everything you own at once.
Add Interesting Textures
To make your layered necklace set more interesting, add a little texture. Try different chain patterns or thicknesses, and then toss in some variety with beads, engraved pendants, shells, or tiny mirrors. Mix up your metals or add some sparkle with gemstones. Introducing a pop of color or a new texture to layered necklaces adds extra personality and makes the look unique to you.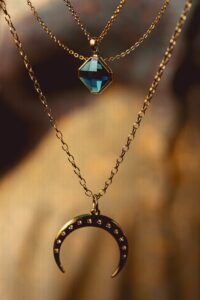 Get the Layered Look in One Piece
Perhaps the easiest way to achieve this style is to let someone else do the hard work. Designers who love this trend (like Kendra Scott) make layered necklaces with several strands that all come together in one clasp. It's a single necklace with many strands, kind of like a layered necklace optical illusion. This will also help prevent you from getting into a tangled mess! With everything combined into one necklace, you won't have to worry about styling each individual piece yourself; just throw it on and feel confident that you're nailing the trend.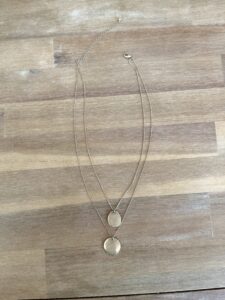 That's it — you've got all the tools you need to accomplish the layered necklace trend. You can style this look in so many ways; have fun trying out different materials, lengths, and combinations. To get all your necklaces to the perfect length, contact our team of experts at Quick Jewelry Repairs.