Think Outside the Jewelry Box: The 6 Best Ways to Store & Display Jewelry
Written by Anna Currell
October 12, 2022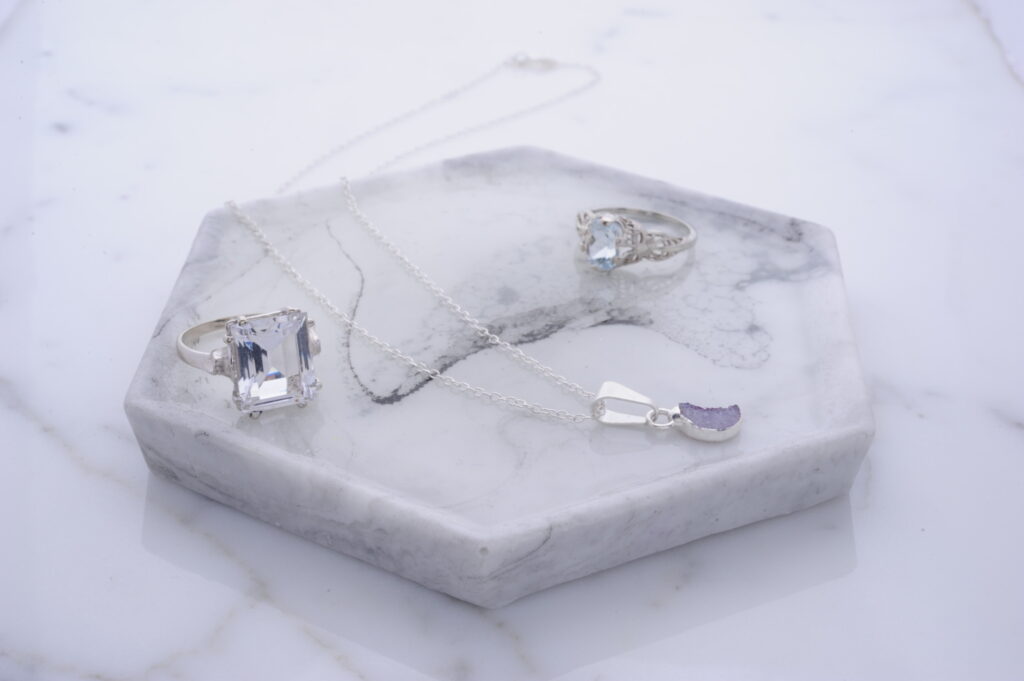 Have you ever rediscovered a pair of long forgotten earrings hiding in the back of a too-big jewelry box? We've been there; it's easy for pieces to get lost in the shuffle. Finding a better way to store and display your jewelry can help you get and stay organized. On top of creating a safe place for your pieces to live when you're not wearing them, you'll also want to be able to see your collection clearly so you can find what you need and get accessorized quickly and easily. Let's get your jewelry collection organized!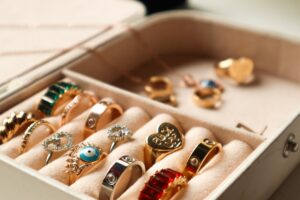 Get Started by Taking Stock
Sort through your collection
Start by familiarizing yourself with your collection; lay out all your jewelry in front of you and spend some time identifying the items you wear most. This is a good time to donate, gift, or sell the pieces you haven't worn in years and don't plan on wearing anytime soon. For a great way to whittle down your set, consider building a capsule jewelry collection. 
Divide and conquer
Arrange your jewelry into categories so you can get a grasp on what you have to display. Separate out all your necklaces, put all your earrings together, and so on. You can also organize your jewelry by the frequency with which you wear it; put special occasion and black tie pieces in one category, group together the pieces you wear every day, make a space for sentimental pieces and mementos, etc.
Untangle that mess
You'll be more likely to wear your necklaces and bracelets if they're not all tangled and knotted. Untangling takes a little good lighting and a lot of patience, but it's worth investing the time if you don't want to write off those pieces completely. If you need help, you can always hire the professionals to get the untangling done for you. 
Pick a prime location
Think about where you're currently storing your jewelry; if it's out of the way or difficult to get to, the chances of you wearing those pieces are probably pretty low. Making your jewelry readily accessible and easy to see will inspire you to rifle through your collection when it's time to accessorize instead of throwing on the same pieces you took off last night. Think about how and where you like to get dressed, and then plan a strategic spot where you know you'll see, remember, and reach for your jewelry.
6 Jewelry Storage and Display Ideas You Should Try
Now that you've established which jewelry you wear most and decided how you'd like to organize your pieces, the only thing left is to build a display you love. There are lots of tools and containers you can combine to create a system that works for you, so find the solution that makes sense for the way you get dressed and the pieces you have in your collection.
#1 Necklace and Bracelet Bars
Shaped like the letter T, these jewelry holder bars are a really helpful way to clearly display your necklaces and bracelets while preventing any of that dreaded tangling. You might have to remove the items closer to the edges of the bar if the piece you want to wear is closer to the center, but that's still much easier than untangling necklaces every time you want to wear one.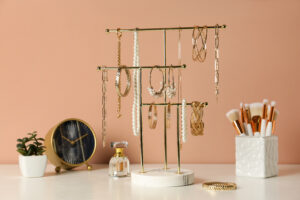 #2 Earring Ladders
For an earring display that looks like it came straight out of a boutique, you'll want to get an earring ladder. These jewelry holders have small divots for studs and small holes for leverbacks, so you can easily pluck the pair you'd like to wear. We recommend keeping your display ladder on a solid surface away from any edges or gaps, so that if you accidentally knock an earring over it won't get lost between your furniture and the wall.
#3 Ring Stands, Cones, and Dishes
Rings can be really fun to display, especially if you're willing to stack them together. Ring stands can come in all sorts of shapes, so long as there are spots for rings to rest safely: tree shapes with convenient branches, a hand with its fingers in a peace sign, or an elephant with a poised trunk are some good examples. Cones are a fun, geometric way to show off your collection, and you can style sets of cones together to stack your rings in a cohesive way. With ring dishes, you can get creative; some are sold with the intention of storing rings, but you can make anything into a ring dish! Repurposed teacup saucers, big seashells, or unique coasters can all make fun ring holders as long as they have an outer edge to keep your jewelry from rolling away.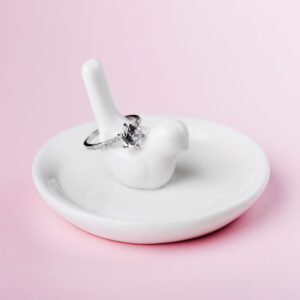 #4 A Classic Jewelry Box
Jewelry boxes are the classic option; the key is to find one that's the right size for your jewelry and your space. For instance, a box that's too large might clutter your dresser or the area where you like to get ready. On the other hand, if you're getting dressed in a lavish walk-in closet you might prefer a larger box that lays out your items in all their glory. There are many types of jewelry boxes out there, from flat hinged boxes to complex sets with drawers and shelves. Make sure you find one that has the features you need to store your unique collection.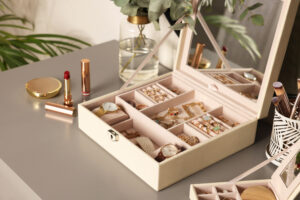 #5 Necklace Wall Hooks
Treat your necklaces like artwork by hanging them up with wall hooks and making them part of your decor. This is a cool way to show off your necklaces as more than personal accessories — they can be ornamental to your space, too! You'll get to admire them every day, and you can create a fun wall display that changes with the season or with your mood. If you're into DIY projects you can create your own wall hooks with dresser drawer knobs, or you can buy small hooks made specifically for this purpose. 
#6 Dresser Drawer Dividers
On the other end of the spectrum, you can incorporate your jewelry storage into your subtle bedroom storage instead of putting it on display out in the open. Using dividers that fit into a dresser or nightstand drawer is like having your own personal jewelry store display at home. Velvet ring holders, cubes for bracelets, and small earring dishes can help you build your own custom jewelry organizer and allow you to grow your drawer layout as your collection evolves.
The best way to store and display your jewelry comes down to your preferences and your style. Use the methods and tools that work best for the pieces in your collection to ensure that you'll wear your favorites more often and remember what you own, while also keeping your jewelry safe and protected. A good organization system is one way to prevent scratches and dents, but if your everyday pieces are showing the signs of wear and tear, we recommend getting your jewelry polished and cleaned every six months to keep it in its best shape.