Engagement Rings: Your Complete Post-Proposal Checklist
Written by Anna Currell
January 26, 2023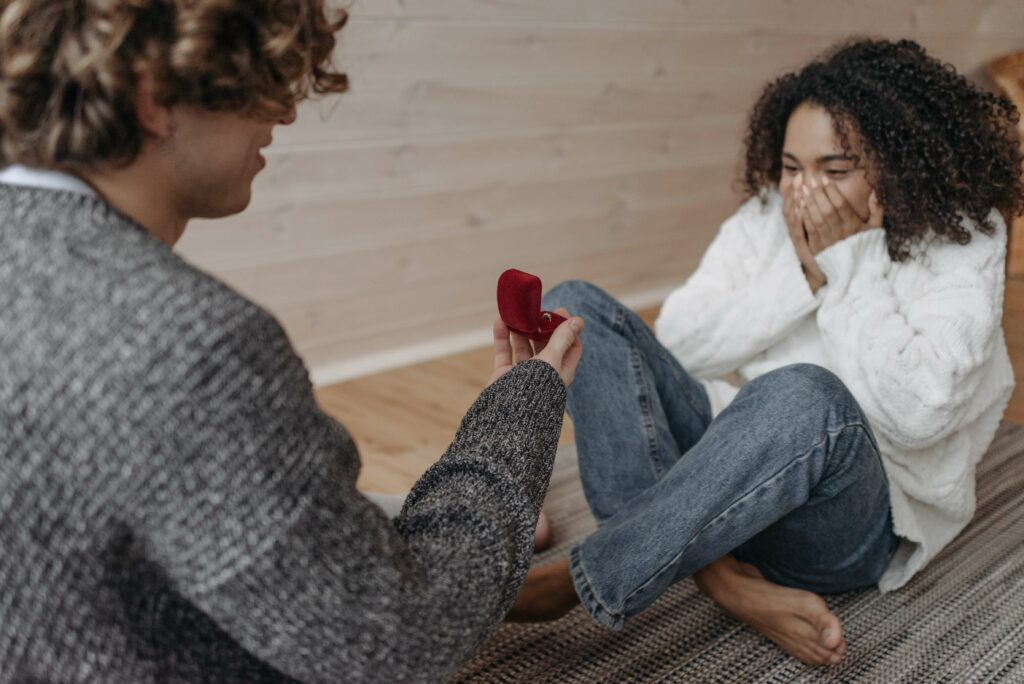 Congratulations on your engagement! Committing to your partner is such a special choice, and it's thrilling to plan for your future. As you prepare for the rest of your life together, you'll probably have a long list of things to do, like finding a wedding venue, choosing a date, making a guest list… Did you know that couples spend an average of 6 hours a week on wedding planning? Then there's everything you have to do to take care of your new engagement ring; we're here to make that part a little easier. Here's a checklist of everything engagement rings need before the big day (and beyond).
Step 1: Celebrate! 
This first step is absolutely crucial… Take the time to celebrate your engagement! Call your friends, family, and everyone who will be excited to hear the news and see your beautiful new ring. Pro tip: bring a camera and grab some tissues — there might be some happy tears!
Step 2: Get an Appraisal
Once you're done celebrating, it's important to get your engagement ring appraised. You can get an appraisal performed by a jeweler or gemologist to officially document key information about your ring. The jeweler will provide paperwork listing key information like gemstone weight, cut, size, and color, along with the overall value of your engagement ring. 
Step 3: Insure Your Ring
Once you get your jewelry appraised, take your appraisal document to an insurance company you trust. Work with a jewelry insurance agent to discuss how to insure your ring based on its appraisal value. Insuring your ring is a great idea, especially if you plan to wear yours every day; engagement rings are often expensive and rings can see a lot of scratches and dents, even when you're careful. If yours ever gets damaged or lost, you'll have some peace of mind knowing that it can be repaired or replaced. 
Step 4: Resize Your Ring
Even if your ring is off by just a little bit, getting the perfect fit matters — you don't want your ring to slip off your finger, or worse, get stuck. But don't panic; you don't have to return your gorgeous ring and start over. Instead, take your ring to a jeweler to get resized. 
All fingers are different, and all brands use different sizing. Maybe your partner picked out the ring of your dreams with what they thought were the correct measurements, but something's not quite right. And if your ring was made internationally, size conversion errors might mean you need a slight adjustment. 
Resizing is a simple process; a jeweler will cut the ring shank and add more metal to make a bigger size or take out some metal to reduce the size before soldering it back together. And voila, you'll have a perfectly fitting ring in no time.
Step 5: Customize Your Ring  
On the other hand (pun intended), maybe your ring is missing that little something special. Perhaps you've always wanted to include your grandmother's ruby in your ring; work with a jeweler to either replace the existing gemstone or find a way to add it in the setting. Or maybe you love gold jewelry but your engagement ring is set in platinum or silver — you can always have a jeweler plate your ring in gold. You can also engrave your proposal date, wedding date, partners' initials, or a special phrase on your ring band. You've got plenty of options to make your engagement ring even more special and customized to you.  
Step 6: Treat Your Ring Carefully 
You'll probably want to wear your lovely engagement ring every day, but remember to take it off when doing activities like swimming, showering, going to the gym, or using any chemicals. Your ring can get scratched, tarnished, or damaged with exposure to certain elements, so always be careful. When you take off your ring, keep it in a safe and secure place where it won't fall or bump into other metal jewelry. 
Step 7: Clean and Polish Your Ring Before the Big Day
As an everyday precaution, you can gently clean your engagement ring with a soft cloth to remove any residue it sees during the day. Soaps, lotions, and even bacteria can tarnish your jewelry over time, so frequent gentle cleanings can help. But before your big day, you should give your piece some extra special treatment and have it professionally cleaned and polished so that it's looking its best. From then on, we recommend having your engagement ring professionally cleaned every six months, especially if you wear it often.
Step 8: Wear Your
Engagement Ring
Happily
Lastly, wear your engagement ring with pride. Looking at it will be a reminder of your commitment to your partner, the love you share, and the promise of a beautiful future together. Congratulations again!  
Consider these steps as you celebrate your engagement, and do what makes the most sense for your unique engagement ring. Remember that just like your relationship, your engagement ring deserves careful attention and special treatment, so be sure to take excellent care of it and see a jeweler when you need to. Our expert jewelers at Quick Jewelry Repairs are here to help you, from polishing to prong retipping and beyond.