5 Steps for Proposing with a Family Heirloom Ring
Written by Anna Currell
August 1, 2022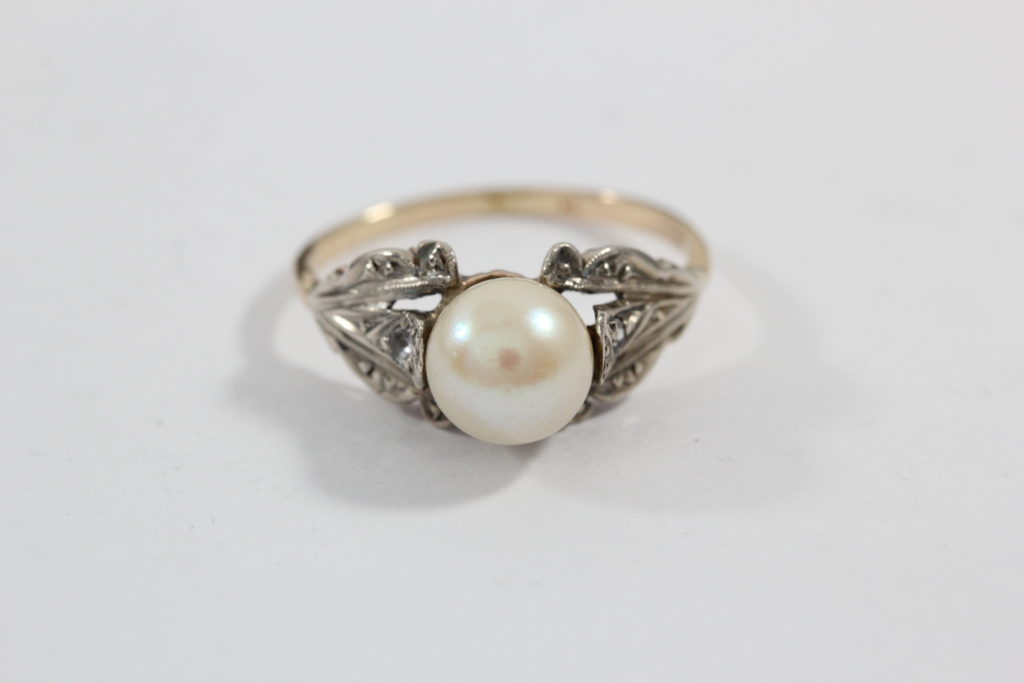 Proposals are an exciting step in a lifelong commitment to a partnership, and the engagement process can often seem overwhelming. Proposing with an heirloom ring is a special way to keep tradition in the family and honor your new partnership. A ring passed down from a great-grandmother, dear family friend, or living relative is a beautiful symbol of generations of relationships and can symbolize the merging of families. It can also be a practical way to save money (weddings are expensive!) or create a more customized and distinctive piece of jewelry. 
Here are some helpful steps to proposing with a family heirloom ring as you embark on this exciting adventure:
Talk About Your Heirloom Engagement Ring
Chances are, wherever this ring has been, it carries with it a lot of stories and memories. Ask the previous owner or other family members about the history of the ring. Where did it come from? Who did it belong to, and how did it come to their possession? What are the stories behind it? Knowing the history of this ring may help you in your own proposal—did your grandfather propose to your grandmother with this ring? Has she always wanted you to give it to the person you want to spend your life with? Your partner will love to hear these stories!
When speaking to your family (or your partner's family, if this ring came from their side), check in with them about the idea of customizing or changing the ring. Opinions may differ from family to family and person to person, but many heirloom jewelry pieces come with stories, memories, and feelings that some families may want to keep intact.
Consult your partner's friends and family about their ring preferences. Have they described their dream engagement ring to anyone? For example, they may want something simple to match everything they wear, or on the other end of the spectrum, they may want something bold and unique. Additionally, see if you can determine your partner's ring size; it's unlikely that the previous ring's owner and your partner will be exactly the same size. Can you check the size of a ring they often wear? Do their friends or siblings know? Once you propose, your partner will likely want to wear the ring immediately, and it would be ideal to have the right size. Quick Jewelry Repairs offers ring resizing no matter the adjustment, either sizing down or sizing up. 
Get The Ring Cleaned, Appraised & Insured
This next step is an important one for heirloom rings in particular, which have likely been loved, lived in, and worn for years. Before you propose, get the ring deep cleaned and give it a maintenance tune-up. This will help identify any work that can be done to help ensure the ring's longevity in your new lifelong partnership. You might consider services like gemstone polishing, enamel repair, or a jewelry spa session, depending on what your ring needs.
An expert jeweler's appraisal will provide more information about this piece of jewelry, beyond your family stories. Details like the origins of each stone and the item's estimated retail value will give you a better idea of your ring's history.
Life happens, so you'll want to be certain that a priceless item like an heirloom engagement ring is insured. If your ring slips off in the ocean or falls down the garbage disposal, knowing you have it insured can at least provide you with the comfort of replacing it down the line.
Make The Engagement Ring Your Own
There are so many ways to give new life to an old piece of loved jewelry. Customize your heirloom ring to suit your relationship and your partner — this goes back to their tastes and preferences. Perhaps your family ring is silver and your partner loves and only wears gold jewelry — consider getting the ring gold plated. If you want to share an intimate saying, an inside joke, or a date or phrase that gives even more meaning to your proposal, consider having the ring engraved. If your partner has always loved or is interested in specific gems, you can look into gem replacement to create the engagement ring of their dreams.
Pop The Question…
We'll be crossing our fingers for you to get a "yes!" 
Make Any Necessary Alterations
The best part about engagement rings is that you can always repair, adjust, customize, or even upgrade them. Once you've gotten this lovely heirloom onto your beloved's ring finger, they're likely to wear it throughout their day-to-day life. Over time, the ring may need adjustments. A protruding prong holds a lot of character, but keeps snagging on sweaters — you might want to look into prong alterations.
Soldering a wedding band to an engagement ring is another way to customize your ring after saying "I do". Down the line, you might want to upgrade to a new diamond-studded band or a new gemstone.
Take Care And Enjoy Your Engagement Ring
Lastly, and most importantly, enjoy the symbol of your new promise to each other. Just like your relationship, your jewelry deserves time, care, and attention, so remember to get it cleaned, repaired, or adjusted when necessary.