Stacked Earrings Are In: Mix and Match Your Studs to Nail this Trend
Written by Anna Currell
November 2, 2022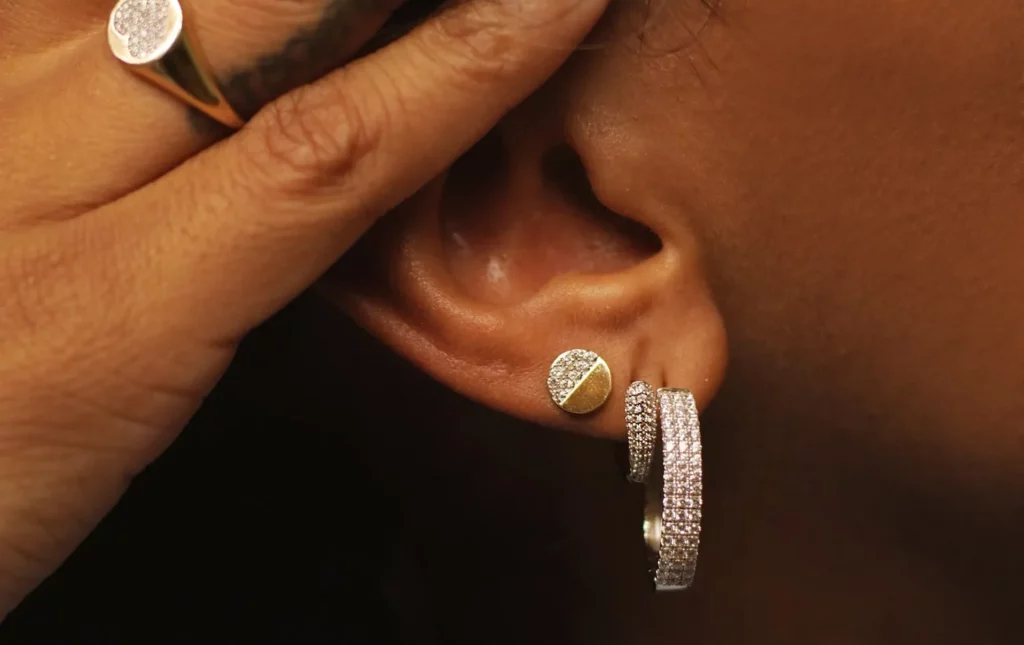 Earscapes are all the rage and they can be a lot of fun to design; by stacking multiple earrings into one look, you can easily bedazzle your ears with a cascade of jewelry. Think of stacked earrings as little trinkets that you can arrange to best express yourself on any given day (or hour, or minute). If you're not sure how to approach the style, we're here to give you some guidance. Are you all ears? Let's go!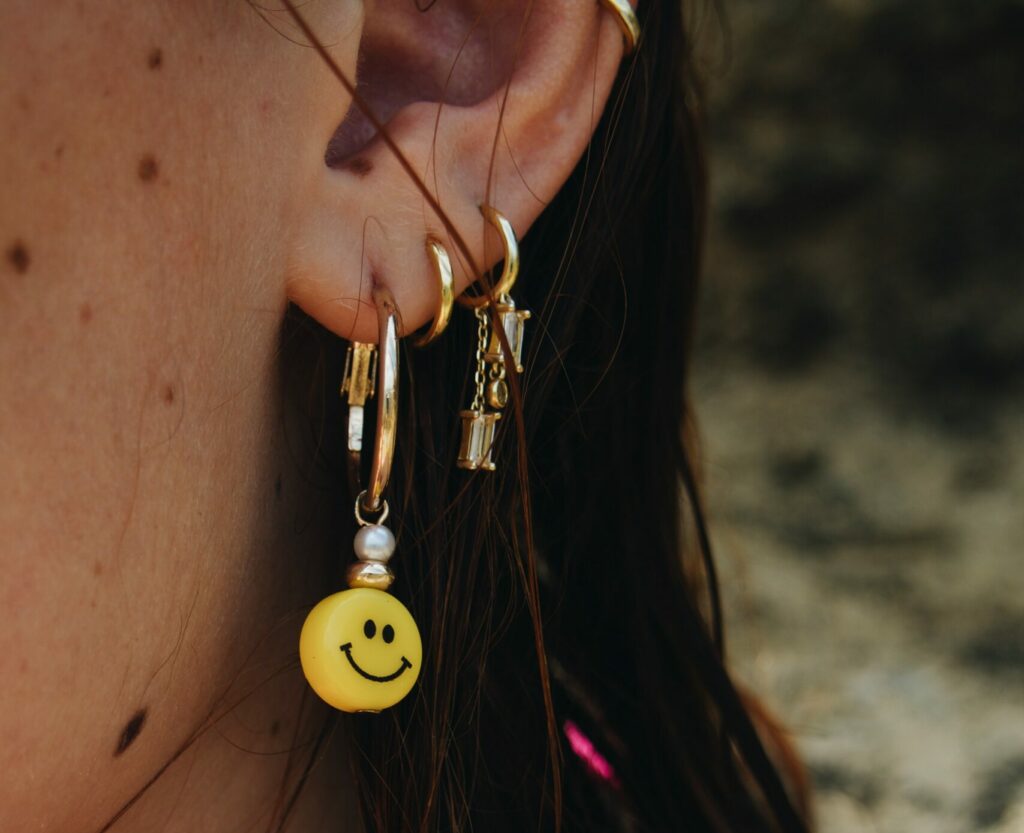 How to Wear the Stacked Earring Trend
The stacked earring trend is all about putting together many small earrings to make a big impact. There are plenty of ways to achieve this trend — the options are practically endless — so here are a few tips to get you started:
Collect Options to Mix and Match
Start your journey to a stacked earring look by collecting an assortment of earring options. Once you have your set assembled, you can have fun creating different combinations to match your outfit or your mood. Here are some good earring types to choose from when you start building your collection:
Studs:

Studs, studs, and more studs. These are a classic choice for adding many accents to your ear without taking up a lot of real estate. Choose a few different kinds you love so you can mix and match with different pairings; tiny diamonds and colorful gems can add some sparkle to your combinations.

Huggies:

Huggies are a great option for this trend because they fit your ear snugly, so you can stack plenty of them together without taking up too much space. They also come in all sorts of styles and sizes so you can find ones to fit the aesthetic you're looking for: glittery,

minimal

, chunky, or dainty. 

Chains:

Add some extra character and flair to the overall look by wearing a chain through one of your piercings, almost like a needle and thread. Or you can try hanging a chain between two post earrings to create some extra depth and texture. 

Cuffs:

Cuffs wrap around the edge of your ear, clinging to the cartilage so there's no need for a piercing. Cuffs can come in a range of designs, from simple slim hoops to more creative shapes like this snake cuff. 
Climbers:

Climbers are studs with flair — one piece can really pack a punch. Instead of a singular stud made to accent a single space, climbers are larger designs that trace the length of your ear to create a full earscape effect with only one actual pierced earring. 
Branch Out With Your Style
The beauty of stacked earrings is the overall aesthetic they create; from a distance there's a full effect, but once you're up close and personal you can get a sense of each individual earring. When you're assembling your collection, make sure your earrings are all slightly different. This is also a great way to try on new vibes for size; small accent earrings are not as expensive as larger jewelry pieces, so it's not as big a risk to branch out and try something new. Here are some ways you can play with your stacked earring aesthetic:
Shapes:

Cactuses, bumblebees, celestial patterns, or words; studs come in all kinds of shapes these days, so choose a few different kinds to add flavor to your earscape. 

Textures:

Adding textured pieces can add dimension and create a more interesting stacked earring look. Try including braided or hammered metal, or adding crystals, pearls, and chains to your featured earrings.

Colors:

Additions like enamel and gemstones are fun ways to add a pop of color to your ears, breaking up the overall look and lending some extra personality.
Use Your Whole Ear As A Canvas 
To get the most out of the stacked earring trend, think about the placement of each piece. Did you know that each area of your ear has a different name? The conch, tragus, helix, and, of course, the earlobe are all areas where you can fit an earring or get a piercing. Consider spreading out your jewelry to span your entire canvas (that is, your ear).

No Piercing? No Problem
If you love this trend and want to commit to rocking it forever, then feel free to go for it with more piercings. However, if you have an aversion to needles (they're pretty unavoidable with piercings), you can still wear this trend as often as you want to. Cuffs are becoming more and more popular so they're easier to find, and clip-on earrings also come in a variety of fastening types so you can find a few that work best for you. 
Stacked Earring Style Inspiration
Now that you know the basics of stacked earrings, here are some style ideas to inspire your new look. 
Keep It Simple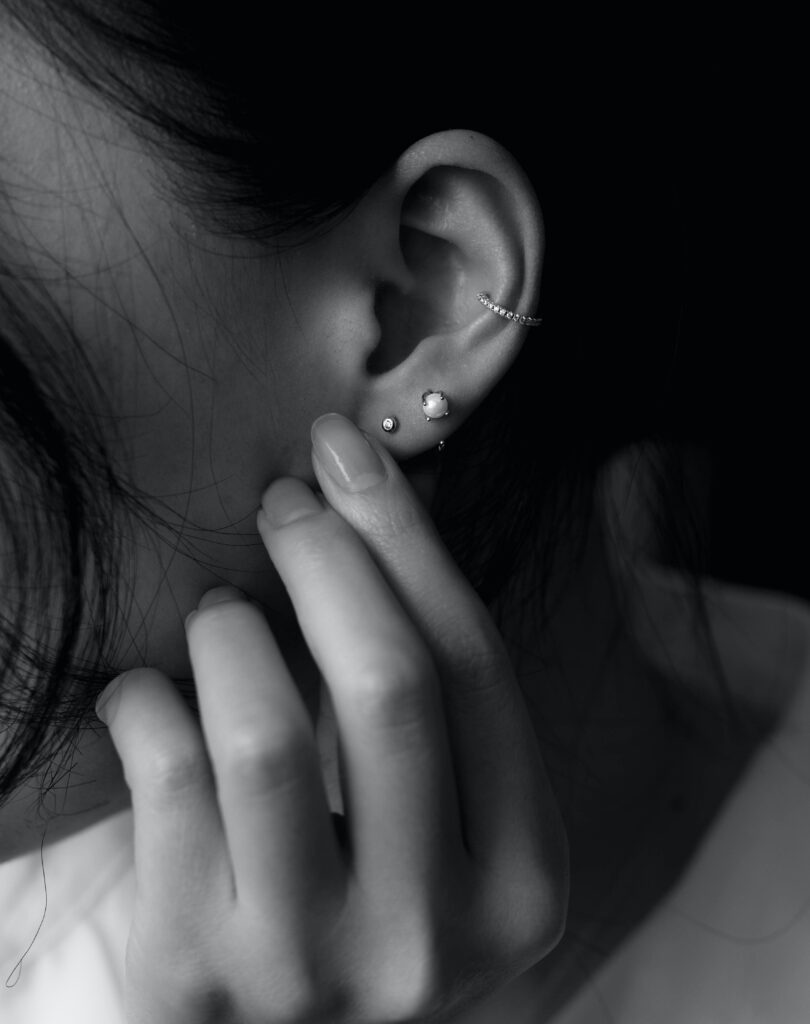 All studs, all hoops, all dangling, or monochromatic; there's something very sleek and chic about sticking to one thing. 
Find A Focal Point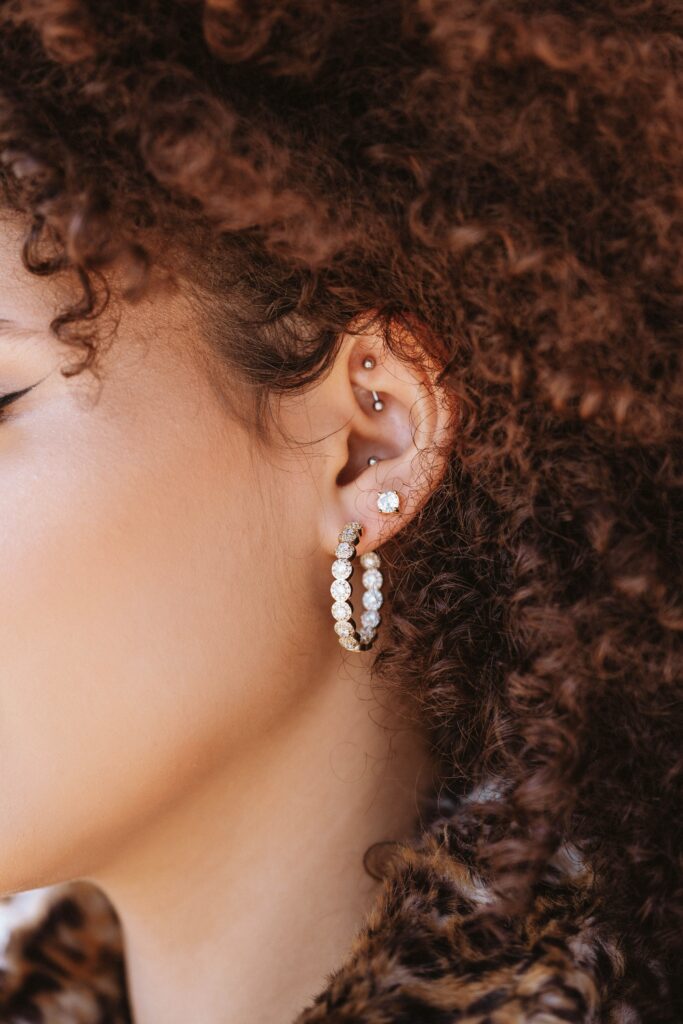 If you're having trouble coming up with a vision for your earscape, try starting with one focal point and embellishing from there. Beginning with one of your favorite pieces — like a sparkly gem, a colorful hoop, or a funky shape — can help you decide what kind of earscape you want to create. Build outwards from the focal point one earring at a time until you achieve the look you're going for. 
Consider a Crescendo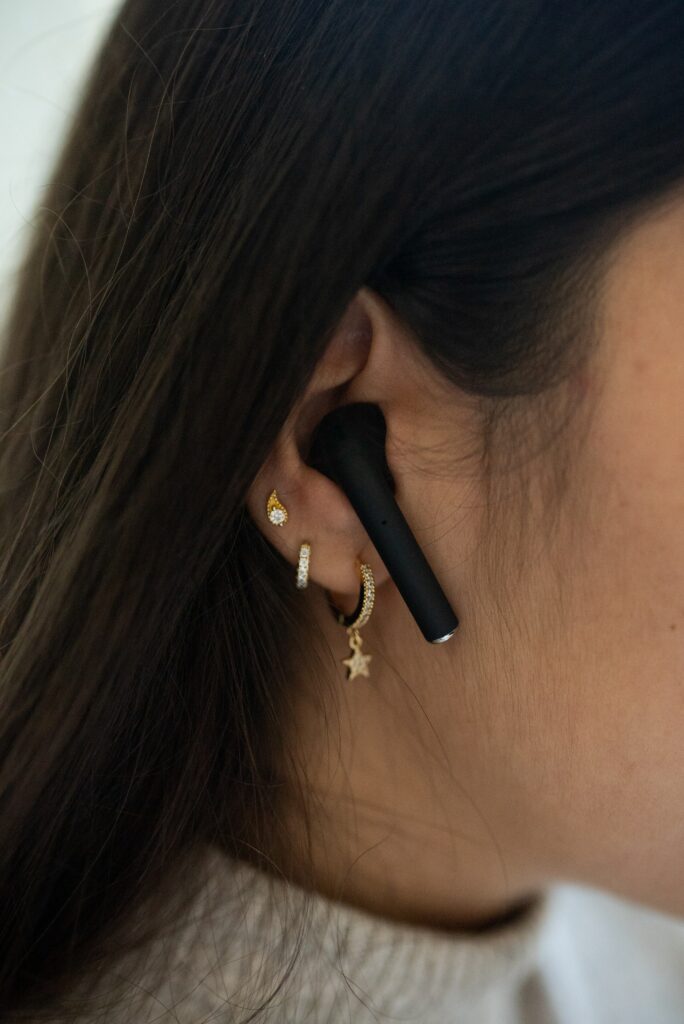 Imagine your ear as a series of building blocks, starting bigger at the bottom and getting smaller toward the top. Choosing the size and shape of your earrings with this flow in mind can help you create an appealing pattern that naturally accentuates the curve of your ear. 
Be sure to keep all your small jewelry pieces in a safe place; it's way too easy (not to mention painful) to step on a stud earring and damage it for good. For all your stacked earring needs, we've got you covered; mail your earrings into Quick Jewelry Repairs for a speedy post repair or a brand new earring back. Or you can create an entire bespoke earscape from scratch with expert help from our concierge jewelry team. We can't wait to see how you take on this trend!