How To Upcycle Jewelry For A Fresh New Look
Written by Anna Currell
September 7, 2022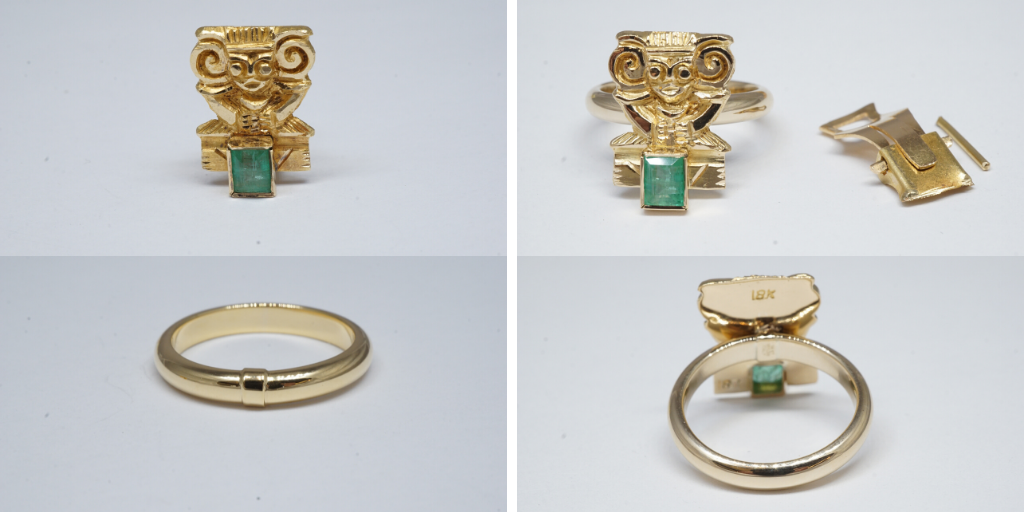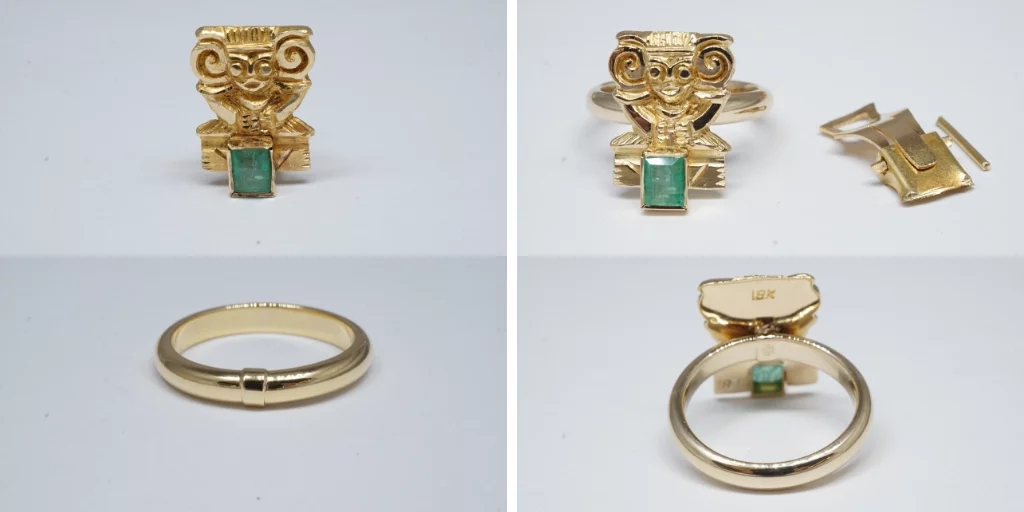 When you're tired of wearing the same jewelry every day, buying new pieces can feel like the best option. But before you start shopping, why not try giving the jewelry you already own another chance? With a little creativity and some help from a jeweler, you can upcycle jewelry to create a whole new look. Upcycling is a great way to keep your heirlooms and beloved antique pieces around longer by switching up their style, and it's easier than you might think to create something you'll want to wear all the time. With a little imagination, you can repurpose your jewelry into a brand new work of art.
4 Creative Ways to Upcycle Jewelry
There isn't one right way to upcycle jewelry; there are so many possibilities, and getting a chance to be creative is one of the best parts of redesigning your jewelry collection. To give your imagination a kickstart, here are a few ideas about how to transform your pieces:
1. Convert Stick Pins or Brooches into Rings
You might have an inherited brooch or stick pin that's been sitting untouched in your jewelry box; they just feel like they belong in another era. Brooches are the ornamental pins that your grandmother would wear on a sweater for special occasions, and they often have a hinge and clasp fastener on the back. Stick pins were traditionally used to secure neckties, so they usually have one small ornamental end. While they're not necessarily a current trend, that doesn't mean your brooches have to stay unused. If you're into wearing rings, for example, you can create a stick pin conversion ring — just remove the clasp fastener and use the decorative piece of the pin for the focal part of your ring. You'll get to keep the beautiful part of the piece and maintain the memory associated with it, while transforming it into something you'll actually wear.
2. Turn Earrings Into a Necklace Pendant
There are a lot of reasons you might want to upcycle a pair of earrings. Maybe your ears are unpierced and someone gave you earrings for your birthday, maybe you don't like how a certain pair hangs from your lobes, or maybe you lost one earring from your favorite set. Instead of keeping a pair of earrings you won't or can't wear, try turning them into a necklace. Separate the earring from its backing to turn it into a pendant you can hang from a necklace or bracelet. If you want to keep the earrings but give them a new look, you can also change the style of the earring by switching up the backing.
3. Turn Jewelry Into Hair Accessories
Don't be afraid to think outside the jewelry box! With some creativity, you can upcycle jewelry to become all kinds of new items. If you love a hair accessory, try glamming up a boring bobby pin with elements from your jewelry you don't wear. Charms and gemstones from a tennis bracelet can make glittery and eye-catching additions to an elegant hair comb pin, or you can bedazzle a claw clip with fun pieces from costume jewelry. You can also take the decorative part of that brooch from your grandmother and add it to a headband.
4. Personalize Your Jewelry to Match Your Style
Upcycle your jewelry by reimagining the details. There are all kinds of customizations you can apply to fit your own style, and making small adjustments can lead to a big change. Maybe a family heirloom is made from silver, but all of the jewelry you wear is gold — get the piece gold plated to maintain its original integrity and history while making it more cohesive with the rest of your wardrobe. Or maybe you love the intricate engravings on a ring band, but the garnet gem in the center isn't your style — try swapping it out for a different gemstone. 
How to Upcycle Your Jewelry in 3 Steps
Now that you've got an idea, run with it. These guidelines will help you get started to transform your old jewelry into your new favorite piece.
Step #1: Consider the History
Why is this piece of jewelry meaningful to you? Was it gifted to you by someone special, or has it been in your family for years? Maybe it was something you wore at your wedding or to your prom. If you're still hanging onto it then it's probably important to you in some way, so use the jewelry's significance to help guide its new design. Your great aunt wore lots of rings but you just happen to have inherited her brooch? Turn it into a ring to honor her memory. If you want to put your piece's history front and center, turn it into an eye-catching necklace to guarantee everyone who sees it will ask about it. There's probably a story attached to your jewelry, and keeping that meaning in mind will help inform your design choices.
Step #2: Be Honest About Your Own Style
Think about the jewelry you're drawn to and which items you consistently wear — and keep in mind these might be different things! Maybe you love the idea of an art deco brooch, but in reality, you're more likely to wear a dainty pair of earrings to work. Think about the ways that a new piece could complement your wardrobe, your expression, and your vibe. When you're realistic about your personal taste, you'll end up with jewelry that you'll wear often. If you know you like to keep it simple, turn a dangly pair of earrings into an everyday pendant necklace that matches everything. If your style gravitates toward the elaborate and eccentric, turn up the volume and let a big, bold statement ring speak for itself. Make sure that you consider how this piece of jewelry can fit you and your style.
Step #3: Get Creative!
You don't have to use every part of the old piece. If you're not ready to let things go, tuck them away for the next time inspiration strikes; it's always good to have a collection for future projects. You can mix and match gems and designs from various old pieces to create something entirely new and all your own. For instance, maybe you have a ring from your great grandmother, and a gifted necklace that just isn't very "you." Using the gemstones from both items might create a really interesting new ring, or even a new pendant for a necklace. Have fun with your upcycling project; it's a great chance to let your creativity and your personal style shine through.
Have some new ideas for how to upcycle your jewelry? It's time to talk to one of our custom jewelry experts; they'll hold your hand through the entire process and give you hands-on guidance about how to make your old jewelry new again. Get started today with a consultation today.