How Much Money Should You Spend On An Engagement Ring?
Written by Anna Currell
November 17, 2022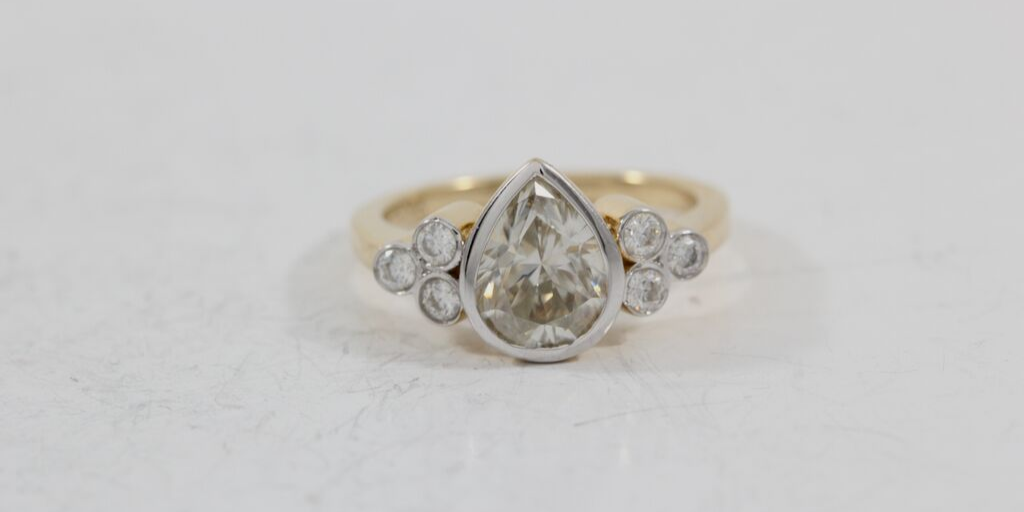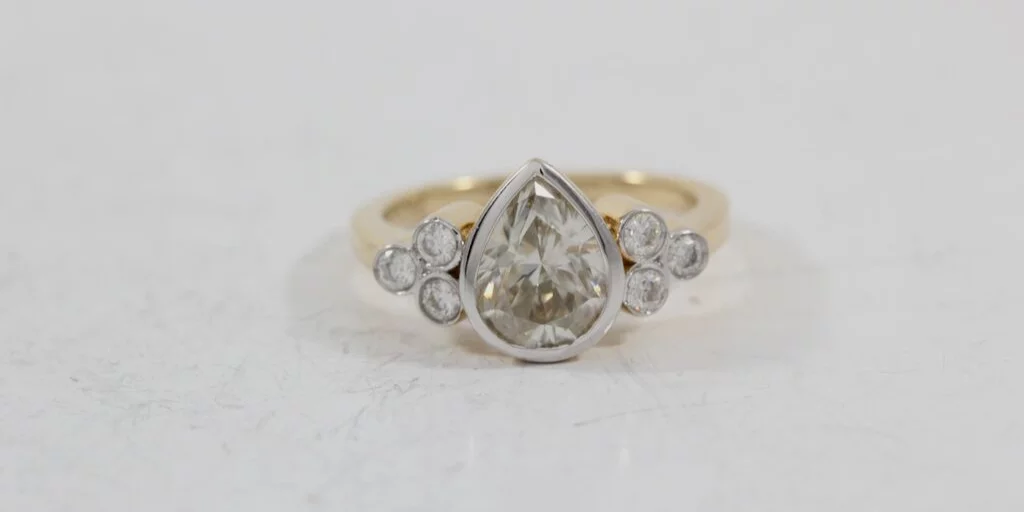 There are so many factors in selecting an engagement ring: which gemstone to choose, what metal to use in the band and setting, and where to find your dream ring. But there's one question practically everyone wants to answer first: "how much money should you spend on an engagement ring?" Which is totally fair; we've been told all kinds of myths about proposals, weddings, and engagements, from what we should wear to who we're supposed to invite. The reality is that these types of decisions are as unique as your relationship. An engagement ring is a symbol of commitment to your relationship and your partner, and so your engagement ring (and all the decisions around it) should reflect your values. Let's explore the myths about this process, determine the factors that matter most to you, and discuss the various financial approaches to selecting an engagement ring. 
Myths About
Engagement Ring Price
There are all kinds of myths about the process of selecting an engagement ring. Let's take a look at the most popular traditions about the cost of an engagement ring:
Myth #1: An Engagement Ring Should Cost Three Months' Salary
Does the phrase "three months' salary" ring a bell? Many people reference this rule when considering how much to spend on an engagement ring. But let's look at what that means for most Americans: the average U.S. household income is $70,784, which means three months' salary would total almost $18,000. This isn't indicative of the average costs of engagement rings at all. In fact, the average price of engagement rings in the U.S. is $5,500, which means the average person is spending more like 2 to 3 weeks' salary. While this amount differs based on region, profession, and of course, relationship values, this three months' salary idea is not at all a hard and fast rule.
Myth #2: Diamond Engagement Rings Are The Only Traditional Choice
The tradition of gifting your partner a diamond ring while popping the question wasn't even popular until the last few decades. In fact, in 1939, only 10% of brides received a diamond engagement ring. It wasn't until 1960 that 50% of brides received a diamond engagement ring; by 1990, that number rose to 80%. The diamond industry has also tipped the scales, encouraging the tradition for the sake of profit. Diamonds may remain a popular choice, but they can be costly and there are tons of other engagement ring options that are more affordable. Your participation in the diamond engagement ring tradition doesn't have to be indicative of your love, commitment, or trust in your relationship. 
Myth #3: Men Should Foot the Bill For An Engagement Ring
First of all, the most obvious reason this statement is a myth is because not all engaged couples are heterosexual or cisgender, and not every romantic relationship includes a man and a woman. Even for couples that do include a man and a woman, the cost of a diamond ring falling on one person isn't always reasonable. As more women are becoming the breadwinners in their families, engagements are becoming more of a shared responsibility in the eyes of many couples. Buying an engagement ring is now often viewed as a joint decision, and almost half of women prefer to have a financial stake in it. More and more couples are living together before marriage — today, more couples have lived together than have gotten married — which often means they already share financial burdens like rent, groceries, and other lifestyle decisions before their proposal. If a couple is already accustomed to sharing these responsibilities, who's to say the cost of an engagement ring should be any different? 
Factors to Consider When Selecting an Engagement Ring
Now that we've debunked all those myths, how much money should you spend on an engagement ring? The answer depends, of course. So many of the variables that impact the decision — like salary, lifestyle, and values — are different in every single relationship. Here are some of the most important things to consider before purchasing an engagement ring:
Your partner's tastes:

First and foremost, you want to find a ring that your partner will love and want to wear every day. If a diamond isn't your partner's style, there are

plenty of other gemstones to choose from

, like sapphire, emerald, or pearl. Or skip the stone and go for an elegant metal band instead.

Your financial situation:

Be realistic! Consider your income, lifestyle, and your financial health — including the realities of your spending habits and your savings account — before you make the decision to drop a lot of cash on a ring. You'll also want to consider your wedding, honeymoon, and future relationship plans; you and your partner might prefer to choose a less expensive ring to spend your savings on a mortgage on a house instead, for instance.

Your shared values:

There are no hard and fast rules about how to express your relationship commitment. Consider how you view the importance of tradition as individuals and as a couple, and think about how an engagement ring plays into those personal beliefs. At the end of the day, an engagement ring is about the love you share between the two of you, so be sure that this symbol of your commitment reflects your opinions, your values, and your union. 
Tips for Saving When Searching For a Ring
Want to build the perfect proposal at a price point that doesn't scare you? Here are some tips for affordable engagement ring options:
Shop for lab-created diamonds or moissanite 
In lieu of a naturally occurring diamond, which can cost thousands of dollars, save big bucks with a lab-grown diamond. Lab-grown diamonds look identical to naturally occurring ones at a fraction of the cost, and since they're completely human-made, there's no need to worry about unethical sourcing. Another less expensive option for a stone similar to a diamond is a moissanite gemstone. Moissanite looks just like a diamond, but with even more sparkle and a significantly lower price tag. These diamond alternatives can help you save big, and nobody will know your ring isn't a natural diamond!  
Use family heirloom stones or bands
You don't need to break the bank buying an entirely new gemstone or band. Instead of shopping for something new, look for something borrowed. If your grandmother's diamond ring is special to you, you can save a lot of money by having the stone set in a new band. Or do the opposite; source your own special stone and have it set in an heirloom band that's always been in your family to create a unique piece with sentimental value. 
Apply the Four C's Where It Counts
While gemologists and jewelers use the four C's (cut, color, clarity, and carat) to determine the value of a diamond, the reality is that each individual factor might not mean as much to you as the stone's overall appearance. Instead of focusing on a high clarity diamond, for example, you might choose to select a great cut that hides any imperfections in the stone. You can also go for slightly fewer carats to save lots of money with little visible difference in size. 
Custom Create Your Own Engagement Ring 
If you're open to taking all these decisions into your own hands, go the custom route and design the exact ring you're looking for at the price point that makes the most sense for you and your partner. You can use elements of jewelry you already own or source completely new materials to create the perfect engagement ring. Customizing every element of your ring is a surefire way to find exactly what you're looking for. 
After you've spent time reflecting and talking with your partner, you'll have plenty of new information to help you shop for your perfect engagement ring. You can find the right ring at the right price by searching online, going to a brick and mortar shop, or using a family heirloom to create a special custom design all your own. Regardless of how you find your ring, be sure to get your ring appraised and insured. We're excited for your special jewelry search, and we wish you a lifetime of happiness with your partner!