How to Find the Right Engagement Ring for You
Written by Anna Currell
August 24, 2022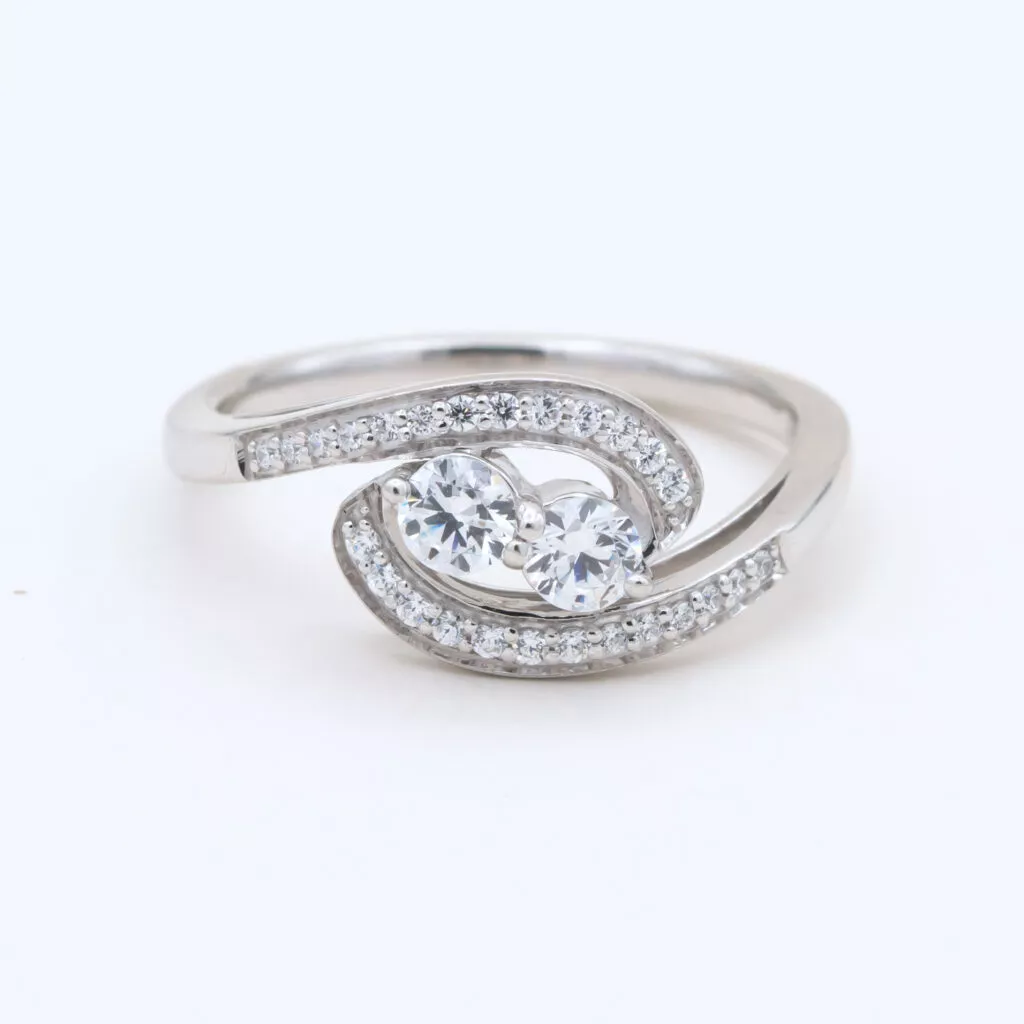 An engagement ring is such an exciting and expressive piece of jewelry. It symbolizes commitment and a new life chapter, and each one is as unique as the relationship it represents. With so many varieties to choose from, it can seem overwhelming to know where to start searching for a ring. We're here to help! These are some of the most important elements to consider when figuring out which type of engagement ring suits you best and can help you design your dream engagement ring. 
Define Your Style
Before you begin to look at rings, think about your own unique sense of style. Understanding your style is particularly important when you search for an engagement right, since it's likely a piece of jewelry that you'll wear often and treasure forever. Finding something that matches your vision and your lifestyle is key! 
Look into different design aesthetics to see which one you jive with most; is your style more classic, romantic, minimalist, bold, geometric, or vintage, for example? To determine what style suits you best, try looking at the jewelry that you tend to wear most, the clothing you're drawn to, and the colors and patterns you prefer. Your personal style should inform the many choices that go into finding your ideal engagement ring.
Pick Your Band
Engagement rings come in all kinds of metals, but silver, gold, and platinum are the most common options. Your choice might depend on the metal's look, any metal allergies you have, or what activities you do most. If you know you use your hands a lot, gold is a durable metal that will hold up to everyday wear and tear. Silver tends to scratch more easily than gold.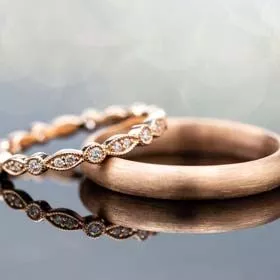 Regardless of the metal you choose, you can use finishes to change the color even further. For example, white gold provides a strong metal base with a silvery finish. The finish could be yellow gold, rose gold, white gold, silver, or platinum, and can also have a specific texture, such as matte, satin, hammered, or polished. There are also plenty of unique options for a band. While a classic, simple band will match with more outfits and jewelry choices, going for a detailed shape for the band or an ornate engraving across the metal could make your ring stand out with a bit more flair.
Choose a Gemstone
Diamond engagement rings are the most popular choice, but there are so many different gems to choose from. There are pros and cons to each! A few alternatives to diamonds to inspire you:
Sapphire can really pop and has become an alternative that celebrities like Mary Kate Olsen and Kate Middleton wear as their engagement rings. The blue color matches many neutral outfits while remaining eye-catching.

Emerald is a deep and richly colored gem for those who prefer bold fashion choices. This is a great option for someone who enjoys making an elegant statement with their jewelry.  

Opal is one of the most interesting gems – you don't even have to choose between colors! A benefit to choosing opal is that it remains neutral, while giving some personality to your ring. Opal is delicate, and can easily scratch, so you'll want to take good care of this gem.

Moissanite

looks a lot like a diamond but is actually much more cost effective and has a more brilliant shine to it. This is a great option if you're looking for a glamorous take on a classic. 

Pearl rings, while delicate like Opal, are a beautiful and simple option. They are minimalist and simple, yet a unique alternative to a diamond for people who want something different. Celebrities like Ariana Grande and Emma Stone have pearl engagement rings. 
Gems can come in many different shapes and sizes as well, creating plentiful options based on your style preference.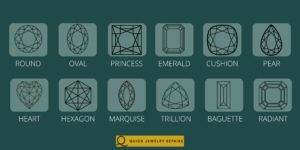 In addition to deciding on the type and shape of the gem, there are a variety of gem arrangements to choose from. You might prefer a variety of types of gems, a cluster, a trio, or one single gem. An arrangement of different gems can be a stylish and meaningful way to customize your ring to you. Some gems have meanings, like birthstones, and some combinations have acrostic meanings; for instance, a ring with Diamond, Emerald, Amethyst, Ruby, Emerald, Sapphire and Topaz gems signifies the term "DEAREST". 
Select a Setting
Choosing a setting is a way to both fit your ring to your style, and also to fit your lifestyle. If you use your hands a lot during the day at work, a bezel setting will help you avoid snagging your ring on anything. Or, if you want to ring to really pop and stand out, you should opt for a prong setting to give that gorgeous gem some height. If you're into sparkle and glam, an ornate halo setting is the choice for you with more diamonds or gems.
Custom Create Your Own Engagement Ring 
Once you've thought about what you'd like your engagement ring to look like, we can help you customize and create your very own one-of-a-kind ring. Start with a free consultation with one of our dedicated jewelry concierge experts. They will walk you through your options and hold your hand through the whole process. Ask them questions or run your ideas past them before moving to the design phase. Once you've developed a vision, your consultant will provide a pricing estimate. From there, your dream ring will be produced into 3D! Feel free to take your design to a jeweler of your choice, or Quick Jewelry Repairs would be thrilled to bring your ring to fruition. 
Ready to create your dream engagement ring? Get started! If you have any questions about the process, read more about our concierge custom jewelry design.