5 Types of Meaningful Gemstone Rings
Written by Annabelle
May 20, 2020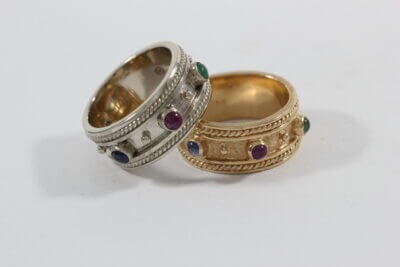 Jewelry is a way to express yourself, and what better way to express yourself than by wearing a meaningful gemstone ring design? Several of these designs have been traditionally used to represent yourself or your status, and some of them even have historical origins! Read on to learn about 5 types of meaningful gemstone rings.
5 Meaningful Gemstone Ring Designs
Acrostic Rings: These rings go back to Victorian times, when romantics would spell out "hidden" messages with the first letter of each gemstone. For instance, "Adore" would be spelled out with an amethyst, diamond, opal, ruby, and emerald. Other common phrases included "Regards" and "Dearest." Of course, you're not restricted to these phrases alone- get creative with what you can spell using gemstones and create your own special acrostic ring with its hidden meaning.

Trilogy Rings: A popular and simple design for weddings and anniversaries, the trilogy ring is beautiful because of its meaningful yet deep simplicity. The three stones represent present, past, and future- a sentimental promise between couples about their life together! While this type of ring typically comes in diamond, you can customize this design to your liking with colorful gemstones, such as birthstones or favorite jewels.

Eternity Bands: A wreath of gems around your finger is a lovely idea, and one that's also commonly used for weddings and anniversaries. The eternity band design is simple- there is a seamless set pattern of stones all around the ring, not just in the front. It represents the all-enduring, the consistency of sentiment and love. Try diamonds for a clean aesthetic, or colored gemstones for a bright pop. We especially love channel-set eternity bands for a minimalist look.

Toi et Moi Rings: These rings are already romantic thanks to their name alone! In French, toi et moi means you and me, and the characteristic design of these rings speaks to that name. Two stones are set in a bypass style at the front of the design. They can be the same type of stone, or set with the birthstone of you and your partner. However you decide to customize it, the elegance and meaning of this particular gemstone ring can't be matched!

Birthstone Rings: It's always fun to buy jewelry that represents you or your loved ones, and what better way to do that than getting a birthstone ring? These rings vary in design, so you can select a solitaire for your own birthstone, or get a family ring with the birthstone of your beloved friends and family. For mothers, a special mother's ring with their children's birthstones is a wonderful gift.

Now you're up to date on 5 types of meaningful gemstone rings! If you want to get started on customizing your own jewelry or creating your own ring, comment below and we'll help you out.