Everything You Need To Know About Wholesale Jewelry Repair
Written by Quick Jewelry Repairs
January 10, 2021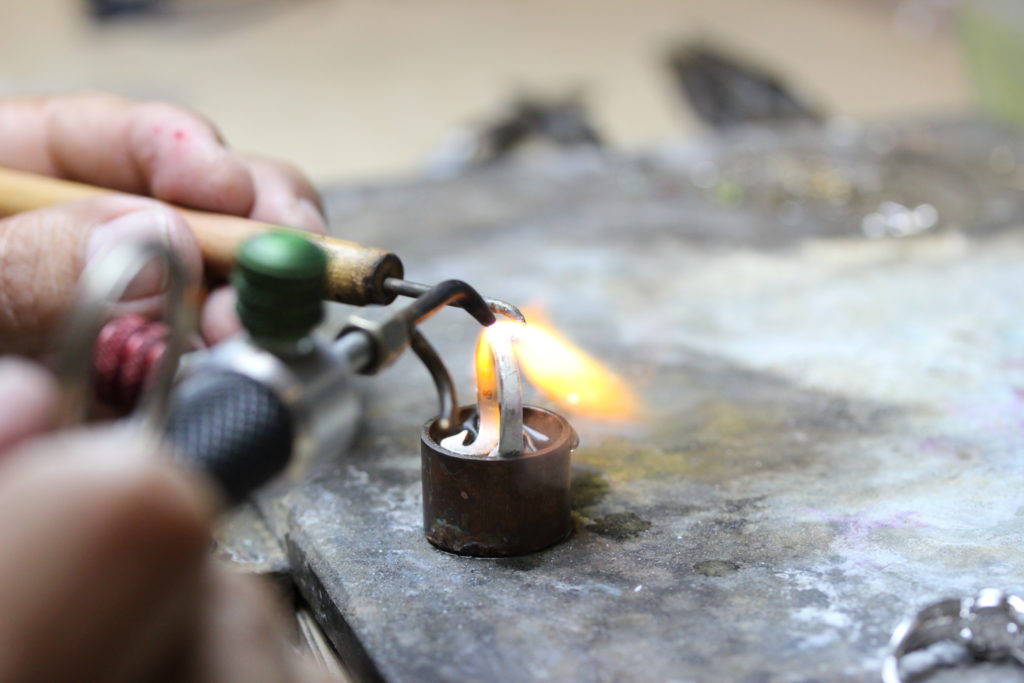 "Can you send me a wholesale jewelry repair price list?" or "What is the mark up with wholesale pricing?" are some of the common questions we get from jewelry and watch businesses who are looking to use a reliable vendor for their repairs. Jewelers, designers, business owners, operations and other professionals are beginning to notice that there's money to be made with jewelry repairs, specifically with refurbishment and restoration work. Finding someone who can do it for you at a cost-effective yet quality price is a tricky thing to accomplish. After all these inquiries, we decided to shed some insight on what to know and questions to ask when looking for wholesale jewelry repair vendor.
4 Different Types Of Businesses Looking For Wholesale Jewelry Repairs – Which One Are You?
It's important to understand what type your business falls into in terms of jewelry repairs, as this will help you determine what services you'll need from a vendor.
Here are a few different types of businesses who might benefit from using a jewelry repair vendor: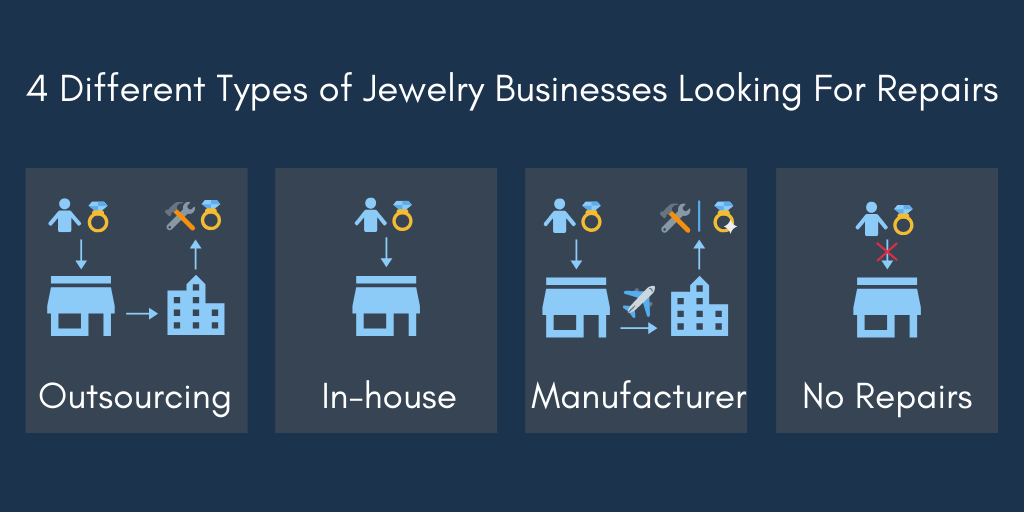 Small shops and large brands who outsource their repairs:
Repairs are provided via either a local jeweler who services the inventory and any customer returns, or a corporate facility that takes a whole batch of repairs each month to get them fixed. Turnaround time and quality is dependent on the repairs provider, and may not always be to the satisfaction of the business.
Shops who provide in-house repairs:
Repairs are performed in-house, either on site or at a different location owned by the same company. Quality and turnaround time is easier to control, but expenses are greater due to an internal need for employee salaries, equipment, and supplies.
Shops who send back to the manufacturer:
Repairs aren't done in-house or outsourced. Any products are sent directly back to the manufacturer either for a replacement or a repair,. However, turnaround time is often slow especially for overseas facilities and most manufacturers are not equipped to handle repairs. Shipping fees can be costly, especially for rush repairs and international packages.
Shops who don't provide any kind of after sales servicing:
There is no return and repair policy available to customers at the moment. However, these businesses are looking into adding repairs because competitors are making a tidy profit with after-sales as part of their product offering.  Jewelers such as Ebay and Etsy shops or importers often fall into this category because they normally don't have the in-house capability to offer repairs.
Find the best jewelry repair vendor for your business by asking these questions
Given those four scenarios above, the solution is to find an external jewelry repairs vendor who can provide services to supplement your business and eliminate issues such as turnaround time and cost. But how do you find a good jewelry repairs vendor?
We've compiled a few questions to ask prospective vendors when doing your research to narrow down the right one. 
Five Questions You Should Ask When Looking For a Jewelry Repairs Vendor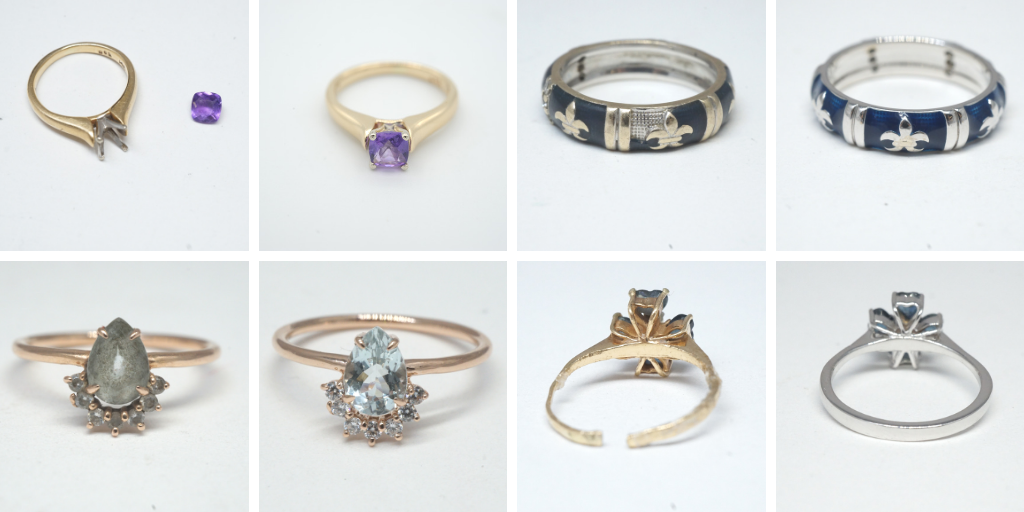 What capabilities do you have?

Consider your product. Are you a retailer who has a lot of sterling silver rings? Are you a designer who needs a lot of enameling on her products? The vendor needs to be able to accommodate your needs to best repair your product- you obviously don't want to waste time with someone who can't perform ring resizing or enameling. Your best bet is to find a full-service repairs vendor like Quick Jewelry Repairs, which provides basic work such as soldering and ring resizing as well as custom creation and jewelry fabrication.


Once you've determined that yes, they can do the work you need, the next thing you need to see is their quality of work. For instance, at Quick Jewelry Repairs we onboard our wholesale partners with a program we call the cost-free pilot.  This allows our wholesale customers to see the quality of our work and gives us a better sense of what their products to set the right expectations of working together.

What's the typical turnaround time for repairs?

A big question that's extremely important for many of our clients- when will they get the repair back? Customers can get impatient, and you obviously want to provide a good repair experience by delivering both quality and speed. There are a few things you should discuss with the vendor that will affect turnaround time:

Complexity of product and repair: Most simple repairs can be done in one day, but make sure that you check on repairs such as enameling, plating, invisible setting, and stainless steel jobs. Your projects may require more time for work, and you'll have to understand the vendor's turnaround time to inform your customers. We generally tell our clients to expect a 3-5 business day turnaround time for batch repairs.
Visibility of repairs: Traditional vendors may not be equipped to provide your customers with an update on the status of repairs. This can cause extra frustration and delays as you wait to hear back from your vendor on the status of repairs. Having a repair partner who is able to provide real time updates on the status of your customer repair jobs can be a huge time saver and help you communicate properly to your customer.

What are your shipping options?

This depends on where you're located, where the vendor is located, and what you negotiate for shipping costs and shipping time. For instance, if you can afford Priority Overnight for each item, then you can expect a 1-day turnaround for shipping.


If your vendor is local and can provide a messenger service, you can offer rush repairs! For instance, Quick Jewelry Repairs is located in NYC. Our clients often enjoy a same-day service as we send our messengers out for pick-up and delivery. Not only do they avoid shipping costs, but they also amaze their customers with speedy turnaround.


You may also want to check and see if they provide drop shipping. Having your repairs vendor package and ship your items direct to your customer will save you time and money. Our clients often send rings to us for resizing, engraving, and polishing. After the service is performed, they specially request our dropshipping program in order to make firm due dates from their clients for engagements!

Do you offer insurance, and how am I protected?

Jewelry is valuable, and anything can happen during shipping and handling. You definitely want to make sure that you're covered by your vendor's insurance policy since you're handing your precious items over to them. A good vendor will have insurance coverage for jewelry in transit (both inbound and outbound shipping) and in facility to ensure that you won't suffer any losses in the event that anything happens. It's important to be thorough when asking about this, as any gap in the insurance policy may be costly to you- imagine if a package goes missing en route to your business and they don't offer insurance on returning shipments! At Quick Jewelry Repairs, we pride ourselves on covering our packages both ways for up to 1.5 million, and 20 million for on-premise items via Lloyd's of London. 

What is your pricing for wholesale repairs?

It seems like such an obvious question to ask, but this is actually the real test to see if this is a vendor you should be working with.

Think about it this way. If you're outsourcing your repairs, you need to consider the fact that you are now the middleman between your customer and the repairs vendor. Therefore, whatever you charge your customer needs to cover your costs based on the vendor's prices. A good way to think about how much you should charge for repairs is to imagine your customer in relation to your product. What's their budget? What's their price point? If you're a retailer who sells costume jewelry that's gold-plated, it'll be silly to offer gold plating for three times your product's initial price just because your vendor charges a lot to re-plate. On the other hand, if chain soldering is cheap, you'll want to add that to your repairs list so they'll come to get a broken necklace or bracelet fixed.
This is important to consider because if a repairs vendor sends you their price list right away, they're not taking your business into account. At Quick Jewelry Repairs, we take the time to learn more about our potential clients in order to work with them and come up with customized wholesale jewelry repairs pricing.
Vendors need to be amenable to discussion- as an example, we adjust pricing with our clients to accommodate their needs based on the volume of repairs they give us per month and the type of work they need. If you're sending in fifty repairs consistently, and it's mostly simple work, you'll probably be able to cut a deal with the repairs provider.
You should now have a better understanding of what you can ask when looking for wholesale jewelry repair. If you're interested in finding a wholesale jewelry expert who provides a wide variety of services at prices designed around your business, look no further. We're happy to help you out with whatever you need! To get started, just fill out the form below.