The engagement and wedding rings that make up your wedding set are supposed to remind you of your special day for a lifetime. They're tiny celebrations of joy and love that you can carry around with you everywhere you go. But that doesn't mean they need to stay the way they were on the day you got married!
There are countless ways to upgrade, refresh, and redesign your wedding set as your love grows over time. Commemorate the occasion when celebrating an extra special anniversary or renewing your vows with your special someone, for example, or take advantage of changing circumstances later in life to make your wedding set even more personal and extravagant.
If your wedding set is going to remind you of how excited you were to wear it for the first time, it should change and grow with you. Whether it's your first anniversary or your 50th, whether you're celebrating a growing family or just celebrating life together, upgrading your wedding set is a great way to make your rings even more special. 
Here are five ways you can celebrate milestones and fall in love with love all over again by upgrading your wedding set:
Refresh your wedding set with deep cleaning
When you want your wedding set to feel brand new — no matter how long ago you said "I do" — go for a deep clean. You should take good care of your jewelry both when you're wearing it and when it's stored in your jewelry box for safekeeping. It's also a good idea to clean your jewelry at home on a regular basis. But to really bring out the sparkle and keep your jewelry shining for years to come, treat the pieces that matter most to a professional makeover.
Jewelry Polishing
With enough wear, many metals will gradually dull and lose their shine. But professional jewelers know exactly how to make precious metals shine again. When you send your wedding set to be polished, your jeweler will buff out any scratches in the metals and restore your rings to their original luster.
Get started with jewelry polishing services.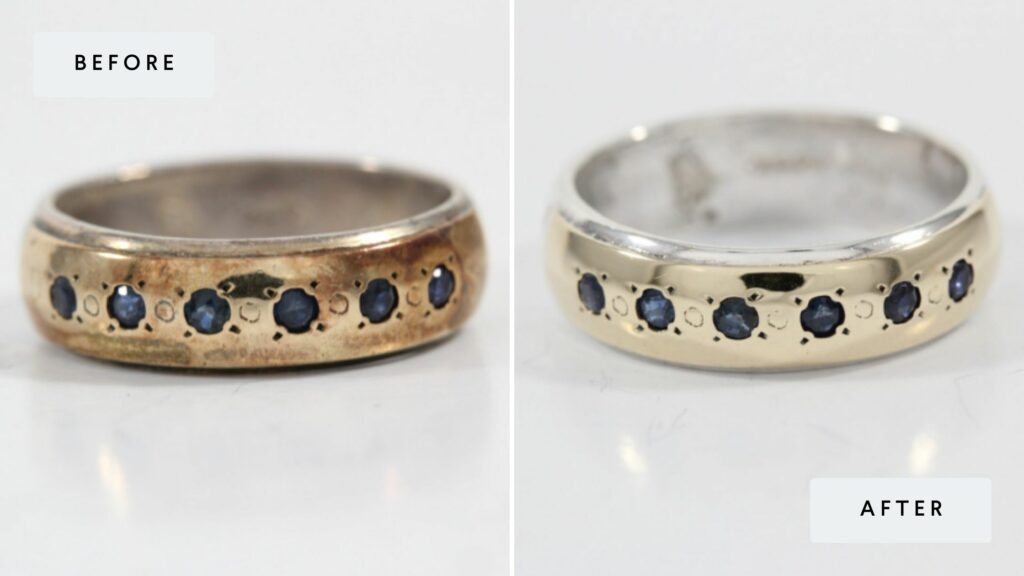 Gemstone Polishing
It's possible that the separate components of your wedding set will wear differently over the years. If you want to focus on the gemstones instead of the metals in your rings, look for gemstone polishing services. A jeweler will be able to address the nicks and scuffs that can appear in even the most precious stones so your wedding set can shine again.
Get started with gemstone polishing services.
Spa Service
For the deepest and most thorough clean possible, treat your wedding set to a spa day. The process starts with stone setting and tightening to make sure that your gemstones are safe and secure and the metals that hold them are intact. Next stop is polishing, followed by the cleaning stage. Jewelers use industrial-strength tools designed to make your rings look as good as new, while still protecting their delicate metals and stones.
Get started with our complete jewelry spa service package.
Celebrate your special date with custom details
There are so many special dates and events that go into a life-long love. When you're ready to update your wedding set with personalized details, mark those special occasions with reminders of your journey along the way.
Ring Engraving
The sky is the limit when it comes to engraving. Any date, word, name, or initial that you carry around in your heart, you can also carry around your finger. As long as it fits in the space of the band, you can engrave virtually any memory into your wedding or engagement rings. Here are a few wedding set engraving ideas:
The date you first met

Engagement date

Wedding date

Anniversary date

Partner's name or initials

Children's names

Vows
Get started with ring engraving services.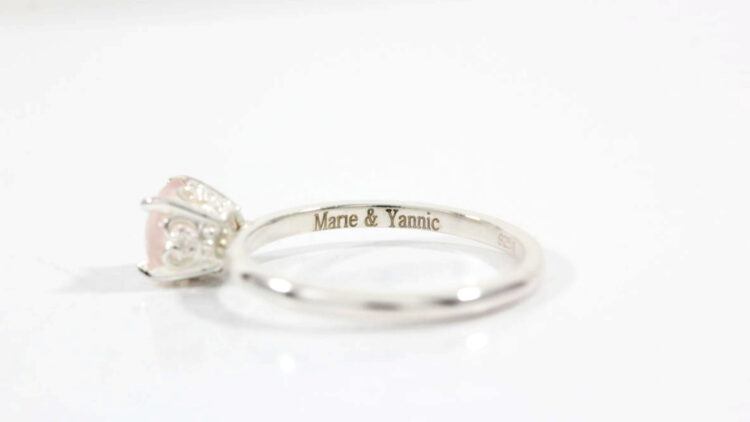 Ring Soldering
Much like you and your beloved joined together in matrimony, your wedding and engagement rings can be soldered together and worn as one. It's a more metaphorical statement that symbolizes your union while also making your multiple rings easier to wear and keep track of. You can solder a bridal set to celebrate an anniversary or milestone occasion, for example, or join together new rings that become part of your wedding set as the years go by.
Get started with ring soldering services.
Restore your wedding set with focused repairs
It's perfectly natural for rings to show wear and tear. Most of us are very busy with our hands, whether we bump our rings into things throughout the day or something more serious happens. That's why it's so common to send rings in for repairs, especially important ones like a wedding set. Scratches happen, stones come loose, prong tips wear down and break… no matter the state of your ring, there's probably a repair that can help. 
Ring reshaping
All bent out of shape? It happens. Professional jewelers can reshape your ring by hammering it back into the perfect circle you remember (while still preserving and protecting the band, of course).
Get started with ring reshaping services.
Shank repair
As time passes, it's also possible for the ring shank — commonly known as the band — to break, crack, or wear thin. The shank repair process rebuilds that part of the ring so it fits snugly around your finger and stays as strong as the day you got it.
Get started with shank repair services.
Prong re-tipping
Prong settings are among the most popular designs for rings with gemstones. Metal prongs sometimes take the most damage since they are designed to hold stones in place. Re-tipping restores prongs to their full strength, keeping your ring's stones protected in the process.
Get started with prong re-tipping services.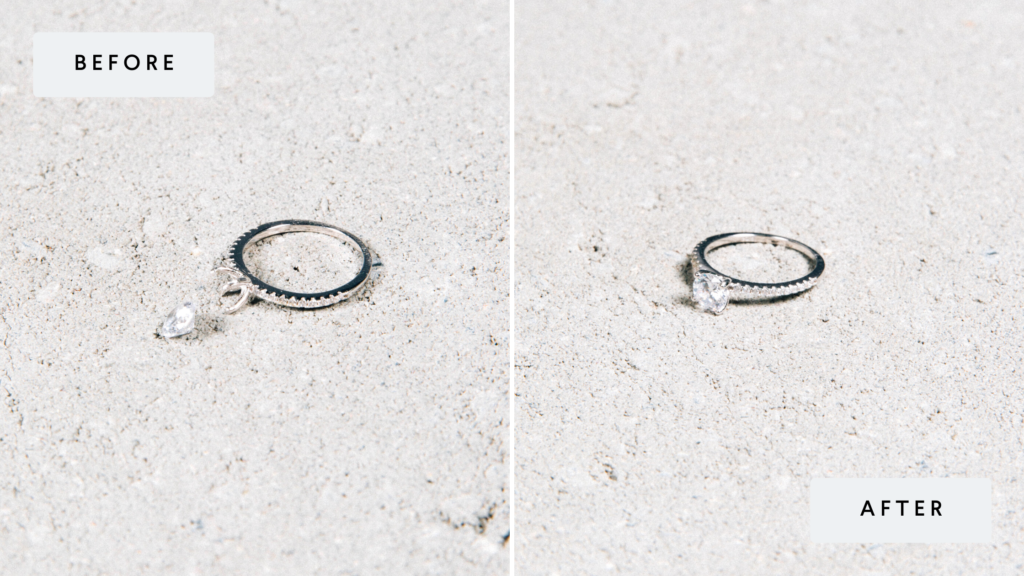 Stone tightening
Friction between a gemstone and its setting can cause changes in your ring. When stones start to feel wobbly or insecure, the tightening process puts them back in their proper place and keeps them well-set and stable.
Get started with stone tightening services.
Ring resizing
Sometimes time doesn't change our rings, it changes our fingers! If your wedding set rings are too big or too small to wear, ring resizing services can adapt your special pieces to your appropriate size right now. 
Get started with ring resizing services.
Reinvent your wedding set with new style elements
Love is forever — and diamonds, too — but tastes and styles are known to change. You can always reinvent your wedding set with design updates that reflect your personal preferences and capture the evolution of your relationship. Here are a few style update ideas to reinvent your wedding set rings:
Play with color and materials by adding new gemstones to your ring, or replace old stones with new stones or cuts that you admire more.

Change the structure by soldering rings that you want to wear together, whether you're completing your wedding set or adding new pieces you've acquired or inherited. (Or

unsolder rings

that were previously soldered for a whole new look.)

Speaking of

inherited jewelry

, family heirlooms and relatives' rings can become a part of your modern wedding set with these kinds of style upgrades too.
It's also increasingly popular for couples to purchase starter rings with the intention of upgrading in the future. As your budget grows, you'll have more options for the materials and styles you can use in your jewelry. Try increasing the size or improving the quality of your rings' most prominent stones, for example. Or upgrade from synthetic materials and semi-precious stones to precious gems and diamonds.
Get started with custom jewelry services.
Start from scratch with a brand new wedding set
Although wedding sets can be powerful symbols, there's no harm in starting over when the time is right. Maybe you're not emotionally attached to the design of your original rings, or perhaps they've just fallen out of favor. Whatever the reason, you can design a totally new piece if you decide to start your wedding set over again. Working with a professional jeweler, you can recycle materials from other precious jewelry, source new materials or gemstones that you love, and even design brand new styles from nothing more than your imagination.
Get started with design rendering and custom jewelry services.
All you need is love, the saying goes. But who doesn't love a beautiful, wearable reminder of the biggest love in your life? Take good care of your wedding set and it'll take good care of you. But sometimes, wearing something that honors your relationship through the years can mean making changes. Don't be afraid to upgrade your rings with the services you want and the repairs they need; you deserve it and your wedding set does too.