8 Questions to Consider Before Purchasing an Engagement Ring
Written by Anna Currell
January 3, 2023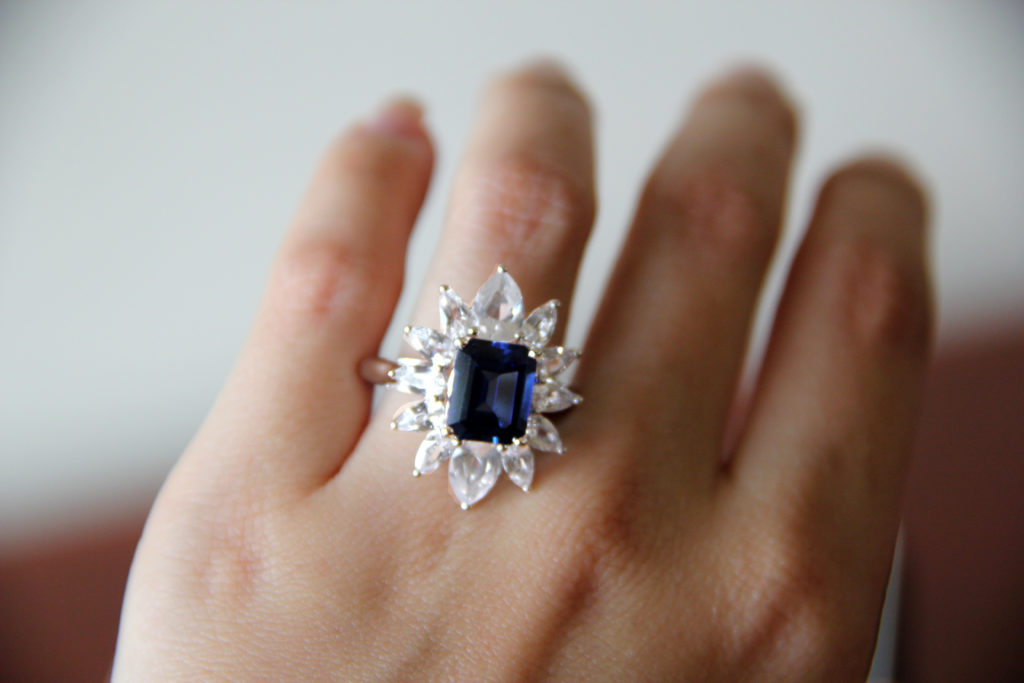 Shopping for an engagement ring is exciting! Don't let the thousands of options overwhelm you and slow down your fun. Going into your search with all the key information mapped out will help you sift through the myriad of choices. Answer just a few questions before you get started and you'll go into the process with a clear sense of what you need to make a smart purchase. Plus, narrowing down your search will make the whole journey so much easier and more enjoyable. Here are the questions to ask yourself as you embark on your engagement ring search:
#1: What's Your
Engagement Ring
Budget?
First and foremost, you'll want to have a budget for your engagement ring. Even if you don't have a specific number in mind, identify a range or a ballpark figure to work with; knowing your budget early on can help you focus your search. Contrary to popular belief, a smaller budget doesn't mean a poor quality ring or limited options — there are all kinds of beautiful, high-quality, affordable engagement rings. Having a financial figure in mind to begin with will help keep you from overspending, and giving yourself realistic guidelines will provide clarity when making the many decisions that go into each element of your dream engagement ring.
#2: What Size Gemstone Are You Looking For?
A carat is the unit used to describe the measurement of a gemstone — 1 carat equals about 0.2 grams. Many diamond rings will fall between 0.2 and 5.0 carats, which is a huge range. The bigger the carat, the bigger the gemstone. And usually, the bigger the gemstone, the higher the price. (This is where designating your budget first comes in handy.) If your style is a little more understated and minimalist, or if you work with your hands a lot in your job and worry about damaging your ring, you may prefer a smaller carat stone. But if you've been dreaming about a large, sparkly diamond your whole life, then putting your budget toward a higher carat stone might be the right route for you.
#3: What's Your Ideal Gemstone Shape?
The shape of your gemstone can really make a difference in the overall style and appearance of your engagement ring. A gemstone's shape is often referred to as its "cut," and there are plenty of very different cuts to choose from: round, princess, and baguette are just a few of the most popular options. One of the best ways to identify the gemstone shape you prefer is to do some research online. Browse on social media and comb through photos of engagement rings you like. As you do, envision each one on your own finger and try to imagine which style feels true to you. Here's a chart to help familiarize you with some common gemstone cuts: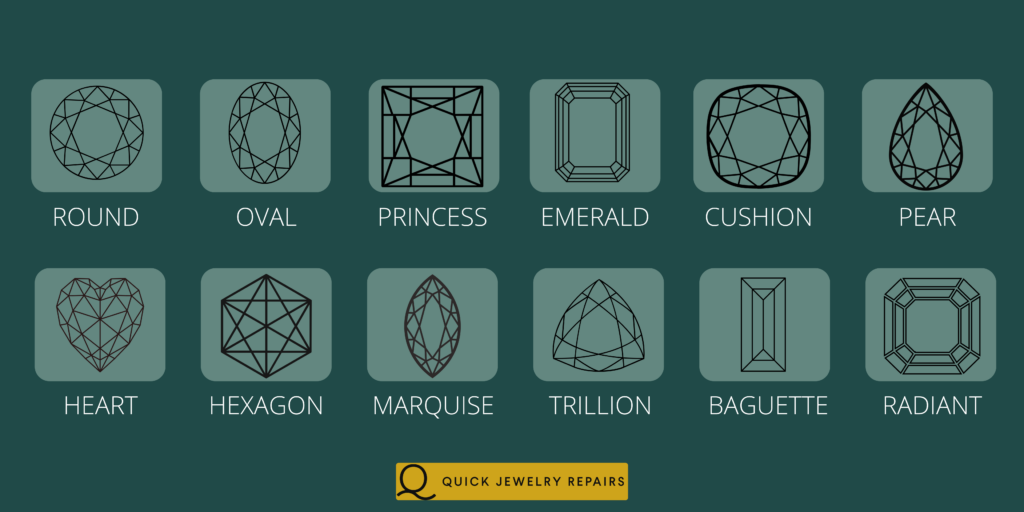 #4: Which Type of Setting Suits Your Lifestyle?
A ring setting is the metal part of your ring that will hold the gemstone in place and determine how your gemstone sits on its band. Not only does the setting impact the overall appearance of your ring, but certain settings are also more appropriate for specific situations. 
A bezel setting (where the gemstone is nestled in metal on all sides) is better suited for people who use their hands a lot and want to avoid snagging their diamond on something. A high prong setting, by contrast, showcases your gemstone beautifully and allows the light to hit it from every angle, but elevating the gemstone means it may protrude further than you're used to and could be more susceptible to scratches and dings. 
#5: What Is Your Ring Size?
If you don't know your ring size, don't worry; it's not as difficult to determine as you may think. You can even find your own ring size at home. Take a piece of paper, wrap it around your ring finger and make a mark where the paper folds over itself. Use a ruler to measure the length in centimeters or millimeters, and use a ring sizing chart to convert that measurement into a specific ring size.
For example, a finger that measures 57 mm around would be a US size 8. Once you know your ring size, you'll be able to determine the perfect fit for your engagement ring. Helpful hint: many countries have different ring sizing systems, so keep that in mind if you're searching internationally. Use a conversion chart to make sure you have the right size no matter where you order your engagement ring. 
#6: Do You Want a Natural Diamond or a Lab-Grown Diamond?
You've got plenty of gemstone options when you're shopping for an engagement ring. If you're looking for a diamond, you can decide between a natural diamond or a lab-grown diamond; their chemical compositions are identical and they look nearly indistinguishable to the naked eye. The only differences are the process by which they were created and the resulting cost. While natural diamonds come with caché, lab-grown diamonds are more affordable (and more sustainable too). 
But diamonds aren't your only option. You could opt for a sapphire, emerald, pearl, ruby, opal, or amethyst to find a uniquely colored hue for your engagement ring. Whichever you choose, make sure your gemstone is ethically sourced. Check with the jeweler or jewelry brand about how they source their materials and make sure they follow Responsible Jewelry Council standards. 
#7: What's Your Timeframe?
If you've got a short timeline (i.e., you wanna get married yesterday) then you might prefer to look for rings that are already manufactured and ready in stock. This shortens the time between finding your favorite ring and getting it in your hands and onto your finger. 
If you have a bit more flexibility or a longer window, then you have more options for customizing an engagement ring to your liking. You can create a completely original piece from scratch with all your favorite design choices, which might take a bit longer. Or if you find a ring setting that's absolutely perfect but you'd rather use a different gemstone, you can have the stone replaced. Similarly, if you have a family heirloom gemstone but want to create a more modern setting to hold it, make sure you have enough time to get the customization done.
#8: Do You Have Inspiration & Reference Images?
Having a photo of a ring that you love will also be helpful in your search for your dream engagement ring. This is just like going to the hair salon with an idea for a specific haircut in your head; in order to make sure your hairdresser understands your vision, it's best to show them a reference photo instead of just describing the look you want. The same applies to searching for your dream ring; find a few photos of rings that you love on Pinterest, Instagram, or jewelry brand websites. That way you won't have to rely on your verbal description skills to convey the concept in your brain to a sales associate or jeweler. 
If you can't find one image with every element you're imagining, then find a few: one with the diamond shape you want, one with an ornate engraving you love on the band, and one that accurately shows the way you envision a halo of smaller gems encircling the center stone, for example. Having these photos on hand can provide you with the tools to express the vision you're after without any communication hiccups. 
Once you've thought through your answers to each of these questions, you're ready to go find your engagement ring! You can shop for something ready-made or add some personalization with minor adjustments like engraving, switching up the gemstones, or gold plating. Or, for a completely unique piece, you can custom design your own engagement ring so it's the one-of-a-kind jewelry of your dreams. Get in touch with one of our bespoke jewelry experts to get started designing and creating your ideal engagement ring today.