How to Pack Jewelry for Travel: From Choosing the Right Pieces to Safe Storage
Written by Anna Currell
February 15, 2023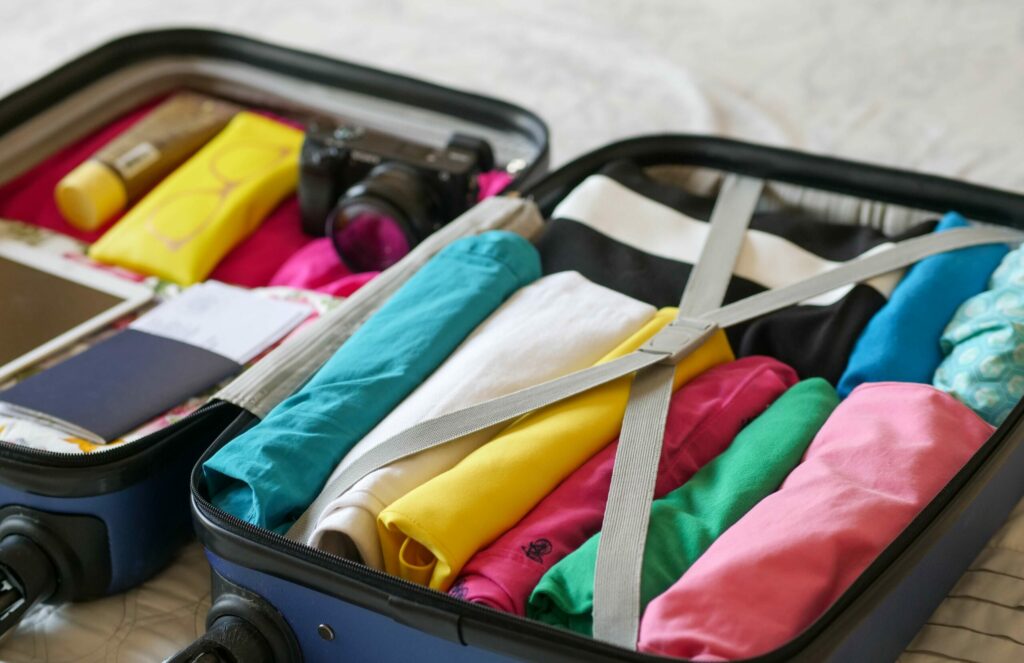 Do you have a big trip coming up? When making the list of things to do before you leave — finding a ride to the airport, getting your passport renewed, and asking your kind neighbor to water your plants — don't forget to plan out jewelry. Packing your jewelry can be tricky; how do you decide what to bring along and how can you make sure all your pieces stay safe while you're en route? If you're wondering how to pack jewelry for travel, you've come to the right place. Let's take a look at the best ways to pack your favorite accessories for your next trip. 
Choosing the Right Jewelry to Pack
The first step is an important one: choosing the right pieces for your trip. Have you ever packed your clothing perfectly in your suitcase, but then panicked when it came to accessories? Instead of just tossing in the pieces that are within reach, take some time to figure out which jewelry will be most pragmatic to bring. Here are a few ways to help you select your best bets.
Consider the length of your travel
First, consider how long you'll be traveling. If it's a weekend trip, you probably don't want to plan on taking too many jewelry items. Chances are you'll be packing light with your clothing, so only bring jewelry pieces that work with the outfits you're bringing. On the other hand, if you're leaving for a month-long journey, you might want to pack enough so that you have options for different outfits and occasions. 
Think about the events you're attending 
Even if you're not taking a long trip, you'll want to carefully consider the events you'll be attending while you're on the road. For example, if your weekend away includes a wedding, you want to be sure you have the appropriate jewelry for your formal attire in addition to your day-to-day jewelry. On the other hand, if you're going on a beach vacation with a lot of activities out on the water, you might want to leave your expensive or sentimental pieces at home so you don't have to worry about losing or damaging them. 
Find pieces that can work with several outfits 
Plan to pack a few jewelry pieces that can match with multiple looks, just like you'd pack a favorite pair of jeans that anchor several different outfits. Create a jewelry capsule collection that includes a few pieces of versatile jewelry that can work with all kinds of outfits. Some good options might include stud earrings, a pendant necklace, and a watch, for example.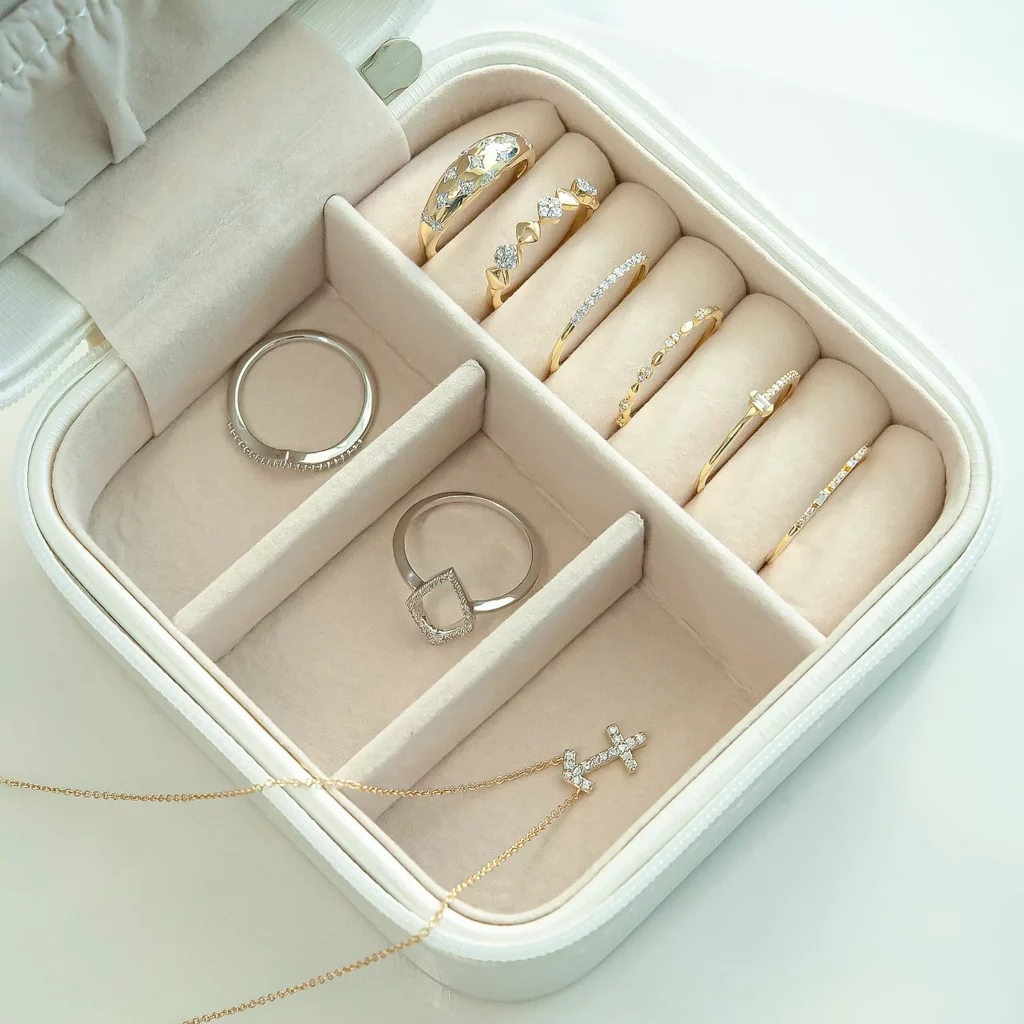 Safely Packing Your Jewelry
It might take a little bit of extra effort, but properly packing your jewelry is a really important step to make sure that nothing gets lost, tangled, or damaged. Here's how to pack jewelry in the safest way:
Invest in a travel jewelry bag or box:

There are all kinds of

jewelry boxes and bags

that are meant specifically for travel. They have pockets for small items, loops to store individual necklaces by their clasps, and even velvet pockets that can protect earrings and rings. This way, every piece has its place in your travel case.

Pack your jewelry in soft surroundings:

No matter what kind of container you use, be sure to place it in a soft, padded part of your suitcase. Surround your case with socks or tshirts to make sure you provide it with extra cushioning, and just in case the box or bag opens and your jewelry spills out. The more protection, the better!

Slide necklaces through straws:

To ensure that your necklaces don't get tangled with each other (and with the rest of your jewelry), unclasp them and slide them through a drinking straw. It's an unconventional approach, but a really helpful one in a pinch.

Don't pack loose jewelry:

Try to avoid throwing loose jewelry into pockets, purses, or backpacks. In the best case, they can get tangled or slightly scratched, and at worst, they can get lost or seriously damaged. 

Reuse small containers

: If you have an empty mint tin, don't throw it away! It might be the perfect place for a small bracelet or stud earrings, since the hard exterior protects against dents and dings while in transit. We recommend including a little padding inside the tin, like a soft cloth, because metal-on-metal contact can scratch your jewelry. Hang onto the velvet pouches that new jewelry comes in so you can reuse them while traveling.
Safe Jewelry Storage While on the Road
Once you've learned how to pack jewelry, the next step is to make sure that it's safe wherever you go. Here are some ways to make sure your jewelry stays safe while you're traveling:
Avoiding Damage
Safe jewelry storage is important to help you avoid any scratches, dents, or other damage. In general, it's best to not store precious jewelry in any place where the pieces can rub together, fall onto the ground, or get stepped on. It's a good idea to place precious jewelry in a carry-on instead of checked luggage, and be sure to keep your luggage in a safe spot while you're on the road and once you arrive at your destination.
Safekeeping
When you're in a new and unfamiliar place, you'll want to take extra precautions to make sure your jewelry doesn't get lost or stolen. If you're staying in a hotel, most rooms come with a safe or lockbox for valuables — this is a great place to keep your jewelry for safekeeping. Some people prefer to keep their jewelry with them in a purse or tote bag, but this can introduce risks of its own. We recommend considering safekeeping ahead of time when you decide what jewelry to bring with you on your trip.
Taking just a few precautions while traveling can make all the difference in the maintenance of your jewelry. But if something does happen, rest assured that you can always call Quick Jewelry Repairs for help. Our expert jewelers can help you replace a lost earring by making an identical replica, repair a broken necklace chain to look as good as new, or even untangle your jewelry if it ends up in a twist. Travel with confidence — we've got your back!