Do you have rings that you would like to wear, but are unable because they are the wrong size? Fluctuations in weight can cause your fingers to either increase or decrease in ring size. Even a slight change can mean the difference between being able to wear a ring and not being able to. Maybe you found an old ring from many years ago, but when you tried it on, it didn't fit.
Many people will just forget about rings that no longer fit correctly because the thought of going to a jewelry shop to resize the ring is impossible. In today's society, everyone is coping with a fast-paced, super-busy schedule. But, what if you could have your ring sized without ever having to visit a jewelry repair shop? Amazing, right!? One easy way to do this is to have your rings resized online. A quick, efficient and professional option, you'll love how organize this service online where your rings will be back on your fingers before you realized it.  Below, check out more tips on how to get your ring resized using an online service.
How to Get Your Ring Resized Online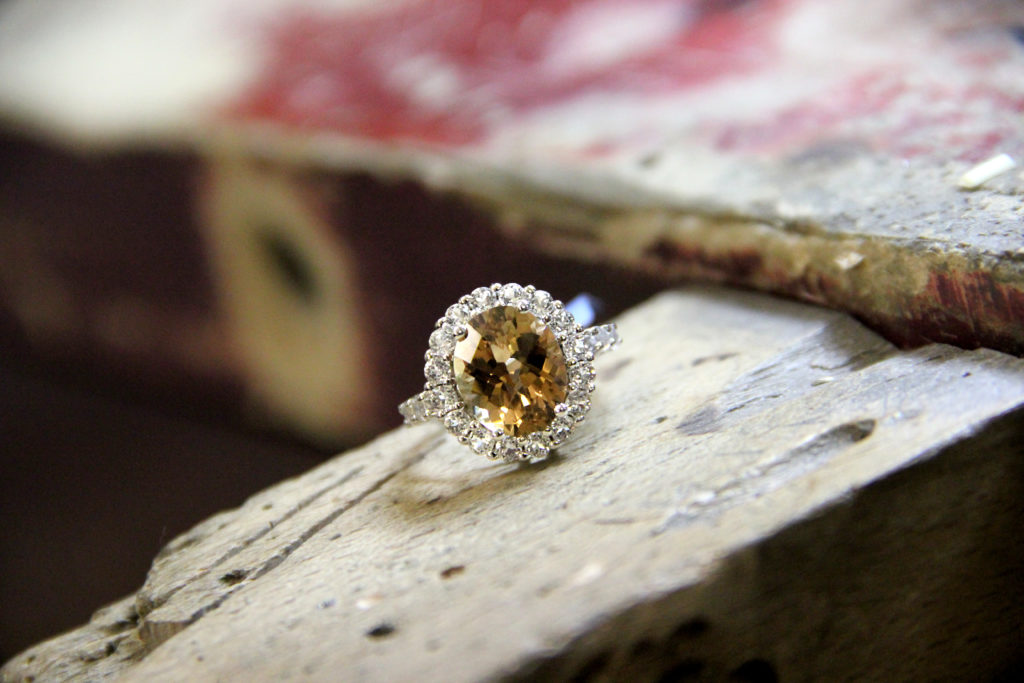 1. Determine which rings need to be resized.
If you are someone who likes to wear rings, then you probably have many rings that need a sizing adjustment to get the perfect fit. There's nothing more annoying than having a ring slide around on your finger. So, keep in mind that just because you can get the ring on doesn't mean it fits comfortably and properly. In fact, what's the point of wearing a ring when the stone is constantly turned the wrong way?
2. Find an online ring sizing chart.
Find an online sizing chart and print it out. You can also measure with another ring and a string of paper.
3. Measure your finger.
To use the resizing chart, take a ring that you currently wear that has the perfect fit and place it on the resizing chart over the circle that best fits your ring. This method of measuring only works if you have a ring available with the perfect fit.
4. Or use a ruler.
If you don't have a ring available to give you the right size, then you'll need to measure your finger with a ruler and a ring sizing chart that uses inches to measure ring size. Such a chart can also be found online. To do this, you will need to get a non-stretchy piece of string or paper about 6 inches long and 1/4 inch wide. Wrap it around the base of your finger so that it fits snug, but not too tight. Mark the point on the string or paper where it overlaps, forming a circle. Place the string or paper over the chart to find the ring size.
5. Choose your ring size.
If you find that your ring size fits in between two sizes, then choose a half size up from the lower of the two sizes. For instance, whether you're using the online ring sizer or the ruler method of measuring, you might find that your size is slightly larger than a size five, but is smaller than a size six. Obviously, if you go with a size five, it's going to be too small. If you go with the size six, it's going to be too large and will lead to the ring uncomfortably sliding around on your finger. Therefore, the only solution to this problem is to assume your size is in between the two numbers which would be a five and one-half.
6. Find an online jeweler.
Once you've found the proper size that you want your rings to be, it is time to find an online jeweler who can resize your rings. Traditionally, this is the step that has been the most time-consuming of the ring resizing process. However, because we now have the internet, you can send your ring away to have it resized. Of course, you'll want to find a jeweler with a good reputation who can offer you quick service at a competitive price. You should check out online reviews of any jeweler before blindly sending your rings away for resizing.
7. Fill out the online form.
Maybe you're feeling nervous about sending your valuable rings away for resizing. Most jewelers have an online form that you'll have to fill out to describe your jewelry and its value. This is for insurance purposes. Your jewelry will be insured up to a certain amount and should exceed the value of anything you are sending. That should ease your mind when sending your rings to be resized. You will also need to upload a photograph of the ring or rings you are sending away to be resized. Quick Jewelry Repairs also has a policy to fully insure your items, up to $250,000.
9. Attach your shipping label.
Finally, the online jeweler will provide you with a shipping label. Print out your label and prepare your package for shipment at no cost to you. Simply drop your package off at the nearest shipping location, depending on which service the jeweler uses.
10. Rock your bling!
The final step is receiving your resized ring or rings in the mail. If you've followed the previous steps closely, then your rings should fit perfectly. How exciting to be able to add more jewelry to your collection that you can wear.
The next time you find a ring that no longer fits, instead of putting it back in your jewelry box never to be worn again, you can follow the steps mentioned to have it resized online. Resizing a ring online is convenient simply because you don't have to change your schedule or fit in an extra trip to the jeweler when you're already busy. Resizing a ring couldn't be easier when you choose an online service to do the resizing. An online jeweler is fast, reliable and trustworthy. There's literally no risk to you since your jewelry is insured. So, now that you know what it takes to have your rings resized online, what are you waiting for? Collect all the rings that you need to resize and send them away. You'll be glad you did.
Start here to get started with your ring resizing!