Everything You Need to Know About Buying Vintage Jewelry On Etsy
Written by Anna Currell
December 23, 2022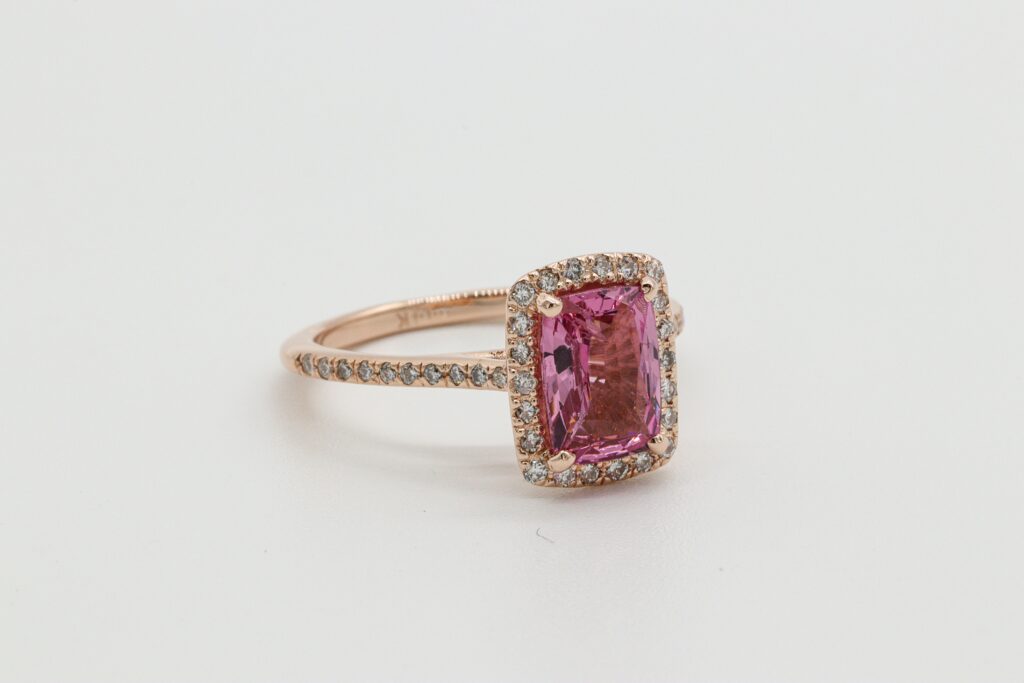 Here's a style paradox for you: vintage jewelry is becoming a very modern trend. Just like history, fashion tends to repeat itself, so it's no wonder that baroque, art deco, and antique pieces are finding their way back into the zeitgeist. But finding vintage jewelry can be difficult; how do you know what's real, how do you determine a piece's value, and where do you even begin to look for those hidden gems? In this article, we'll explore how to approach finding vintage jewelry on Etsy and other online stores, and how to make the most of your finds.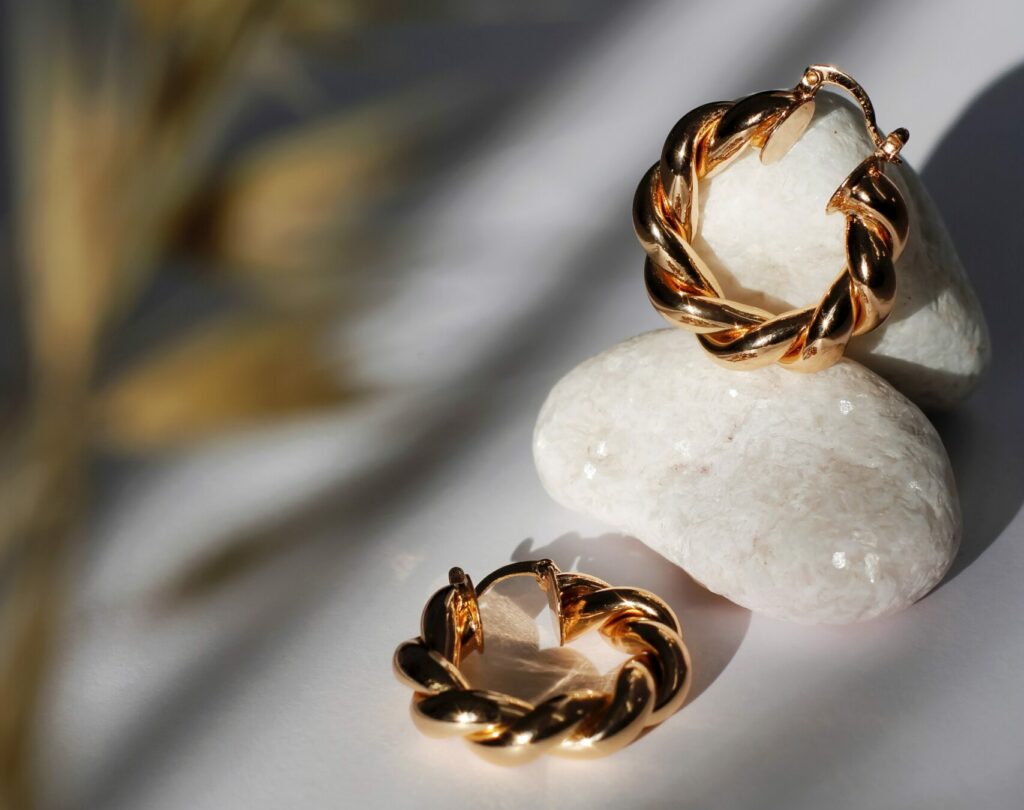 How to Find
Vintage Jewelry
on Etsy
Etsy is a great place to search for vintage jewelry. Many artists and resellers spend their time searching estate sales, antique shows, and even pawn shops for special vintage pieces that they can polish off or upcycle into new pieces. We don't want you to feel overwhelmed by the huge number of options, so here are some steps you can take to make your search a little easier:
Begin broadly
First, it's a good idea to begin with a broad search. Type something like "vintage jewelry" in the search bar, and don't feel overwhelmed when you see thousands of results. Start browsing what comes up to familiarize yourself with what's out there and start to define the styles and details you're looking for. Do you know the difference between Baroque, art deco, Victorian, gothic, mid-century, and avant garde? Scrolling can help you hone in on your priorities and find names for your personal tastes. Focus on the pieces that speak to you, and then read their descriptions. Most Etsy sellers offer detailed product descriptions to give you a sense of what to expect from their jewelry. Write down what speaks to you about each piece!
Narrow your search
Next, take those notes and apply them to your search criteria. You can use Etsy's filter feature to search by style, price, material, color, chain style, gemstone setting, and more. Once you select your favorite elements, you'll be able to peruse a much more specific list of results that will be carefully tailored to your desired style.
Do your research
Once you've found some pieces you love, do a little research about the shops that are selling them. The most important way to tell if a piece of jewelry is truly vintage and one-of-a-kind is to see how many items are in stock; if there are multiple sizes and color options, or if there are more than a few in stock, then it's less likely the piece is truly vintage. It's possible for vintage pieces to come in a collection, but more often than not they're found one by one. Their rarity is what makes them special!
Etsy also encourages customers to review their items and experiences with sellers; take a look at some of those reviews to get a sense of whether past customers have been satisfied with their vintage purchases from the seller you're considering. You should also be able to find details like the piece's origin, materials, condition, and specs like weight and size. If the shop has a website or social media profiles, check out what they've posted publicly. You might be able to get an idea of where the shop sources their items and how they find their vintage pieces. 
Make a purchase
Once you've found what you're looking for, scoop it up! True vintage jewelry is rare and unique, so don't miss your chance to own the piece that catches your eye.
What to Do Once You've Found Your
Vintage Jewelry
Now that you have your vintage jewelry, what should you do with it? There are a few things you should do any time you add a pre-loved piece of jewelry to your collection. Here are the basic steps we recommend:
# 1 Get your vintage jewelry appraised 
If an Etsy shop owner had their jewelry appraised before selling it, that's great news; you'll be able to request to see a copy of the appraisal document so you can find out details like the shape, cut, clarity, and carat of any gemstone, the measurements and weight of the piece, and the jewelry's overall value. An official appraisal can help you determine the piece's authenticity so you know you're getting the real deal, and it is also a helpful tool if you decide to get your piece insured. If your jewelry doesn't come with an appraisal document, you can easily get an appraisal completed by a professional jeweler. 
#2 Get your vintage jewelry insured
If you're spending a sizable amount of money to own a vintage piece of jewelry, you should probably protect it with insurance. It's always a shame to lose or damage a favorite jewelry piece, but it's even more upsetting when the piece is one of a kind and comes with its own history (or a major up-front investment). When you meet with your insurer, be sure to bring both the vintage piece and your official appraisal document with you. 
#3 Resize your jewelry to fit you
It's really rare to find a vintage ring that's exactly your size (but if you have, please buy us a lottery ticket). If you fall in love with a vintage ring that's too big, it could fall off your finger and get lost. If it's too small, you might have a hard time getting the ring on and off safely. Be sure to get your Etsy ring resized so your fingers and the jewelry stay safe. You can also resize other jewelry too — you can always have a chain lengthened or shortened to fit you exactly the right way so that your vintage necklaces and bracelets fall where you want them to.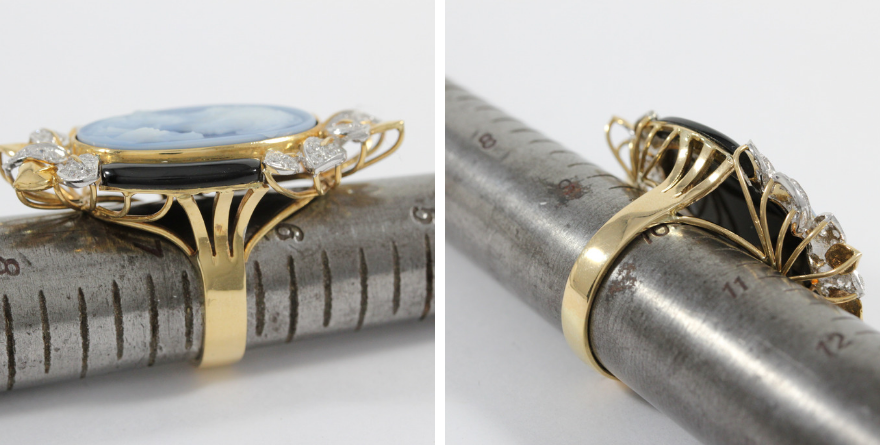 #4 Get a proper cleaning
It makes sense that the vintage jewelry you love and wear most is the set you'll want to keep looking sparkly and new. Book your prized pieces a well-deserved jewelry spa appointment, where a professional jeweler will perform a deep cleaning, assess any damage, and even polish the surface of your jewelry. This can completely change the look of a piece of vintage jewelry, and it can ensure your piece is in its best shape to be worn and loved (again and again).  
Once you've given your vintage jewelry the attention it needs, have fun wearing it! A vintage piece of jewelry makes a great conversation starter, and you can dazzle everyone with your in-depth knowledge about where it's from and the story behind it. Don't forget to take great care of your vintage jewelry finds so they last for years to come; in addition to regular cleaning and polishing, you can always spruce them up with a new look. Try gold-plating, rhodium plating, or gemstone replacement to give them a fresh, modern makeover while keeping their rarity and history intact.