What You Need to Know About Gold Plating Your Apple Watch
Written by Anna Currell
August 19, 2022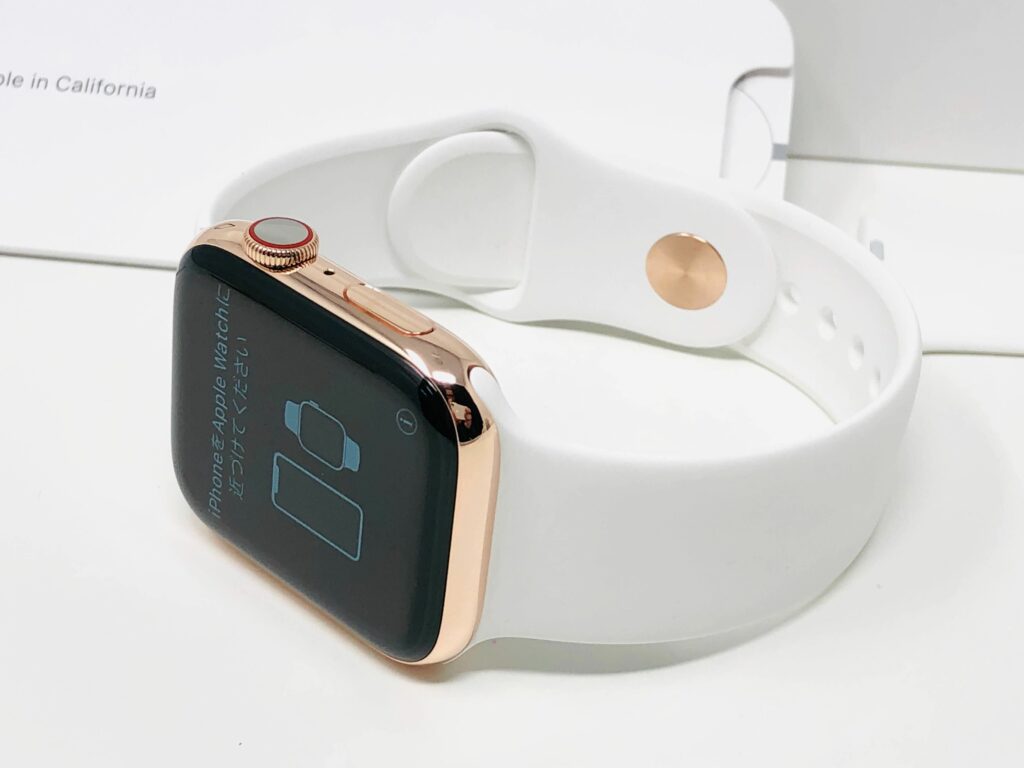 Apple Watches are not only incredibly useful, they're also expressive and fun! While you stay up to date with your emails, texts, phone calls, fitness goals, and of course, the time, you can also make a style statement. There are so many ways to customize your Apple Watch with specific features and design elements; one of our favorites ways to upgrade your style is with a gold plated Apple Watch. Here's everything you need to know about gold plating.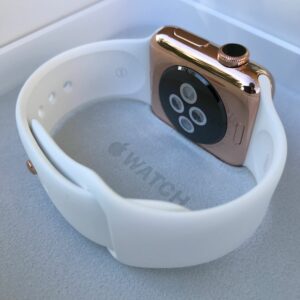 What Is Gold Plating?
Gold plating is the process of applying a thin layer of gold to the surface of an existing metal. The practice has been around for centuries, dating back to Ancient Greece. When it comes to Apple Watches, gold plating is one way to create a gold finish even if the watch itself isn't made of gold. Any kind of jewelry that looks golden may or may not be made of gold through and through; it can be either solid gold, gold filled, gold vermeil, or gold plated. 
Today, the most common method of gold plating is electroplating, which uses chemicals to bind a layer of gold onto other metals. It's important to apply the gold electroplating process to a thoroughly cleaned watch to avoid any impurities on the surface of the finished piece. After cleaning the watch, a layer of protective metal (like nickel, for example) is applied to the base metal. This layer serves to protect against any reactions between the gold layer and the metal watch and provides a reliably fusible surface metal. 
Next, the watch is dipped into a vat of hot liquid gold with an electrical charge running through it. This is where the chemical reaction takes place; the positively charged gold ions are attracted to the negatively charged surface metal ions, creating a chemical bond that produces a permanent fuse. After the watch is dipped and plated to perfection, it's hung to dry. To learn more about this process, read our guide to gold plating. 
Electroplating is a fun way to rebrand your smart watch, but it can also be applied to all kinds of jewelry! If most of your jewelry or accessories are gold, this is a fun way to bring other pieces into your cohesive look. 
Customize Your Gold Plating 
Gold plating your Apple Watch will leave its stainless steel areas covered while avoiding the screen and back sensor, as you can see in the photo below. After your initial decision to gold plate your Apple Watch, there are still many ways to make your timepiece unique to you. Keep in mind that because of all these variables, the price of gold plating can vary widely. Everything from the total surface area you'd like gold plated to the thickness of the gold you'd like to apply and the finish you choose can change the final price. Even though gold plating does use real gold, it's still considerably less expensive than buying a solid gold piece of jewelry.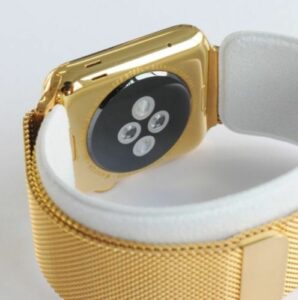 Customization Options
First, select your finish: yellow gold, rose gold, or white gold are the most common options. Many people base their choice on the other accessories they own to create a coordinated look that will match their existing collection. 
Next, decide the thickness of the gold plating you'd like to apply. Thickness in measured in microns; check out this graphic to get a sense of what that measurement means and how many microns you'll need: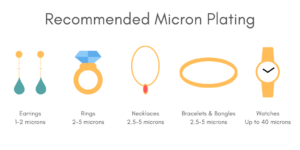 The benefit of having more microns is that the gold will be better protected against natural erosion, which can happen slowly over many years. As the top layer ages, the gold can become worn down just like any other metal. If you have any metal allergies, gold plating won't permanently protect you from a reaction to the base metal because the gold can erode over time, exposing you to the metal beneath it. Replating is always an option, though!
You can also opt to gold plate the band of your Apple Watch to create a polished look. Although Apple Watch bands come in many different materials, only metal bands can be electroplated. If you choose to go this route, the metal band will undergo the same gold plating process as the watch itself.
How to Care for Your Gold Plated Apple Watch
Make sure your gold-plated Apple Watch stays in tip-top shape by keeping it away from: 
Chemicals

Makeup

Chlorine

Hairspray

Perfumes

Oils
To prevent unnecessary contact, it's a good idea to take off your watch before heading to the pool or the beach and put it on after applying your makeup, hairspray, and perfume. Consider where you store your Apple Watch when you're not wearing it — keep it in a secure jewelry dish or watch box to avoid knocking it over or letting it bang around in a drawer. You should also avoid tossing your loose watch into a suitcase when packing; use a travel watch case or jewelry box, or at the very least, tuck it away with your soft clothes so it's protected. It's also a good idea to get your watch cleaned regularly to prevent any tarnishing. 
Have any questions about gold plating your smart watch? Ask us in the comments below!