How Should I Take Care of My Hidalgo Ring?
Written by Anna Currell
August 9, 2022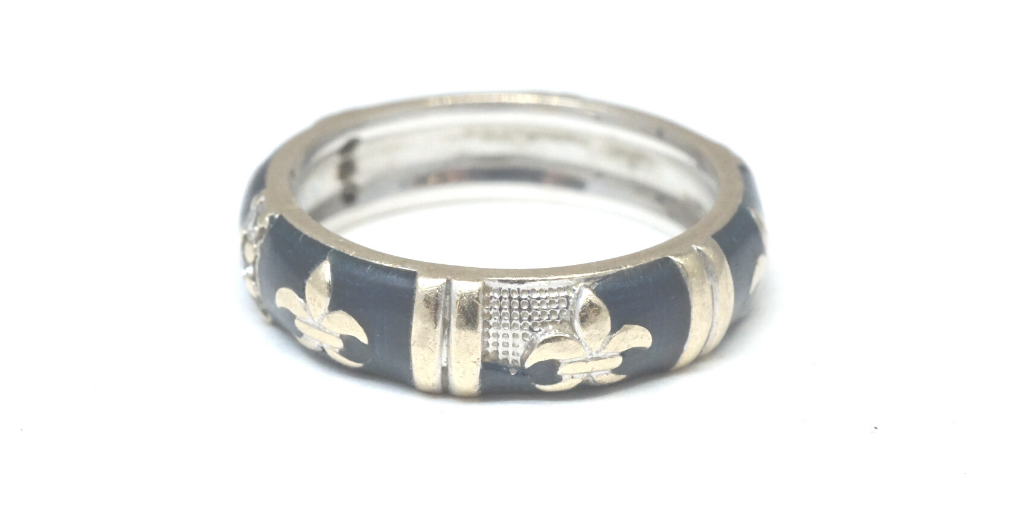 Hidalgo rings are unique and highly coveted. Because their most distinguishing element is their signature bright enamel, protecting and caring for that coating is probably the most important part of caring for your Hidalgo ring. In this article, we'll look at the history of Hidalgo rings, how you'll know when it's time to have them repaired, and what to do to keep them in tip top shape for years to come.
What Are Hidalgo Rings?
Hidalgo rings are bold enamel pieces that got their name from designer Silvio Hidalgo. At age eleven, Hidalgo immigrated to the United States from Cuba, and after a career as an engineer at IBM, he spent decades designing his famous namesake rings. Hidalgo has since retired, but his unique and beautiful ring designs remain popular. Even if you've never heard of them, chances are you've seen the award-winning and brightly colored Hidalgo rings everywhere. 
Ring Materials 
The recognizable ornamental style of Hidalgo rings makes each one a statement accessory. In addition to being made with enamel, most Hidalgo rings have rounded edges and many feature diamond pave settings. Various combinations of metals, enamel colorings, and diamond placements make for a versatile collection. In addition, Hidalgo rings come in a variety of sizes and thicknesses, so you can wear each one as a solitary piece, or stack them together for a different look depending on your outfit or your mood. Many collectors will stack as many as five rings together to show off how their designs complement each other. 
Collecting Hidalgo Rings
Hidalgo rings are sold in many different places; you can find them directly on Hidalgo Jewelry's website, at specific jewelry stores like Badler Jewelry, and at vintage jewelry stores. The rings and stackable ring collections can range from $300-$8,000. Some of his popular collections include art deco themes, aviary and garden imagery, and equestrian motifs. Each collection has intricate patterns, diamond settings, shapes, and sizes to suit any collector's style.  
Protecting Your Hidalgo Ring's Enamel
Enameling is the practice of applying colored glass powder to the surface of a piece of jewelry. The process of enameling starts with thoroughly cleaning and polishing the underlying metal, and the time it takes to apply the enamel varies depending on the intricacy of the pattern and the amount of colors involved. Most enameled jewelry is of the vitreous variety, which is made by fusing the glass powder to metal with heat; each piece of jewelry is fired in a kiln heated to between 1300°F and 1650°F.

To prevent any wear and tear, we recommend getting your enamel pieces cleaned every six months. Another way to avoid enamel deterioration is to be sure to keep your jewelry in a safe place. Storing Hidalgo rings in a jewelry box on your dresser, for example, will help keep them safe from accidental scrapes or dents. You can also avoid enamel distress by keeping your Hidalgo rings away from water, like when you're showering, doing the dishes, or swimming. It's a good idea to remove all Hidalgo rings before doing high-octane activities that would pose a risk to the enamel, like cleaning the house with powerful products or sweating a lot while playing sports. 
For more tips on how to protect your Hidalgo rings and other enamel jewelry, read our guide.
What Happens If My Hidalgo Ring Needs Enamel Repair?
Have no fear! Enamel is delicate, but an expert jeweler with the right equipment can easily repair it. Because enamel is closer to a hardened glass than a coating of paint, it easily binds with its metal base and is relatively durable and scratch resistant. However, enamel has a tendency to crack and can be shattered if not taken care of properly as outlined above. Because enamel jewelry often includes intricate artistry, it's a good idea to find a re-enameling service that is equipped to cater to the Hidalgo ring's standard of detail and precision. If you want to go back to the source, Hidalgo Jewelry offers repairs that take around a month to complete. Their enamel repair costs about $150 plus a $40 shipping fee, with additional services like ring resizing available for $200–250. 
Quick Jewelry Repairs provides expert enamel repair as well; our esteemed jewelers will return your Hidalgo ring to its original state, looking as good as new. Add our enamel repair service, send in your ring, and we'll take care of the rest! Our enamel repair services begin at $33.50 with the option to add on polishing or rhodium plating to your order. In 1-2 weeks, you'll be wearing your bright, bold, and beautiful Hidalgo ring again with pride. 
Have any questions about enamel or repair? We're here to help. Let us know in the comments!