How Much Does It Cost to Replace a Pearl in a Ring?
Written by Annabelle
February 27, 2020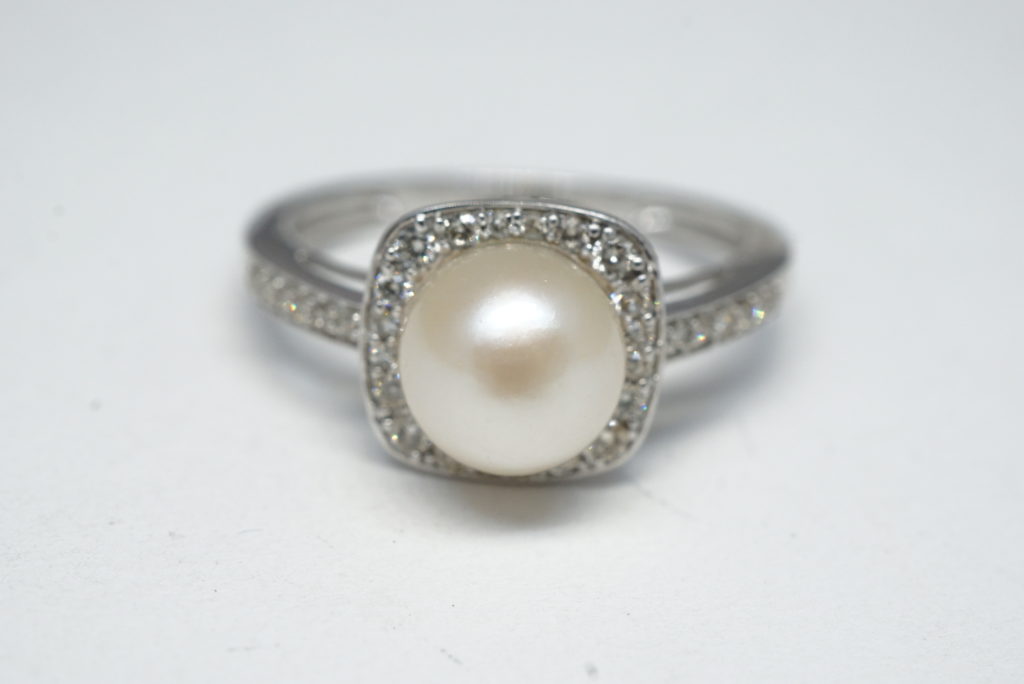 Pearl rings are delicate, beautiful, and very finicky to take care of! Whether you've lost one of those gleamy globes or damaged it due to wear, it's time to get it replaced. But pearls are a little more difficult to replace than diamonds or gemstones, as no one pearl looks the same, and prices can range from affordable to costly. Read on to learn more about the process and cost to replace a pearl in a ring. 
5 Factors that Affect Pearl Replacement Cost
Pearl Type: Pearls come in

various types

, such as cultured and naturally-occuring. Most pearls available on the market are cultured freshwater pearls; natural pearls are extremely expensive and rare as they have to be specifically found after opening thousands of oysters.


Pearls also come in types separated by origin and color. These categories impact the price, as they are considered to be higher quality if sourced from a particular location. For instance, Tahitian black pearls command a higher cost than regular white pearls, and are outranked by the rare South Sea golden pearls.
Aside from natural and cultivated pearls, imitation pearls can also be used as a replacement if you want to keep your costs down. These pearls are not pearls at all; most of them are plastic or glass beads coated in a chemical solution to give them the appearance of a pearl. While they're affordable, the coating will peel off over time.
Pearl Shape: Round is the default desired shape for most pearls, but that might not be what you need! Pearls can come in many shapes such as keshi (irregular), baroque, teardrop, and button. Depending on its availability, other shapes might be harder to procure as they're not commonly sought after or stocked by pearl vendors.

Pearl Size: On average, most pearls sold are between 6.5 mm and 7mm. The larger the pearl, the more expensive it'll be to replace it (unless if you opt for an imitation pearl to accommodate for the size.) Lower-grade pearls in irregular shapes can be bought at large sizes without increasing the cost. 
Pearl Quantity: If you're looking to replace more than one pearl, then you can expect the cost to rise accordingly. Smaller pearls like seed pearls can range from 10 to 12 dollars a piece depending on size and quality, but are worth the investment. They're commonly used in antique pieces like Georgian or Victorian jewelry, and are essential for restoration.

Pearl Setting: How your

pearl is set

into your jewelry will affect the cost of the replacement as well! Some pearls experience no treatment and can be plopped straight into a prong setting by a jeweler who closes the prongs around the gem. Other pearls must be glue-set with jeweler's epoxy into a little hollowed setting within the metal. For pendants and earrings, a threaded bit is often drilled into the top of the pearl and twisted into the gem in order to keep it dangling as part of the design. Depending on what modification is necessary, that will increase the cost of the work. 



Turnaround Time for Pearl Sourcing
As with all stone sourcing, turnaround time varies depending on how easy it is to procure the pearl you need. If you want a plain, average-sized freshwater round pearl, the turnaround time can be one day. On the other hand, if you're sourcing a large, 9mm Tahitian black pearl, this can take more than a week as the lapidary checks with suppliers to source the gem. The rarer the pearl, the longer it'll take for it to be sourced as the lapidary may even have to check with overseas vendors. 
Now you're up-to-date on how to determine the cost to replace a pearl in a ring! Whether it's a necklace, bracelet, or ring, it can be heartbreaking to lose one of these gleaming gems. If you're missing a pearl, comment below and we can help you out.