What Is the Difference Between an Online Jeweler vs. a Local Jeweler?
Written by Annabelle
January 22, 2020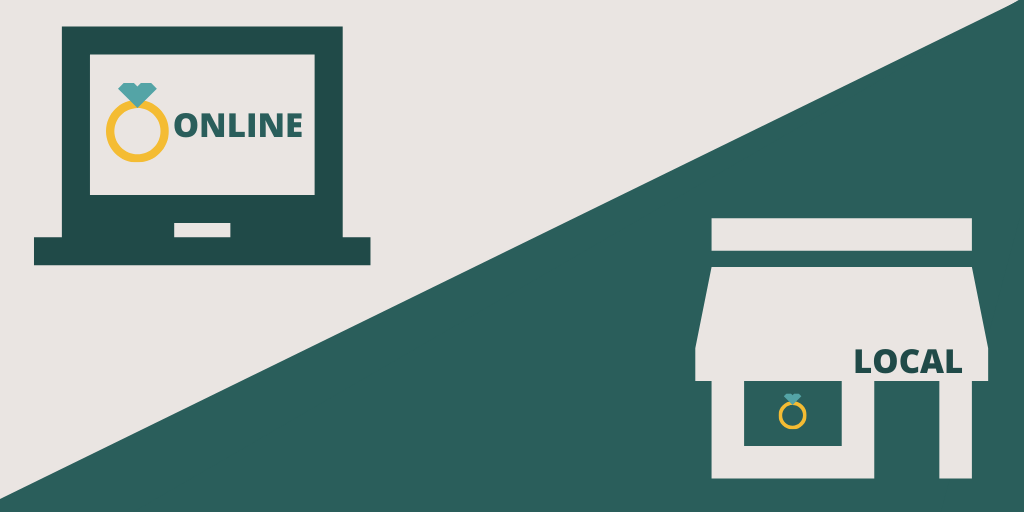 Jewelry is so precious and personal that it can seem a bit odd to find a jeweler on the internet and ship your items off to them. You might wonder, "Why would I send my item off if I can have it repaired with someone local?" We're here to shed some light on the jewelry repair process and what differentiates an online jeweler from a local jeweler. 
How a Local Jeweler Repairs Your Items
When you go to a local jeweler, there are a few things you should keep in mind. Quality differs from shop to shop, and a local jeweler has varying capability when it comes to repairing certain kinds of jewelry.
For instance, if you need to apply a very thick gold plating to an item, the jeweler may not have the equipment to do it at their shop. Instead, they'll take the item, and send it off to a larger facility. The jeweler will mark up the cost of the repair based on how much the larger facility is charging them, and this will also defeat the point of going to a local jeweler to keep your items close by. 
But what if you give your items to a well-established chain, such as the local store of a nationwide jewelry brand?  The jewelry store may send it to a processing center, which then sends it to a local jeweler. Your item might be juggled between three to four different locations before being sent back to you, and the resulting price for the repair is marked up to justify for the additional shipping costs. The turnaround time is also lengthened due to the time needed for shipping between different locations.
How an Online Jeweler Repairs Your Items
Working with an online jeweler directly bypasses the markup and additional turnaround time that's incurred by processing your repair with a local jeweler or nearby jewelry store. Online jewelers are the final destination for the repairs that local jewelers and jewelry chain stores send out. If you use an online jeweler, your items are going straight to one location, instead of being bounced around between processing centers and other jewelers.
These facilities are usually large, factory-level organizations with full capabilities for jewelry processes that local jewelers cannot do in-house due to lack of material and equipment.  Many of these facilities double as manufacturers for fine jewelry, and have a large force of experienced jewelers who are used to delivering consistent high-quality results. Online jeweler facilities have faster turnaround time since they're not shipping to other locations to get the job done, lowering the overall cost of the repair.
Online Jeweler

Local Jeweler

Jewelry Brand Store

Capabilities

Ring Resizing

Chain Soldering

Stone replacement, polishing, cutting

Jewelry work

Engraving

Appraisals

Watch repair

Stainless steel repairs

Enameling

Micron Plating

E-coating 

Custom creation via 3D printing

Ring resizing

Chain soldering

Polishing

Flash plating

Ring Resizing

Chain soldering
Stone replacement
Engraving

Turnaround Time

1-2 days

1-2 days for simple jobs, 1-2 weeks+ for outsourced items

3-4 weeks

Price

Low

Low-Medium

High

Quality 

High

Inconsistent

Inconsistent

Insurance

Up to 3 million 

Unknown

Unknown
Common Questions About Online Jewelers
While we've established some solid reasons as to why you might prefer an online jeweler instead of a local one, we understand that there are always questions and concerns about shipping your items out. Here are a few common inquiries we get from our clients:
Q: How do I know my items are safe during shipping?
A: The online jewelry repair process is specifically designed to ensure that your jewelry is safe during shipping.  For example, Quick Jewelry Repairs has a special arrangement with FedEx to provide our customers with Express 3-day or Priority Overnight shipping, which means that your package spends significantly less time in transit. All packages are insured based on the item's retail value input during order placement, and there are no mentions of jewelry on the shipping label to avoid any potential security risks. Finally, all customers are provided with a tracking number for both way shipping, so they can keep an eye on the package as it travels.
This is in contrast to local jewelers and jewelry brand stores, who will often ship without your knowledge to other locations. This leaves insurance out of your control, and you have limited visibility regarding the whereabouts of your jewelry.
Q: How do I know you're not switching stones if I can't see the repair?
A: All items that received in a repair facility go through a strict intake process that includes high-resolution before and after photography which can capture unique, identifying inclusions within stones for documentation purposes. With 24/7 camera surveillance and limited access to stones, jewelers are closely supervised and go through extensive background screening to ensure that safety is up to industry standards.
If you're looking for a more transparent process, faster turnaround time, and lower prices, it's time to consider an online jeweler! Get started today by commenting below or contacting us here.
Online Jewelers or Local Jewelers?
At the end of the day, there's no straightforward method in regards to using a local or online jeweler. If you have an established relationship with your local jeweler, then consider sending out the repairs they can't fix to an online jeweler. If there's no one reliable near you, then it's a good idea to get connected with an online jeweler who can take care of all of your jewelry needs in a transparent and trustworthy manner. At Quick Jewelry Repairs, we love staying in touch with our repeat customers who always come back to us for repairs, advice, and even custom creation projects! Get started with us today by commenting below or contacting us here.