Thrifting for Treasure: Finding the Best Second Hand Jewelry
Written by Sara Hanks
May 17, 2022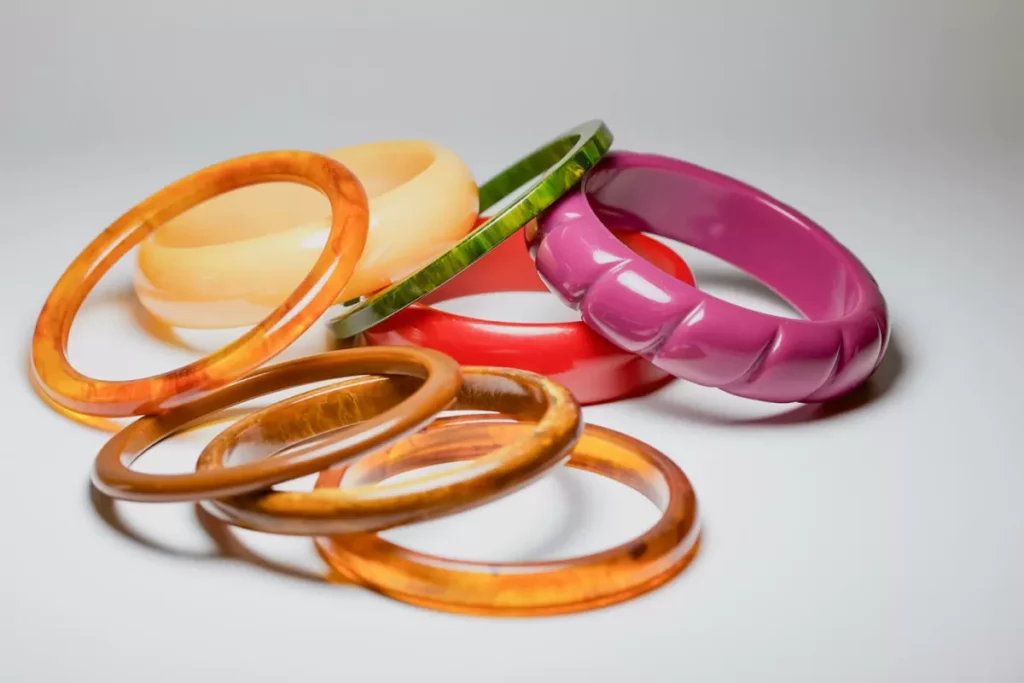 There are almost endless ways to find second hand jewelry. You can visit a thrift store, consignment store, vintage store, or antique store. You can scope out your neighborhood for garage sales and estate sales. You may even hit up an auction or flea market. And that doesn't even begin to touch the online options like eBay, Etsy, and so forth.
But if you've ever tried one of these methods, you already know: there's a lot of junk out there. How can you sleuth out the real treasures? We have a few suggestions to help you spot valuable jewelry pieces.
Look for Stamps
Most pieces of jewelry made with precious metals (gold, silver, platinum, etc.) are stamped. Check the insides of rings, the backs of earrings, pins, and charms, and the clasps of necklaces or bracelets for small engravings. Depending on the size and age, these stamps may be hard to see; you can use your phone's flashlight or, if you're really dedicated, a magnifying glass to make the stamps easier to read.
Commonly, stamps will feature numbers. "925" indicates sterling silver, while stamps like "10k," "14k," and "18k" refer to the quality of gold used in the piece. Words like "sterling" or "sterling silver" may be featured as well, and in some cases, you'll find a brand insignia or the initials of the craftsman. Google can be your best friend in situations like this (more on that later), but even if you can't figure out what a certain stamp means, the fact that there's a stamp at all is a promising sign. If the piece wasn't at least somewhat valuable, no one would have bothered to stamp it.
Do Your Research
It takes time and effort, but the more familiar you can get with different jewelry styles, the more you'll increase your ability to recognize truly special pieces. A piece that most people might mistake for something from a kid's costume party could actually be Bakelite, a popular jewelry trend from the 1930s and 40s. A person who knows the difference will have the upper hand.
If you come across something interesting, using the right search terms will help you figure out the likely value of a piece. Do you know how to recognize pieces made in a brutalist style, or an art deco style, or a victorian style? Spend a little time browsing the Vintage and Antique Jewelry section on eBay to recognize the eras you like best. Knowing a variety of jewelry styles will help you when it comes time to Google.
Pay Attention to the Details
In many cases, fine jewelry will stand out in subtle ways. A finely-engraved clasp, for example, can be a sign of a valuable antique bracelet. Hand-knotting between beads or pearls is another promising detail; jewelers will only put in the extra time to tie those knots if the material is worth the effort.
Good craftsmanship will show in symmetry, balance, and straight lines. If you're looking at a piece of jewelry and anything about it seems a little oddly-placed, there's a good chance it wasn't worth much even brand new.
Check for Wear & Tear
If you're shopping for jewelry secondhand, the pieces you're looking at obviously have a past. Some wear and tear is no problem and may even be a good thing. Anything advertised as vintage or antique ought to seem like it's been worn before; if it doesn't, you'll want to dig a little deeper into the item's authenticity.
Certain defects can tell you more about a piece. For example, if the gold or silver finish is missing small flakes, it suggests that the item is plated rather than pure gold or silver.
When it comes to condition, severe damage, like missing gemstones, will be difficult to fix. Luckily, many jewelry problems have solutions. Issues like broken clasps and chains, loose prongs, broken watch batteries, misshapen rings, and tarnished metal can all be repaired. In fact, it's our specialty! You can always check Quick Jewelry Repairs to see if the service you have in mind is available and within your budget.
Take a Chance
There's nothing wrong with buying something you like even if you're not sure what it's made of or how much it's worth. You may learn later from a professional appraisal that it's a priceless find, but even if it's not, no big deal!
Speaking of taking a chance: many professional resellers swear by buying jewelry lots. You can find these online and in person as well; thrift stores will sometimes sell a jar or vase full of jewelry for a flat rate, maybe $10-$20. The idea is to buy these lots without knowing what's in them initially. As you sort through the lot at home, you could stumble upon some fantastic items.
Ask Questions
It never hurts to check and see if the seller or staff knows more about a particular piece. For example, the person running an estate sale may be able to give a little insight into where or when an item was originally purchased.
This approach obviously won't be as effective at a large thrift store where all the items are donated anonymously, but even in that case, you could end up talking to an employee who has expert knowledge to share.
Know What's Possible
Finding an amazing piece of secondhand jewelry requires you to be discerning and imaginative. What can be repaired? What can be repurposed? What can be changed? If a ring is way too big or way too small, can it be resized to fit? Don't assume a piece won't work for you simply because it isn't a perfect match right now.
With these tips and tricks in your back pocket, you're ready to find your next treasure. Enjoy the hunt!