Engraving: Cost & Other Things To Consider
Written by Quick Jewelry Repairs
March 3, 2017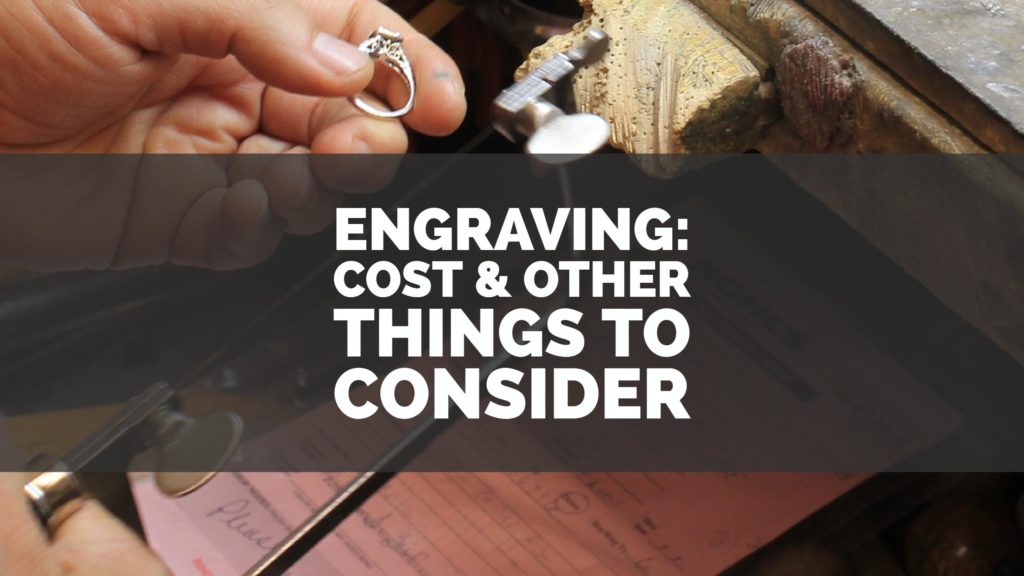 Our online engraving services are very popular with people across the country who have things that need a little personal touch. From ring bands, pendants all the way to watch cases, trophies, knives and bowling balls we have seen it all. Many of these customers have thought long and hard about what they want their jewelry or watches to say, and what it means to them. However, as many of these customers aren't familiar with the engraving process, there are often additional considerations that need to be made before we can start the inscription.
Here are five things you'll want to consider before getting your jewelry engraved:
1. What do you want the engraving to say?
Is there a specific date or phrase that you want to remember forever? Maybe you want a simple text like "I love you," or roman numerals of a date that is important to you. Many people prefer to have their wedding rings engraved, just to add a sentimental touch.If you and your significant other are getting your wedding rings engraved, you should discuss if you want the same inscription. Some partners prefer this, while others would rather have their own personalized one done. We can also engrave emojis now into your items- whatever it is, our skilled jewelers can make it happen!
2. How big is the piece you want engraved?
The size of the item determines how many letters or numbers can fit, and how small the engraving will need to be. Thin bands often result in tinier characters, while larger items can include more information. Usually inscriptions range from 1 to 16 letters. But that is not a rule! If you have a longer inscription, get in touch with us for further information. Now when it comes to font, our engravers provide two options: block or script. Think through both options thoroughly to determine if you may have a preference.
3. What would you like to engrave?
We engrave all types of jewelry, but the most popular items have been rings, bracelets, and necklaces. Rings can be engraved on the inside of the band, though some prefer to have the band itself engraved, but that is less common. Other than roman numerals or text, some come up with creative and eye catching ideas, like having a fingerprint of a special person. When it comes to bracelets, there is more room to get more original. You can engrave charms with initials, for instance. Or if you want to stay on the traditional side, you can have the bracelet band itself engraved with a quote or a saying that means something to you. You can also engrave the pendants of necklaces with actual pictures. That gives engraving a whole new modern chic feel.
4. How much?
Generally most engravings will cost just $30 + shipping to have the item shipped anywhere in the United States. It varies depending on the material or metal you're trying to engrave and the amount of characters but $3o covers most jobs. To get more specifics on the price you can learn more by checking out our online engraving services.
5. How long does it take to get my jewelry engraved?
There isn't one time that every single piece of jewelry will take to be engraved, there are several factors that come into play here; material, length of inscription, size of jewelry etc. It can take as little as a couple of hours or less but more complicated pieces or engravings can take longer. However, speak to your jeweler for a more accurate time frame, but Quick Jewelry Repairs have a turn around of one business day regardless of complicated jewelry.
Engraving is one of the most important decisions you can make when it comes to your jewelry. If you need help or can't decide exactly what you are looking for, give us a call or reach out today to get some advice from the Quick Jewelry Repairs team.
Not sure what to engrave or whether it will fit on your desired piece? Check out our engraving page to see what we can do for you.
Featured Engraving Services