What Type of Earring Backs Works Best for You?
Written by Annabelle
March 11, 2019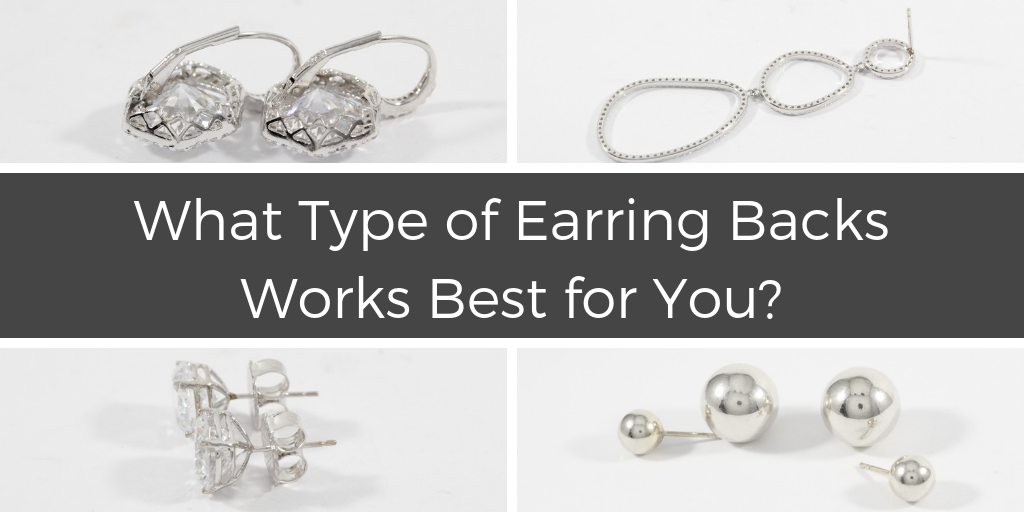 Earrings can't be worn without earring backs- and these itty bitty pieces of metal come in different types! Depending on what type of earring lover you are, there is a matching earring back that best suits your lifestyle. Read on to find out more.
6 Types of Earring Backs
1. Push Backs/Butterfly Backs
The most common type of earring back, a push back is a small piece of metal that is pushed onto the post of an earring. The post has a small groove at the very end where the pushback "clicks" into, to prevent it from falling off. This type of earring back is also called butterfly back due to its shape. While they are the cheapest type of earring back, they fall out easily and often need replacing. In addition, they become useless if the earring posts are broken.
2. Screwbacks
A modified version of the pushback, the screwback requires the posts of the earrings to have a long groove. The screwback literally "screws" its way onto the post by fitting into the groove. This kind of earring back is very secure, but hard to replace if you lose the backing. In addition, the earrings must be designed with screwback posts in order for the back to work.
3. French Wires
The most common type of dangly earring backs, french wires allow the design to "drop" down from the wearer's ears. They're cheap and easy to replace, but often require an additional back, such as a rubber plug, to prevent them from slipping out of the wearer's piercings.
4. French Clips/Omega
French clips, or omega backs. are fixtures on the back of the earrings. They function like little clips to hold the earring onto your ear lobes. While some earrings have only omega clips, some earrings have both posts and omega hoops. The post goes through the piercing, and the omega hoops snap up to secure the earrings in place. This combination is very safe and ensures that the earrings will never fall off by accident. However, much like screwbacks, it must be part of the earring design, or added on by a professional jeweler. They are also rather uncommon, making it difficult to purchase on the mass market.
5. Leverbacks
Leverbacks are another type of dangly earring backs, but they are comparatively more secure than French wires. They do not require any additional components to secure the earring to your ear, because the wire goes through your piercing and clasps with the rest of the earring back to form a complete loop. They're slightly pricier than French wires, but much more durable, making them a worthwhile investment.
6. Ball Backs
A fun type of earring back, ball backs are often part of the earring's design. They're often used to show off from behind the earlobe, and can even be modified versions of screwbacks. Ball backs are commonly found on atypical earrings, such as cartilage piercings.
Now that you know about these 6 common earring backs, maybe it's time for you to think about changing your earrings up! Consider our earring back replacement and repair services to secure your jewels today.
Featured Services