Top 3 Questions to Ask When Getting Jewelry Repaired
Written by Quick Jewelry Repairs
June 7, 2017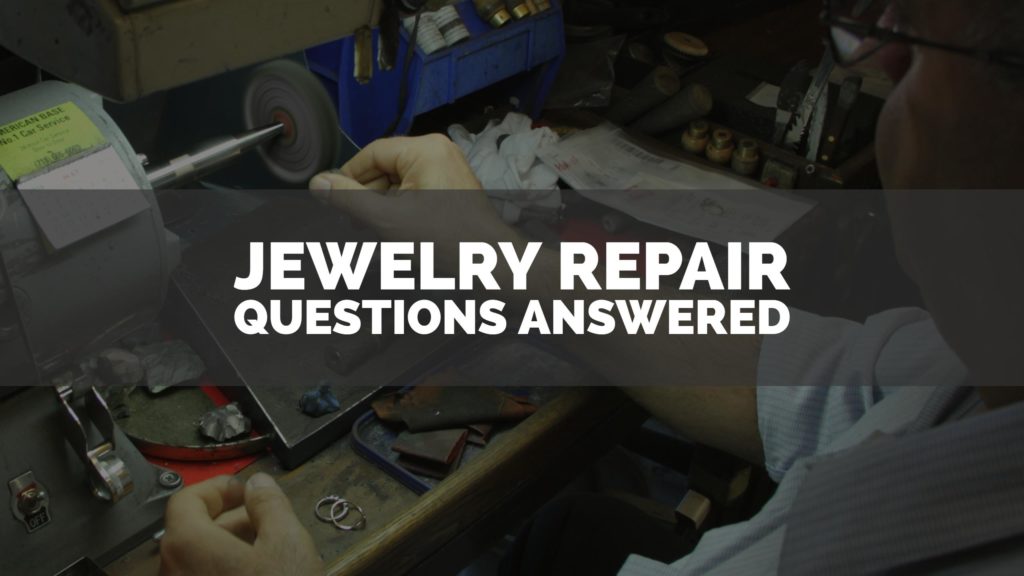 You're in need of a jeweler to repair a keepsake watch or restore an heirloom jewelry piece.  Should you bring it to a large well-known jewelry retailer or a small local jeweler?  Who can you trust with your priceless piece? And what if you're thinking; "Well, there's no jewelry repair near me!"
Here are the 3 best questions to ask a jeweler before leaving your jewelry or watch with them for repairs.
Are your jewelers and technicians bench certified?
A Bench Professional Certification Program establishes national standards to ensure proficiency of bench jewelers at various levels.  It is crucial that your jewelry or watch repair technician has received nationally recognized Bench Certification.  With certification, you can feel confident in the ability of the jewelry or watch repair technician to perform quality work.
All QJR jewelers and technicians are experienced Bench Certified jewelers with years of practice.  They are certified, background checked, and work under video surveillance for maximum security.  We believe that if we wouldn't trust someone with our own jewelry, then we wouldn't let them handle yours.
Will my jewelry or watch be fixed in house or sent out to a different location?


This is a great question to ask, especially when you're thinking "I'll probably have to find some location elsewhere since there's no jewelry repair near me."




Most jewelry retailers don't fix their items in house, so whether you're dropping or shipping that piece back off where you bought it, they'll be sending that item off to another location. This increases the price of the repair and the amount of time you'll have to wait before you receive your repaired item.




All jewelry and watch repairs are done in-house at our Quick Jewelry Repairs facility in NYC-mainly because we're the repair facility that these major retail brands send damaged items to!  Our highly skilled jewelers and repair technicians are extremely experienced and can service almost any jewelry or watch repair need (

we've been in the jewelry business in NYC since 1982

!).

What process do you have in place to ensure the gem/diamond I sent is the same one I am getting back?
We know this is a burning question for you when deciding to leave your valuable jewelry/watch in the hands of a jewelry repair service.  How do you know that the diamond/gem wasn't swapped during the repair process, and it is in fact the same stone?
If you ask, an honest jeweler will be willing to take the time to show you your stone under a microscope so that you can recognize the characteristics unique to your diamond or gem, such as certain inclusions or flaws. You should also ask to be shown the stone when picking up, so you can feel confident that your stone has been returned to you.

With an online jewelry repair service like Quick Jewelry Repairs, this can look a little bit different.  Upon first taking in an item, we use our high-resolution photography to get pictures of your stones, capturing all the details within the gem to make sure you know it's yours. We take another picture before we ship the item back to you and make sure the before picture and after picture match. We also have a diamond tester on site and test every stone that comes into our facility.
If you don't already know of your diamond/gem's unique characteristic, we can  appraise it and let you know. This appraisal tests to see if the stone is natural, describes any treatments done to it, and documents the color, carat and quality of the diamond (including unique traits).  After your repair or restoration service, we will test to ensure it is the same stone and its quality.

Plus, Quick Jewelry Repairs provides you with status updates throughout the repair process.  Talk about transparency!  And rest assured, your jewelry is insured while it is under our care.
Call us and ask us any questions you may have before sending in your jewelry or watch for repair.  We want you to feel confident in your decision to trust Quick Jewelry Repairs.
Ready to send over your jewelry for repairs? Send it to the experts – Quick Jewelry Repairs!