Ring resizing is a process in which a ring (of whichever metal or material) is manipulated to fit a larger or a smaller finger. Sound complicated? Actually, it's not at all. In fact, once you know what size you need the ring to be, the process is fairly simple! The question then becomes how long does it take to get a ring resized?
Whether you are exploring ways to get your ring resized, curious about costs or simply curious about the turnaround time, read on below for some quick answers to your questions.
What is the Process of Ring Resizing?
Whether you need to size a ring up or down, both require cutting (usually at the shank) and either inserting or removing the required metal of the ring.
Ring Downsizing
Resizing a ring down (making the ring shank smaller) is an easy process compared to resizing up. The jeweler will take a small portion of the band out and join the pieces back together. The circular shape is restored, then is soldered back together again. Soldering is a common process in metalwork where the joints of two separate pieces of metal are fused together in a thin layer, uniting the metal.
After the ring is soldered, it's then cleaned and polished to remove antioxidants that may result from soldering and to smooth its surface. The actual resizing process by the jeweler can take as little as 10 minutes from when the jewelers start working on the ring. However, depending on the ring design, stone settings and material, downsizing may take longer. After resizing, most rings look as good as new, due to our expert jewelers giving them the polishing and cleaning they need!
Ring Upsizing
Upsizing a ring is more intricate and the method varies depending by how much larger you want your ring to be.
If you want a ring resized by half a size, then stretching the band is often the best option. Depending on the materials and design, stretching the band may allow the ring to be resized no more than half a size.
If the ring needs to be resized by more than half a size then it will need to be cut. A jeweler will cut the band on the ring's shank and add a bridge of whichever metal the ring is made up of to make the difference. Then the jeweler will set the ring back in place through soldering or by using a laser depending on the metal and whether there is a precious or semi-precious stone set in the jewelry. The ring's circular shape is then restored, cleaned, and polished ready for the owner to wear their ring with pride.
What factors affect the process and resizing time for Ring Resizing?
As we mentioned, depending on the ring type or metal, resizing might require different approaches. Here are some things that will impact how jewelers will resize your ring:
If you have a colored stone in the ring, they have to avoid heat exposure or it will damage the rock then the ring itself. No amount of resizing will help you then.
Set stones cannot be resized by more than 1 size without fully resetting the stones.

When dealing with a platinum ring, there needs to be a much higher heat exposure as the the metal's melting point is much higher. This can cause issues with platinum rings that have colored stones due to our first point. In order to avoid damaging the stone and the ring, the jewelers will need to use the laser solderer instead of the flame solder in order to protect the stones and the ring. 

Silver is generally a harder metal than gold as gold is much softer and easier to work wit

h.

Stainless steel rings can be resized, despite what your local jeweler might tell you! Many jewelers don't even bother with stainless steel resizing because it has an incredibly high melting point beyond most commonly used tools. This means that specialized machines such as TIG Welders and high-powered laser welders are needed and those tools are usually only possessed by jewelry manufacturers. Fortunately, Quick Jewelry Repairs is one of the few jewelry repair services that can offer ring resizing for stainless steel rings.
Ring sizing doesn't need to be this huge hassle as long as you go to a fast and reputable jeweler (like Quick Jewelry Repairs!) that has quality assurance and ability to turn over the jewelry in a quick time frame.
How Long Does it Take to Get a Ring Resized?
At Quick Jewelry Repairs, we can resize rings of all kinds of metals (including stainless steel) and we have an average turnaround time of 1-2 business day for 90% of all our repairs. So send your jewelry over to us and we will get your rings all sorted for you!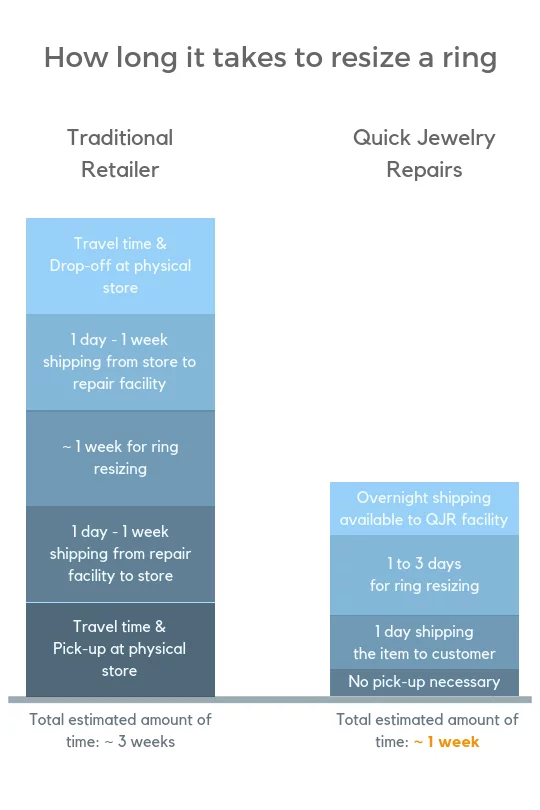 The Cost Of Ring Resizing
The price of your ring resizing depends on a few factors:
How many sizes are going up and down: The larger the size difference, the more labor is involved. While sizing down doesn't require any additional materials, sizing up means that metal is added to your ring. The metal can be quite costly, especially if it's gold or platinum, which increases the cost.
Type of metal: Platinum and stainless steel are significantly more difficult to resize, and the equipment, experience, and labor necessary to successfully work with rings made from these materials contributes to the price.
Stone setting & design: The design of the ring and how the stones are set can affect the resizing process. For instance, rings that contain channel-set stones face the possibility of loosened stones during the resizing process. Tightening the stones will add to the total cost of the ring resizing.
Polishing & finishing: Some rings have decorative looks, such as satin or hammered finishes. These visual effects require special equipment and a skilled polisher or jeweler. Plated jewelry will discolor after the resizing process, and re-plating the ring will increase the price.
As an example, consider this yellow gold diamond ring with channel-set diamonds. It's going up from a 5 to a 7, so that'll be $59 to resize. After the resizing, if there are four loose stones, it'll be $5 per stone to tighten. In total, the cost for resizing this ring will be $79.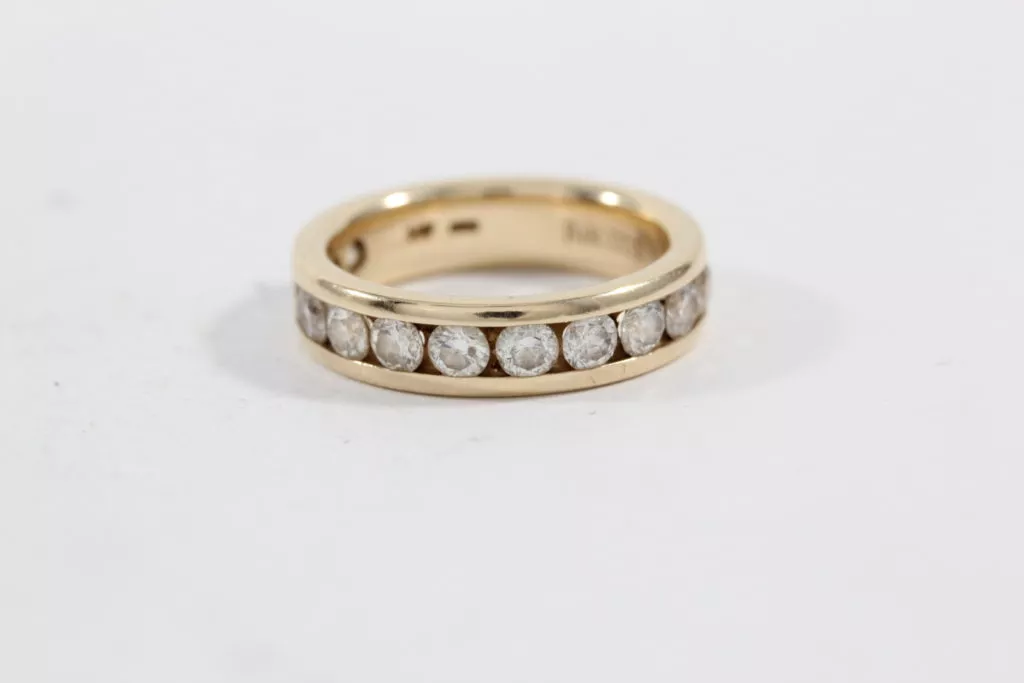 Before and After Examples of Resizing a Ring:
If you're ready to size a ring and get that perfect fit again, start the ring sizing process below!
Have a ring you want us to resize for you? Enter the details below