Replacing Heirloom Jewelry: Ring Replication
Written by Annabelle
April 2, 2020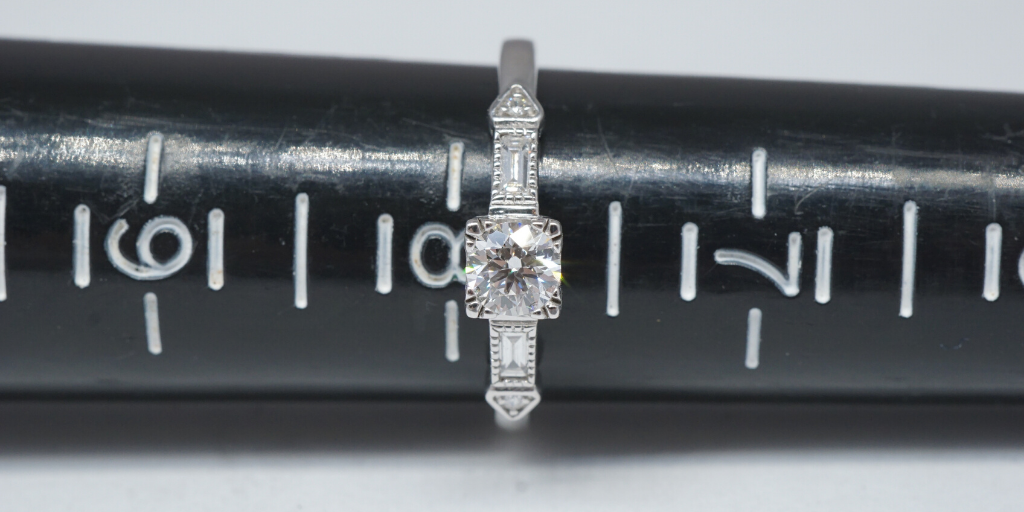 Custom creation can work miracles when unfortunate events happen, like flushing your ring down a toilet, or dropping an earring through a sewer grate. This particular client lost her entire ring and only had a few blurry pictures for us to reference, but we were able to recreate it for her! Read on to learn more about how we did this particular ring replication to replace heirloom jewelry.
Heirloom Jewelry: Diamond Ring
The ring that our client lost was an important heirloom from the 1930s, and she had to replace it as soon as possible. Unfortunately, as with most jewelry pieces passed down in the family, she had no information about the stone quality or the metal. 
After some back and forth, she decided to have the ring replicated in sterling silver, to keep costs down, and opt for higher-quality diamonds in order to mimic the original ring's stones, which were very white and clear. As the original ring had been far too large for her, the new ring would be made in size 7.75 to fit her finger.
The Replication Process
The client had provided us with a few reference pictures for us to get an idea of what the ring looked like. From the front, the pictures were quite clear and we were able to see that the ring had a special prong design, with two baguettes and two round cut diamonds in prong and milgrain-detailed settings on each side. She also had one picture of the ring from the side, and despite its low resolution we could see that the ring had a gallery underneath that we needed to include in the replication process. 
While we passed these details and pictures over to our custom creation team to get started, we also determined the size and quality that she wanted for the diamonds. At D color and VS1 clarity, the center diamond was approximately around 4.6mm, 0.37 carat. Based on the measurement of the center diamond, we also made an estimate regarding the size of the surrounding diamonds, which also matched in terms of quality. After some sourcing from our diamond department, we procured a diamond that not only matched those characteristics, but was also certified by the Gemological Institute of America for insurance and identification purposes!
After we provided the custom creation team with the stone dimensions, the designers got started on creating a 3D design. This 3D design, made with industry software, is used to program a 3D printing machine, which then prints a wax that is used for production. The design provides all dimensions and also calculates an estimated metal gram weight, allowing us to confirm how much metal is used in the ring replication process. Once our client reviewed the design and confirmed that she was ready to proceed, we moved into production.
During the production process, the jewelers work on casting the metal and finishing it. The stones provided are set securely, and the item is polished. Depending on the amount of work and time required for sourcing components, this process can take 2-4 weeks. 
Once the ring was finished, we sent some pictures over to our client and she was able to receive it just in time! She was delighted with the results, and we gave ourselves a little pat on the back for a job well done.
Got a similar situation like our client here where you need to replace heirloom jewelry? Let us know in the comments below and we can help you get started on your own ring replication.