Necklaces and Necklines: Choosing the Right Piece for Your Outfit
Written by Anna Currell
March 29, 2023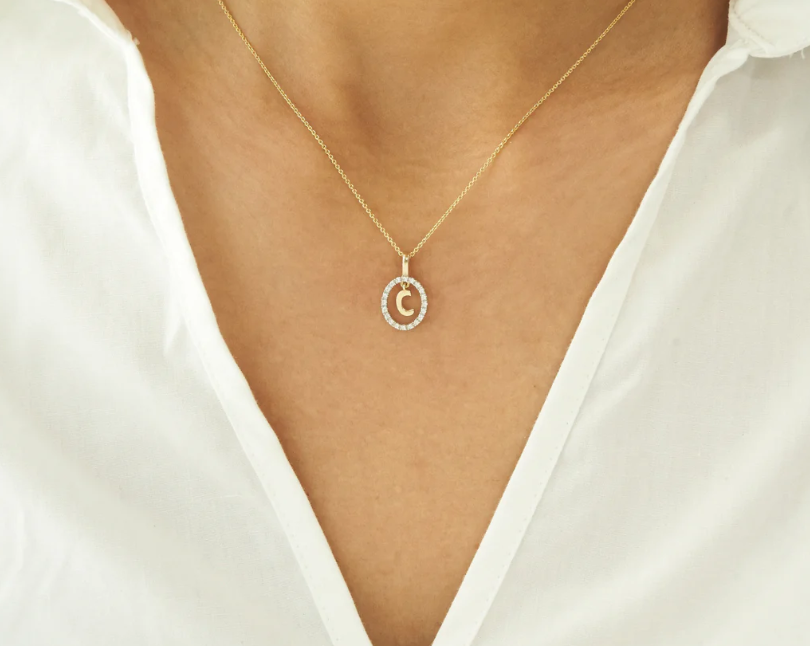 Matching your jewelry to your outfit can depend on all types of factors, like the color, style, and formality of your clothing, just to name a few. When it comes to necklaces, the neckline of an outfit can majorly influence what will work best. In this article, we'll explore some tips for choosing the right necklace for your neckline, so you can make the most of your jewelry collection and create a cohesive, polished look. Let's dig into pairing necklaces and necklines!
Neckline Types
Starting with the garment and the way it frames the neck and face, let's consider the different types of necklines and their characteristics. Some of the most common neckline types include:
V-neck:

A neckline that dips down in the front to form a pointed shape like the letter "V".

Crew neck:

A round neckline that sits close to the base of the neck.

Scoop neck:

A curved neckline that is wider and deeper than a crew neck, showing more of the upper chest.

Boat neck:

A wide, horizontal neckline that traces just below the collarbones, often with a slight curve.

Off the shoulder:

A neckline that either wraps around both shoulders or

drapes over one shoulder

or the other, leaving the collarbone and back bare.
Necklace Styles
Finding the right necklace for an outfit will likely depend on the necklace's style and length. When you're picking out a necklace online, the product description should help clue you into how long the chain is. Here's what popular necklace names mean in terms of length:
Choker:

12-13 inches, fastens tightly around the center of the neck

Collar:

14-16 inches, rests at the base of the neck

Princess:

17-18 inches, settles along the line of the collarbone

Matinee:

20-24 inches, falls beneath collarbone

Opera:

28-36 inches, falls around the ribcage

Rope:

36-51 (or longer!), hangs loosely, down to the waist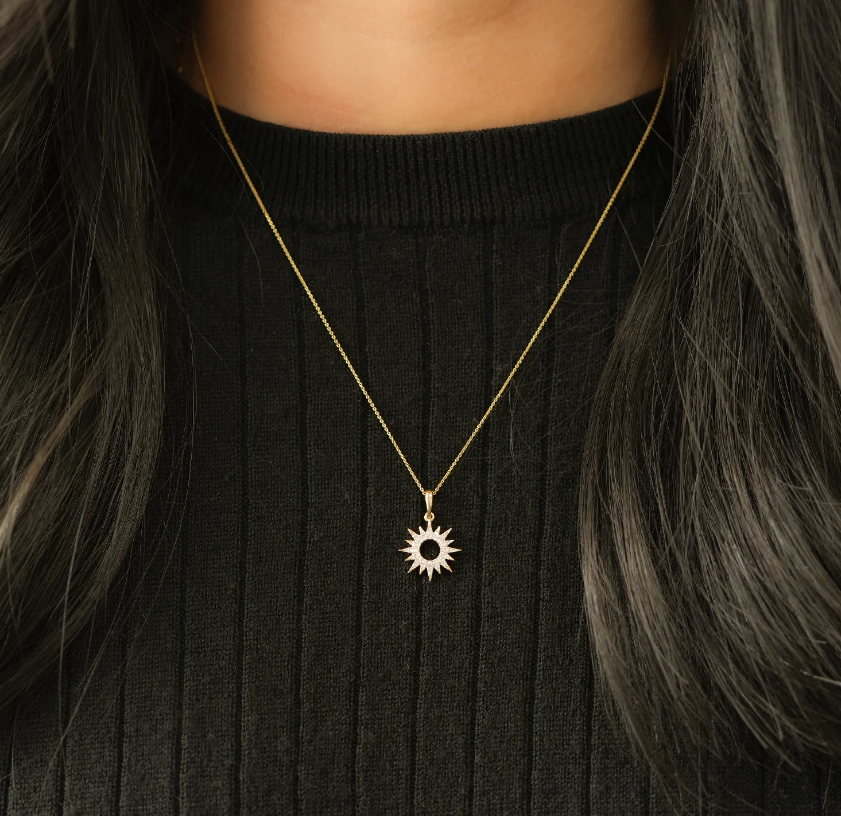 Necklace and Neckline Combinations
Now that we know what different necklaces and necklines look like, let's explore how to pair necklaces and necklines:
V-neck
For a v-neck top, a pendant necklace or a delicate chain that hits just above the point of the V can work well. This creates a visual repetition of the V-shape and helps to elongate the neck. You can even do a few different types of pendants or chains to get the layered necklace look. Avoid wide or broad statement necklaces that may interrupt the line of the v-neck top. 
Crew neck
A choker or short pendant necklace works well with a crew neckline. This combination creates a defined space for the necklace and ensures it doesn't get lost in the fabric of your top. A layered choker necklace with small gold or silver accents can add a bit of texture to a simple crew neck sweater, or a brightly beaded matinee-length necklace on top of a plain crew neck t-shirt can provide a pop of color. On the other hand, if your crew neck is a plain color or a very simple pattern, you could use a matinee, opera, or rope-length necklace as the focal point of your outfit.
Scoop neck
A longer necklace with a pendant can complement the curve of a scoop neckline. This adds visual interest by creating a vertical line that helps to elongate the torso. A long beaded necklace with a tassel is a good way to add a bohemian touch to a scoop neck maxi dress. Avoid necklaces that sit too high on your neck, like collars or chokers, or if you can't resist, be sure to balance it out with an opera-length necklace.
Boat neck
A short necklace like a collar length works well with boat necks. This pairing helps to draw attention to the collarbone and creates space to highlight your necklace. A chunky silver or gold collar necklace can add a modern edge to a boat neck blouse or dress. Longer necklaces (princess length or longer) may interrupt the horizontal line of the neckline or get lost in the fabric of your top, so stick with shorter options for a boat neck top.
Off the shoulder
A princess-length statement necklace or choker works well with off-the-shoulder looks. Wearing these two pieces together creates a centerpiece for your outfit, ensuring a chic and elegant ensemble and lengthening the look of the neck. Pick out a crystal choker or layered pendant necklace to add sparkle to an off-the-shoulder evening gown.
Which necklace will you choose to wear with your next outfit? Whatever you select, make sure it's true to you. And if your necklace isn't quite the right length, don't worry — our expert jewelers can help you to resize your necklace to the perfect length, whether that means making it shorter or longer.