This Black Friday Send Us Your Jewelry Box For a Deep Discount
Written by Annabelle
November 14, 2018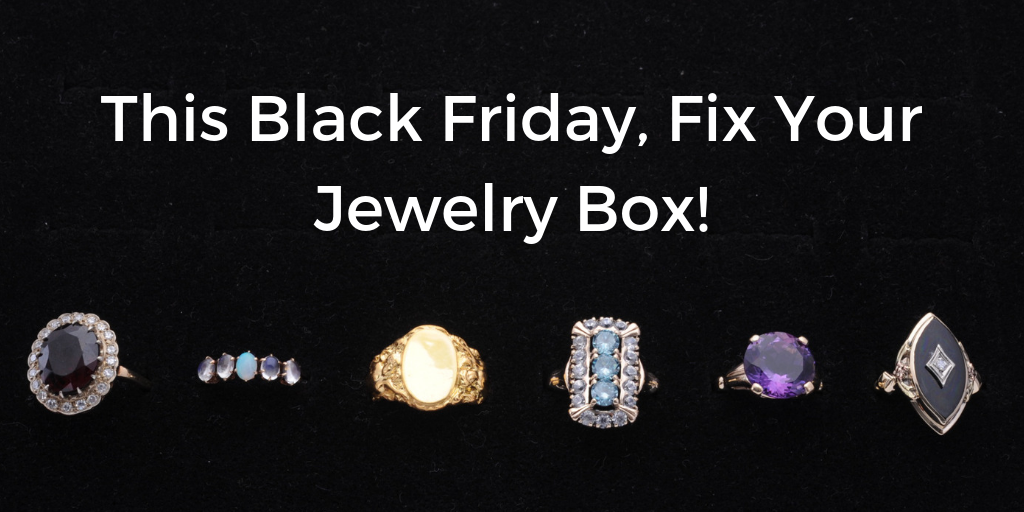 What's In Your Jewelry Box?
Jewelry boxes have been around since the birth of civilization to hold beloved trinkets and other accessories. These boxes came in a variety of shapes and sizes, oftentimes as bejeweled as the items within, but their function remains the same to this day- they protected precious jewelry.

With that historical context, do you ever think about what gems (literally) you might have tucked away in your jewelry box? How surprised you are every time you dig through it, thinking to yourself; "Wow, I remember this!" or "I stopped wearing this because it broke."  At QJR, we get to see some of the coolest jewelry people send in from their personal collection. Read on to find out about two different jewelry box scenarios..and stick around for a special treat!
Fix Up Your Own Collection!
If you're a collector, a jewelry enthusiast, a hoarder (ok, we're joking) or all three, then we're here for you. Take advantage of this year's biggest discount to fix up any or all of the pieces you may have in your jewelry box, like this client of ours! We recently had the pleasure of fixing up her collection of gold pieces. She sent us a pair of earrings, two rings, and a chain necklace for several repair services such as earring conversion and ring resizing.
Repairs performed:
Earring Conversion:

These beautiful earrings were originally hanging off a pair of posts. However, our client didn't like how it felt on her ears and requested for us to change them to a pair of leverback earrings. A few snips, a bit of laser soldering, and voila! She had a pair of earrings she enjoyed putting on. 

Necklace Shortening: Our client had bought this simple chain necklace on sale, but it was too long for her liking. We took out approximately 4 inches of chain, shortening it down to a sixteen-inch necklace.
Ring Sizing: This piece was a vintage, 9kt yellow gold snake ring with a ruby on top. At a size 7.25, it was far too big, and it needed to be resized down to a 4.75. The job was potentially tricky due to the snakeskin pattern on one side of the shank, but our jeweler Marlon was able to take out a part of the ring that wasn't detailed in order to size it down. Now it fits perfectly, and the front looks exactly the same as before! The small thin ring was comparatively easier to size, due to the lack of design.

Give A Thoughtful Gift This Season
Maybe you're not a jewelry lover, but there's someone in your life who is. If that's the case, giving their jewelry or watch some TLC would make for a pleasant holiday surprise. This repeat customer sent in a handful of items that belonged to her husband, hoping to get it fixed in time for the holidays. Talk about a sweet gesture!
Repairs Performed:
Watch Battery Replacement: When her husband's watch stopped running, our client decided it was about time to send it in for a new battery. Our jewelers popped in a fresh one and checked to make sure everything was running smoothly, like clockwork.
Necklace Chain Soldering:

  Oftentimes when chains break, especially complicated ones like this rope chain, people decide to just throw them to the back of their jewelry box for "another day" to fix them…and then they forget about it. Fortunately, this client didn't. Our jeweler Marlon was able to put the links together and properly solder it via laser.

Ring Shank Repair: 

This ring was merely gold filled and it had a broken shank, making it a double repair job. Fixing it was difficult, since the base metal was some kind of bizarre, cheap alloy instead of a legitimate metal such as sterling silver.
These pieces are items you can find in any jewelry box- perhaps even your own. Just think about all that jewelry sitting at the bottom of your box, collecting dust because it's broken…get it fixed and start wearing it again!