Invicta Watch Repair: How to Care for Your Invicta Watch
Written by Anna Currell
February 3, 2023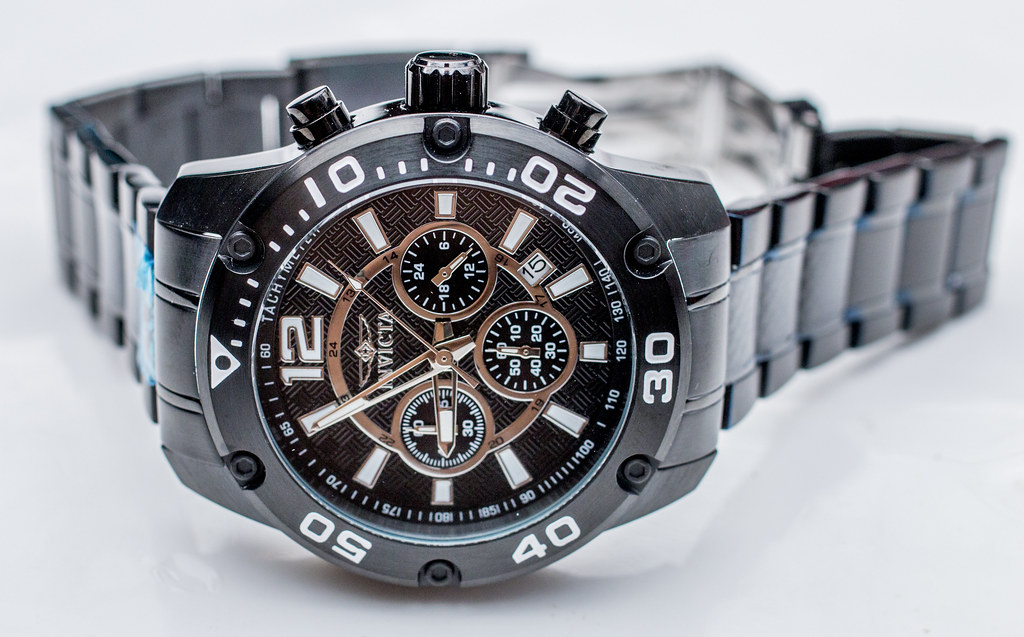 Invicta watches are known for their dynamic style, so it's no wonder they're a popular choice for watch enthusiasts. To ensure that your Invicta watch continues to function properly and maintain its luxury appearance, it's important to take proper care of it. In this article, we will look at the most common Invicta watch repair needs and cover some tips on how to care for your Invicta watch.
Common Types of
Invicta Watch Repair 
Over time, all watches need a little help from the inside out to keep running smoothly. Although an Invicta watch is a chic statement piece and a broken clock is right twice a day, you ultimately want to be able to tell the time. These are the two most popular watch repairs for Invicta watches (and any other brand, for that matter):
Battery Replacement
If your Invicta watch is battery operated, there's a chance you'll need to get the battery replaced at some point. No battery will last forever, but this is a simple and inexpensive fix. We don't recommend attempting this on your own; a professional jeweler can carefully remove the original battery, source the correct replacement, and fit the new battery using specialized tools. 
Mechanical Movement Repairs
Mechanical or automatic watches also often need a quick tune up from (ahem) time to time. To make sure that everything is operating correctly, a jeweler can use their tools to open your Invicta watch, adjust and lubricate the parts, and get it telling the right time again. 
How to Care for Your Invicta Watch
You can avoid most major repairs if you take good care of your Invicta watch at home. Batteries don't last forever and movements need attention, but you can avoid other repairs like crystal, stem, or band replacement with just a little proactive attention. Here are a few tips to prevent any damage and keep your watch working like a well-oiled machine: 
Keep it Clean
First and foremost, it's important to keep your watch clean. Dirt and debris can accumulate on the watch face and band, which can cause damage over time if they wiggle their way into the watch. To clean your watch, use a soft cloth to gently wipe the surface. Avoid using harsh chemicals or abrasives, as these can damage the watch. For hard-to-reach areas, such as the crevices between the watch band and around the crown, you can gently use a small, soft-bristled brush.
Store your watch safely
It's also a good idea to store your Invicta watch in a safe place when you're not wearing it. Avoid leaving your watch in direct sunlight or in extreme temperatures, as these can cause damage. Instead, safely store your watch in a cool, dry place, like a watch box or jewelry box. Be sure not to leave your watch out in the open or loose on a shelf or counter; lots of crystal cracks happen when watches crash onto the floor.
Be cautious around water
Be mindful of exposing your watch to water. While some Invicta watches are water-resistant, they are not waterproof, so you should avoid submerging them completely. Also, you should be mindful of wearing your watch when doing activities such as swimming or even showering. Be sure to secure the crown of your watch thoroughly after adjusting the date or time, as water can get inside easily and cause damage. Always refer to your Invicta owner's manual to double check the water resistance level of your watch. 
Take it to the pros
Lastly, it's important to have your Invicta watch serviced regularly. A professional jeweler or watch repair specialist will be able to ensure all the watch's components are functioning properly, identify any issues or internal damage, and make any necessary repairs.
Proper care and maintenance of your Invicta watch is essential to ensure its longevity. By following these tips, you can ensure that your Invicta watch continues to look and function like new for years to come. Remember to keep your owner's manual and consult it if needed. And if you run into issues along the way our experts at Quick Jewelry Repairs would be happy to help. We offer crystal repair, stem and crown replacement, and deep cleaning for your Invicta watch, and you never even have to leave home.