How to Make a Duplicate Hoop Earring
Annabelle / February 28, 2020
If you love your hoop earrings but you've lost one recently, we've got some news for you: we can duplicate them! However, don't run off to a jeweler with your remaining earring just yet. There are a few things you need to know first. Read on to learn more about duplicating a hoop earring. 
What is Earring Duplication?
Earring duplication is the process of taking an existing earring and creating a very similar replica so that you have a matching pair again. This is done by making a CAD, or a 3D computer aided design. The design determines the amount of material needed to remake the item, and is also used to 3D print a wax of the earring. This wax is then used to create a mold into which the metal is cast, making a duplicate of the earring. 
It should be noted, however, that this process is very specific to certain jewelry facilities. Not many small shops can do this because it requires a special skillset to create the 3D design, and the proper machinery such as a 3D printer. In order to get started on duplicating a hoop earring, you'll have to shop around and find someone who has those capabilities.

Why Are Some Hoop Earrings Difficult to Duplicate?
To save on gold and keep the price fairly affordable, many hoop earrings are actually made out of hollow, lightweight tubing. While this allows for a comfortable fit, these earrings are prone to denting and cannot be duplicated, as the process can only create solid items. Other hoop earrings have designs such as diamond cutting, which can only be made by certain manufacturing machines not readily available in most facilities. 
This doesn't mean that you can't proceed with duplicating your earrings-just note that they will either be solid and heavier, or look a little different in terms of visuals.
The Duplicate Hoop Earring Process
When duplicating a hoop earring, you'll have to send in the remaining hoop earring to the facility for the CAD designer's reference. Once they receive the hoop, they'll measure and weight it to determine its dimensions. If the hoop has stones in the design, the stones are examined to determine the type of stone, the quality, and color in order to ensure that the new duplicate earring will match.
Next, the CAD designer creates the 3D design. This file is sent in PDF format to you for your review, and once you confirm the earring moves into production. The 3D design is printed in wax to create a mold for the metal casting. When the earring is removed from the mold, it's still a rough piece of metal that needs assembly. A jeweler will then proceed to solder, stone set, and polish in that order. 
After the earring is finished, it gets a deep clean in an ultrasonic and steam cleaner to remove any residue from work. A quality inspector examines it to ensure all stones and metal are up to standard before it's shipped back out to you.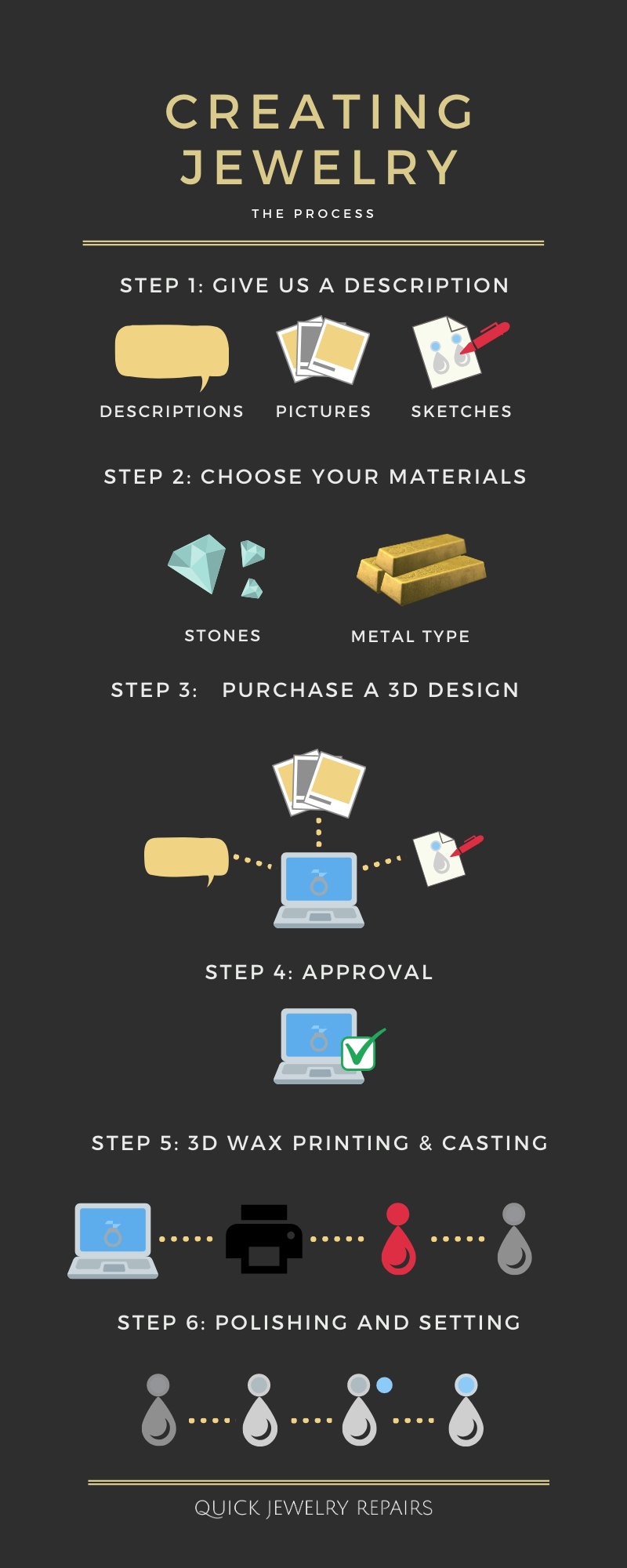 Cost and Turnaround Time
The cost for the earring duplication depends on the materials and labor required to make the new earring. A small silver plain hoop, for instance, is more affordable than a large diamond studded 14k gold hoop. On average, all custom orders start at a minimum of $250, and the price increases based on the design.
Turnaround time varies from two to four weeks. If certain stones have to be specially sourced, that may increase the turnaround time for duplicating your hoop earring. 
Now you're all set to get a matching pair of hoop earrings again! If you're interested in getting started, fill out the form below.
Oops! We could not locate your form.