4 Types of Pocket Watches and Pocket Watch Repairs
Written by Annabelle
February 27, 2020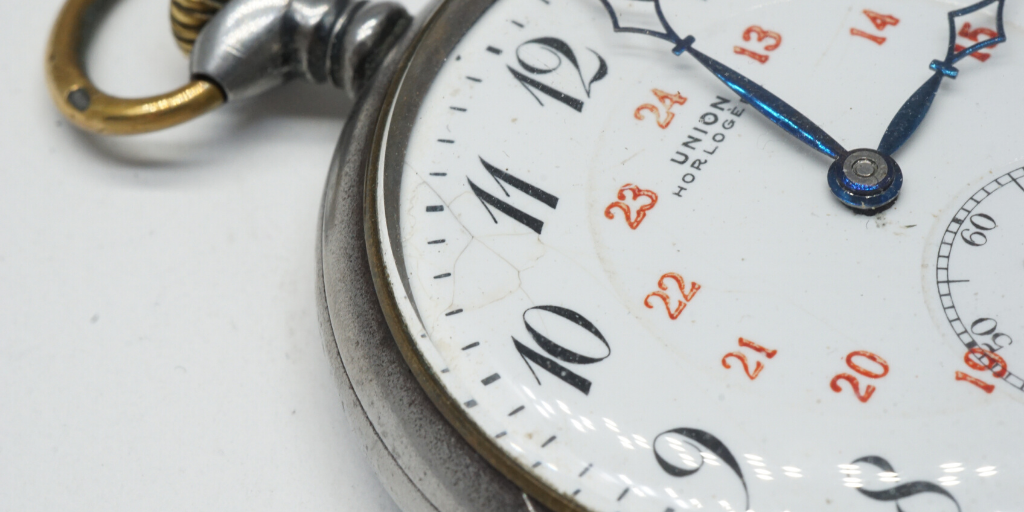 While people don't commonly wear pocket watches nowadays, these little timepieces still make wonderful heirlooms and fashionable pendants for people who love that Victorian aesthetic. With their elaborate casing and intricate clockwork, it's no wonder that many people are still fascinated with the old-timey charm of these watches. However, their intricacy means that they require a lot of care. Read on to learn more about different types of pocket watches and pocket watch repair.
4 Types of Pocket Watches
In contrast to a typical watch with a wristband, a pocket watch is a timepiece that was designed to be carried in a gentleman's pocket on a chain, or dangling from a necklace. There are four different variations of pocket watches as listed below:

Open-face pocket watch: This type of pocket watch has no cover for the face, leaving the crystal exposed. While it looks beautiful as a pendant, it's more prone to crystal damage as it has no protection if dropped.

Full hunter & half-hunter pocket watch: This pocket watch has a cover over the face. A full-hunter pocket watch doesn't expose any of the clock's face, requiring the user to open the watch in order to see the time. A half-hunter retains the cover but has a clear opening allowing you to check the time.
Double hunter pocket watch: This pocket watch has a case over the front and the back so the user can view both the watch face and the clockwork. 
Digital pocket watch: Digital pocket watches are much easier to maintain than traditional mechanical pocket watches. They show the time via a LCD watch display instead of watch hands and are often used by sportsmen who want to keep watches off their wrists.
Because of their design, they might not sustain the same amount of damage as a regular wristwatch, but they can still break easily if dropped from a high height. In the event that this occurs, or if they suffer any other type of damage, we've compiled a list of common repairs for you below.
Common Pocket Watch Repairs & Services
Polishing and Gold plating: Tarnishing is common with antique watches, as many of these cases are made out of brass, gold-fill, or sterling silver. In order to restore these pieces, a jeweler will remove the watch case from the rest of the mechanism, and gently polish the case to remove the tarnishing. For gold-plated or gold-fill watches, the case is submerged in a

gold plating

tank full of solution to restore the coloration.

Broken Crystal: If you've dropped your pocket watch, you might be devastated to find the

crystal shattered or broken

. While it looks irreparable, a broken crystal is very easy to fix and can even be completed in one day! An experienced watchmaker removes the broken crystal and inserts a new crystal using a special tool to ensure that the crystal is airtight. 

Stem & Crown: The stem and crown on a pocket watch is essential, especially if you have a mechanical watch that occasionally needs winding! This little stick and knob allows you to adjust the time and keeps the clockwork moving. A watchmaker can replace it, but keep in mind that stems and crowns vary from watch to watch. Expect this repair to take around 1-2 weeks as the watchmaker looks for parts that will fit your model.
Watch Battery: Modern pocket watches often run on batteries instead of relying on mechanical work. If your pocket watch stops working, a jeweler can easily pop out the old battery and replace it with a new one.

Mechanical Overhaul:  A

mechanical overhaul

is often needed when the internal clockwork of your pocket watch is broken. To begin the process, the watchmaker opens the watch and examines the mechanism. Any broken parts are removed and replaced with new ones, and accumulated dirt is carefully cleaned out. Finally, the parts are re-lubricated in order for the watch to run smoothly, and the case is carefully closed and sealed. An overhaul can be an expensive procedure ranging from $400 to $600, but it's a worthwhile investment because it fully services your timepiece.

Engraving: Much like our Victorian counterparts, you can get something meaningful engraved on your pocket watch! If the back of the case is blank, it can serve as a canvas for an elegant monogram or sentimental phrase. At Quick Jewelry Repairs, we offer custom fonts and images for our

watch engraving services

.

Now you're up-to-date on different types of pocket watches and pocket watch repair! Whether it's an antique half-hunter family heirloom or a modern hiker's watch, you're prepared to get it fixed. If you have a pocket watch repair you'd like to get started on, comment below and we'll get back to you.