People Behind The Pieces: Adding Links to Grandma's Necklace
Written by Annabelle
August 21, 2019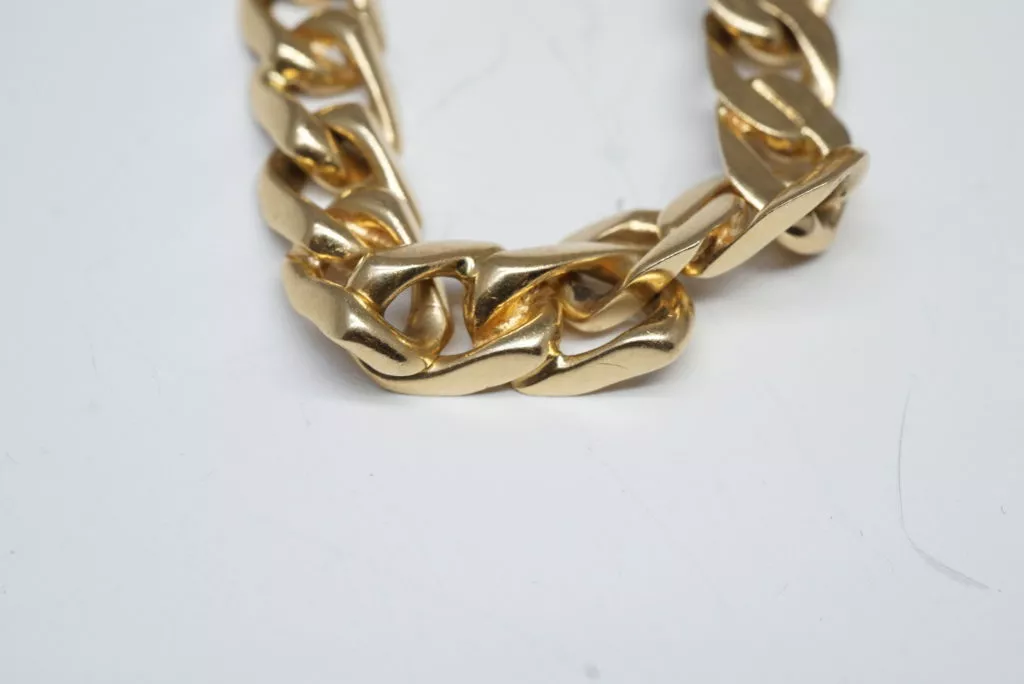 When people think about custom jewelry, they usually think about making a new piece from scratch. While we definitely do that on a daily basis, we also take in a lot of pieces for custom modifications.
Such was the case with our client Aileen, who contacted us about how to make a necklace longer. Once we finished the job and sent it back to her, she was kind enough to share the story behind the piece with us.
Customer's Piece: Cuban Chain
The original piece- a thick 14 yellow gold Cuban chain-was 16 1/4 inches long, and needed to be at least 4 inches longer for her son's neck. Since it was a thick chain, measuring at 8mm width for the links, it was near-impossible to find existing links that could match. In addition, the links were unique- instead of one individual link, each link had a "double-fused" design.
After some discussion with our team, we decided that our custom design process was the best way to help Aileen extend her necklace to 20 1/4 inches.
QJR Solution: CAD Creation + Production
Once Aileen had placed her order, we started making the CAD. Simply put, a CAD is a computer-aided design, or a 3D model of the item. This CAD file is sent to a 3D printer, which prints out a 3D replica of the item in wax. The wax model is then used to make the jewelry in casting.
Aileen's CAD wasn't much of a challenge, fortunately- not only did she provide lots of pictures and information, but we also received the original piece from her. Our designers were able to reference the necklace since they had it on hand to make sure the links matched.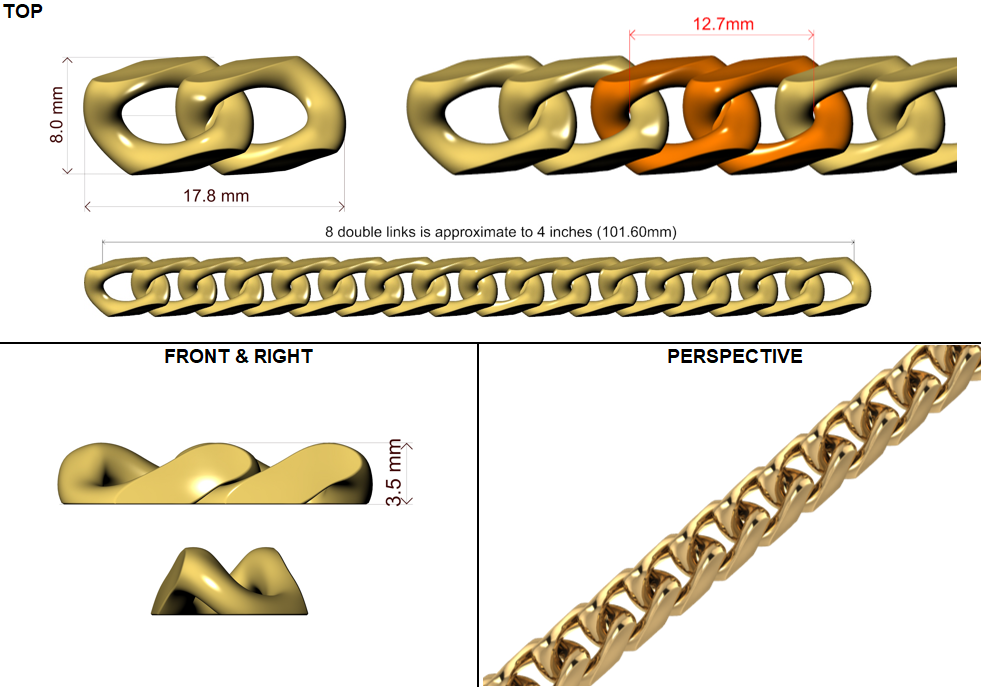 When it was finished, we sent the CAD over to Aileen for her approval. Aileen reviewed the CAD to make sure everything was correct, and then signed off on production.
With the CAD, we printed the wax model to produce the links. To make sure the new links matched Aileen's existing necklace, we cast the links in 14k gold that was the same color. Once the links were cast, our jewelers expertly attached them to the rest of the chain, and brought the necklace to a high polish in order to make the piece look consistent throughout. The entire process took about three weeks.
After the necklace came out of production, it was time for us to package it up and ship it back to Aileen.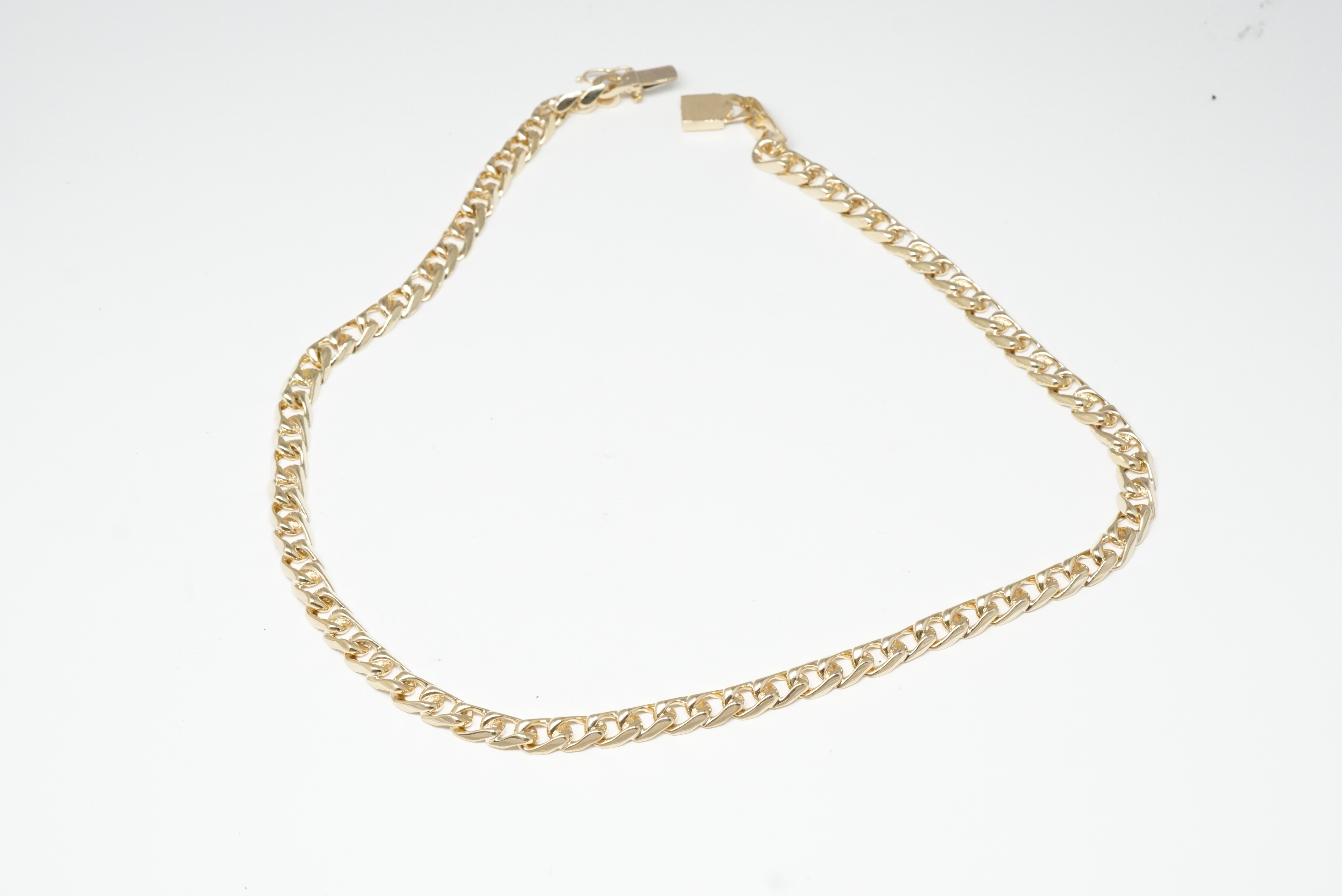 The Story
After a few days passed, Aileen got back to us. She was absolutely elated with the results, and had nothing but kind words to say about the work.
"I wanted to just circle back and let you know how THRILLED we are with the work your group did. I am just amazed. The necklace looks brand new, and at least three people examined the chain and we could not figure out which links were new and which ones were old. Basically, the entire necklace (which was probably at least 30 years old) looks brand new!

The necklace was for my son, and I wanted to share with you some of the texts he sent to me when it arrived (I was at work):

Him: "Mom, the necklace came! It's so beautiful (heart eyes emoji).

Me: how's the length?

Him: It's literally perfect! You have got to see it!

Me: I'm so glad you are happy with it. It means a lot to me for you to have it since it was Grandma's

Him: of course, I love it. Best present ever (heart emoji).

Thank you again for everything. It was a big investment for us but well worth it! We are so thrilled with the necklace and amazed that you could replicate the links so precisely. Thank you to everyone for their hard work. We are very pleased customers! – Aileen"
Obviously, we were thrilled to hear this from Aileen. We were also quite interested about the necklace once we heard that it had belonged to Aileen's mother. So, after an email or two, Aileen graciously told us the story behind the necklace and why it had been modified for her son.
"Briefly, my mom, Rose Brown, passed away from Alzheimer's Disease in September of 2016. Born in 1933, like many women in her generation, Mom was always appreciative of fine jewelry, and many of our special events were marked by a gift of jewelry. When I graduated law school, for example, I was given a pearl necklace, and I was given a watch for my high school graduation. Many of Mom's pieces were not very valuable, but they were obviously sentimental as we remembered her wearing them regularly or we remembered them on a dish on her dresser.

After Mom passed away, I sat with my three brothers and we divided up Mom's jewelry, not based upon financial worth but each of us was given a chance to pick a piece that was meaningful to us. Once each of the four children chose a piece, we'd start again and choose another piece, until all of the jewelry had been divided up. I chose a heavy gold necklace with thick links as one of my "choices".

Since Mom's passing I have been able to wear several items of my inherited jewelry, some every day. I did not wear the necklace though-at 16 ½ inches it was a little too small and I did not feel comfortable with wearing a choker. I had it on my dresser and looked at it frequently. I also am the mother of three boys, so I thought there was little chance that I would be able to pass Mom's jewelry on to them, unless, of course, I had the opportunity to pass it along to a daughter in law someday (hint hint!) However, in 2019, my youngest son (19) asked me if we would purchase a Cuban link necklace for him for his birthday. I showed him Mom's necklace, and he liked it, but as a brawny college football player, it was way too small for his neck. I thought about whether it might be possible to purchase another Cuban link necklace or bracelet (of the same weight/size) and use that to add links to our necklace, but my local jeweler said it would be virtually impossible to match.

It was then I reached out to Quick Jewelry Repairs and asked whether you could add links. The rest of the story you know. I'm so glad that we were able to put Mom's necklace to good use, and even more delighted that my son will have something of his grandmothers. I know she would love the fact that we are carrying on her tradition of a gift of jewelry on a special occasion."
Upon hearing this, we were absolutely delighted. It's always rewarding to learn that we've helped in our own way to preserve some kind of memory through our work, especially when jewelry is so sentimental. In our line of work, these stories make our day.
If you have any inherited jewelry repair work, custom creation projects you'd like to fulfill, or questions on how to make a necklace longer, comment below or contact us here!