What's the Cost of Replacing a Diamond in a Ring?
Written by Annabelle
March 24, 2020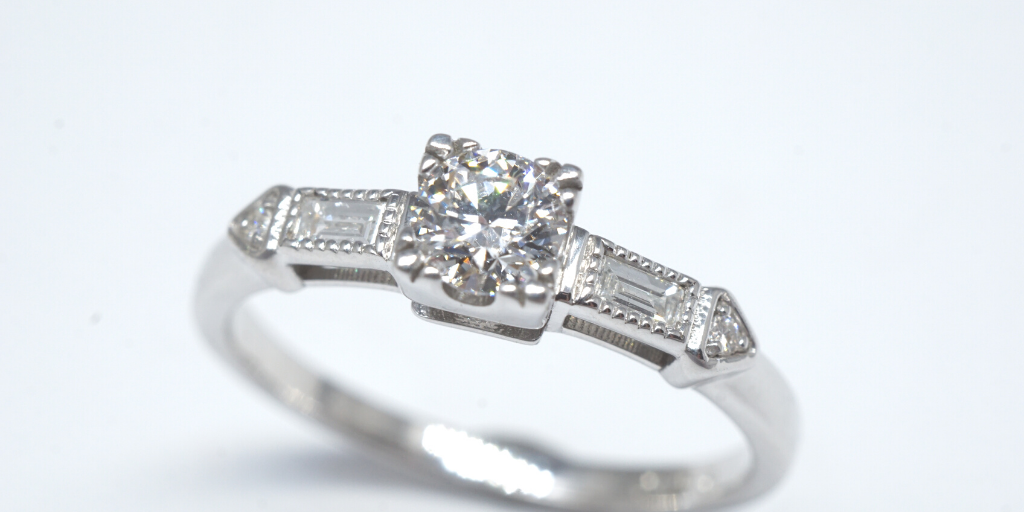 You look down at your favorite sparkly finger bling or your engagement ring…and a diamond is missing. Before you shriek and lose all your hair from shock, remember that you can get it replaced! Stone replacement isn't quite straightforward though- read on to learn more about the process and the cost to replace a diamond in a ring.
How to Get Started With the Diamond Replacement
When you pop in with your ring to a jeweler, the first thing you should check is to see how quickly they give you a price before evaluating the piece. If they barely glance at your ring and tell you a number, that's a big warning sign that they're not going to do a proper job. After all, diamonds are unique gems with their own special grading scale for color and clarity. A trained jeweler will never randomly set a diamond into a ring without checking the other stones in the ring for their quality. For instance, if a ring is set with I color I2 diamonds, putting a G color diamond next to them will be very obvious in terms of contrast.
If you happen to have a ring that's designed for only one diamond, and has no other stones set in it for the jeweler to reference, the jeweler will work with you to determine the best replacement. Some of our clients have the diamond quality information from the purchase, making the replacement process fairly easy as the jeweler simply provides a new matching stone. On the other hand, if you know nothing about the original diamond's characteristics, the jeweler will take your budget into account for finding a new stone.
Determining the Cost of the Diamond Replacement
Once you've started the process with a reputable jeweler, the cost of the replacement stone and the setting labor is finalized. 
If the missing stone is a small side/melee stone, these diamonds are usually 0.07 to 0.15 carat (2.6 mm to 3.5 mm in diameter.) Such stones usually range from $15 to $25 depending on size and quality. For larger stones such as center stones, the cost is much more variable.
One thing to understand is that the natural diamond market is highly variable in terms of prices and stock. Again, natural diamonds are unique and rare phenomenons; to find a diamond with a particular set of characteristics can take more time and resources. This adds to the overall cost of the replacement.
As an example, if you request for your jeweler to find an emerald-cut, 3 carat F VVS2 diamond, such a high-quality and large diamond is not readily available all the time. There may be only a handful of options for you to pick from, and depending on market demand the price might be higher than usual. 
Aside from availability, the color and clarity also determine pricing. As a general rule, diamonds that lean towards the colorless and inclusion-free side of the scale are more expensive. Fancy color diamonds, otherwise known as diamonds that show enough color to be outside of the normal color range, are graded separately. 
Finally, size is a major factor for center stones. The larger the size, the more expensive the replacement. Prices can jump drastically by even a quarter or half carat difference, so make sure to ask your jeweler what sizes can reasonably fit into your setting; that will help you lower costs if you can fit a marginally smaller stone into your ring.
What's the Cost of Setting?
Once you've figured out the price of the stone with your jeweler, the next step is setting the stone! Most settings are fairly easy to work with; the majority of settings are usually prong settings which average around $30 to set.
However, more complex settings require additional work and expertise to set. Bezel settings, flush settings, and channel settings are difficult to work with due to their structure. Invisible-set diamonds are the most expensive as the stone needs to be specially cut with a groove on both sides, and inserted onto two very thin rails to lock into the setting. On average, invisible setting can start at $70 or more depending on the stone cutting, metalwork, and number of stones. 
Turnaround Time
For small side stones, turnaround time is usually 1-2 days. The jeweler just needs to check the ring, and supply a small diamond to pop right into the ring. Invisible-set stones take a longer time, approximately 1 week as the stone needs to be cut and set.
Larger stones vary, depending on the diamond. Massive high quality diamonds may take anywhere from 2 weeks to 2 months, depending on overseas availability and shipping. If the stone is being specially recut, expect an additional week on top of sourcing time. Other center stones that are more standard in size, such as .5 or 1 carat stones, can be sourced within a week. 
Now you're set on how to replace a diamond in your ring! Whether it's a large center stone or a small side stone, your ring can be fixed and worn again just like new. Let us know in the form or comments below if you have a missing diamond on your jewelry that needs to be set. You can also visit our diamond setting service page to get started now with an order.
Diamond replacement services mentioned:
---