Transform Your Silver Jewelry: 6 Simple Ideas
Written by Kira Garrett
July 15, 2021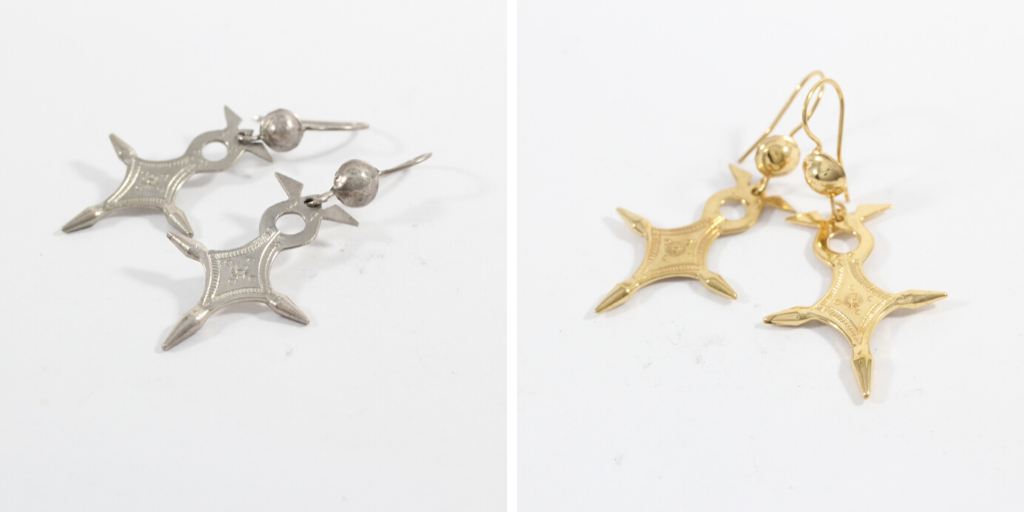 So often you either love gold or silver—not both! So, if you find yourself looking at your jewelry, wishing it weren't so silver, worry not! There are many ways to transform your silver jewelry into something you love.
Polish for a brighter look.
If you find your silver jewelry's looking a little dull, get it polished! There's no way around it—silver jewelry will tarnish, no matter how well you care for each piece. But it's easy and affordable to revitalize your favorites with a professional polish! Quick Jewelry Repairs offers polish service to buff out scratches and leave your silver jewelry looking better than ever. 
Try antiquing.
Did you know you can purposely tarnish jewelry for a new look, too? Antiquing, or oxidation, turns bright silver into a dark, edgier option. So, if you don't love the look of shiny silver, give oxidation a go. Here's how it works: 
Oxidation occurs when silver reacts to sulfur. It causes the silver to tarnish and ends up looking much deeper in color.

Oxidation doesn't damage your jewelry—so you don't have to worry about the safety of your favorite piece.

You can choose to oxidize the whole piece or target a certain area for a two-tone effect. Oxidized engravings look great against the rest of a shiny piece.

Any sterling silver jewelry will work! Just make sure there's no coating, plating, or chemicals on your jewelry before you send it in for oxidation. 

It's totally reversible. If you decide you loved your bright silver jewelry better, no problem! With a little buffing and polishing, you'll have a silver piece again in a flash. 

Quick Jewelry Repairs can oxidize your silver for you. Just

get in touch

with us to discuss! 
Cover it in gold.
Gold jewelry is definitely trendy. Everywhere you look there are gold rings, bangles, and earrings. If you find yourself with a collection of silver pieces you wish were gold, there's good news! You can get your jewelry plated with gold. It's yet another way to transform your silver.
You may have heard the terms "vermeil" or "gold-plated." While they're not exactly the same, they both turn silver jewelry into gold. 
Vermeil

is sometimes called silver gilt. It's sterling silver plated with a thin layer of gold. In order to be considered "vermeil," jewelry must meet certain qualifications. The gold layer must be at least 2.5 microns thick and the gold must be 10K or higher. 

Gold-plated

jewelry simply has fewer regulations. Gold-plated jewelry can add a paper-thin layer of gold or a pretty thick one. Jewelers just aren't required to let you know how thick the layer of gold is when jewelry is gold-plated vs vermeil.
It's important to keep in mind, that vermeil and gold-plated silver jewelry require a little extra care. You already know that silver jewelry can tarnish, but on top of that, the gold layer can wear over time. To prevent this from happening, here's what you can do: 
Stay dry

: Avoid wearing plated jewelry while swimming or showering.

Avoid lotion

: Take your rings and other jewelry off before you apply lotion or other body products.

Good storage

: Store your jewelry in tarnish-resistant pouches, to keep it safe.

Re-plate your jewelry

: Turn to the experts when your finish starts to wear. Quick Jewelry Repairs

offers gold plating

. So whether you want to send in a silver piece to get that gold look, or you want to touch up existing gold-plating, we're here to help.
Get some enamel.
Add a pop of color to transform your silver jewelry with enamel. It's a decorative coating applied directly to metal. The coloring is then fused using super high temperatures! Enamel allows you to introduce color to an otherwise all-silver piece of jewelry. If you're interested in adding enamel to your jewelry, here's everything you need to know.
Set some stones.
Depending on the piece of jewelry you're hoping to makeover, consider adding gemstones. If you have a disc pendant, pave diamonds are definitely possible. Have a thick silver cuff? Add a statement stone to totally change the look. Plus, gem settings can be added to almost any ring band. Check out this post for more info.
Scrap it.
If you just don't see a future for your silver piece, send it in for scrap. Silver can be recycled into new jewelry. It's an eco-friendly way to declutter your jewelry collection. Plus, you could make a few bucks.
There's no doubt, silver is super versatile. So keep these things in mind the next time you find yourself wishing you had some new jewelry in your collection. You just might be able to transform your silver jewelry into something you'll love even more.