The Pros and Cons of Stainless Steel Rings and Wedding Bands
Written by Chiara
May 30, 2018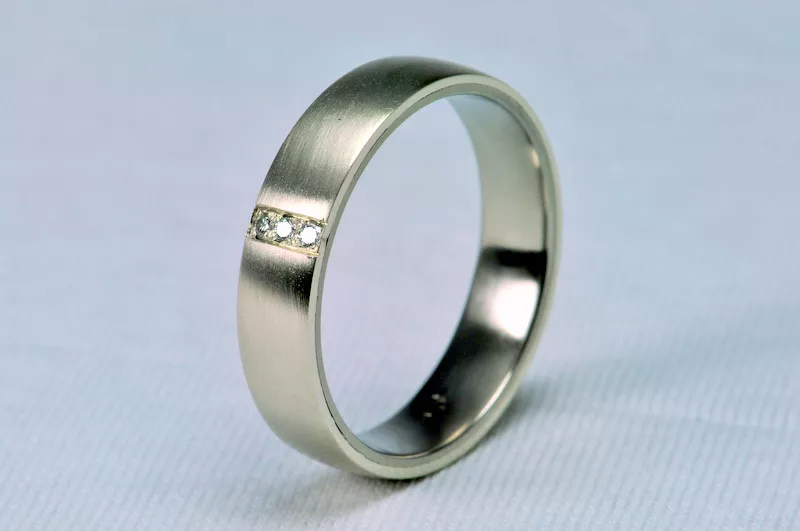 Forget Silver, forget Gold, forget Platinum, there's a new metal in town!
Stainless steel!
But what is Stainless steel anyway?
Stainless steel is a metal compound of iron, carbon, and chromium. Stainless steel can be used for many different applications such as surgical and medical tools, aerospace applications, and architecture. But it's also used to make jewelry and because the metal is corrosion and heat-resistant, it can make a great addition to your jewelry box. The jewelry is harder to scratch and can withstand the sun, the sand, and the sea. It really takes the stress away from remembering to take off your jewelry in the shower!
Stainless steel was originally used for necklaces and earrings, used especially on ears that were freshly pierced. This is due to the extremely low rate of allergic reactions to the metal despite the steel still containing nickel. Now couples are finding themselves wanting wedding bands in the same material!
But is it a good idea to buy stainless steel jewelry? We've put together a short pros and cons list for you.
Pros for Purchasing Stainless Steel Rings & Wedding Bands

Low Maintenance
It is corrosion-free, tarnish-free, and scratch-free.

Stainless steel rings are incredibly durable, making them perfect for everlasting wedding bands.

They don't require much maintenance and are really easy to clean- just use warm water and soap!

Stainless Steel rings do not require rhodium plating. Rhodium is a hard metal that increases the scratch resistance of a jewelry item but stainless steel is stronger and therefore does not need it, so it saves time, money, and energy.
Comfort
It is a light metal, so it is easy and comfortable to wear on the finger.

The metal is best known for being hypoallergenic, so it's great even for the most irritable skin.
Value
The price point is significantly lower compared to gold, silver, and platinum.

Despite being cheaper than the other metals, it still has a similar look to platinum so the ring will retain its beauty and luster.
Eco-Friendly
It is the most

environmentally-friendly metal option

in the jewelry world. In the production process, the amount of energy used and waste produced is dramatically less than in the production of other metals for jewelry.

Stainless steel is 100% recyclable.
Safety
In an emergency situation, stainless steel rings can be cut off using regular cutting equipment tools.

They are a poor conductor of electricity. Stainless steel rings conduct around up to 16v, whereas gold conducts up to 310v and silver is 429v for those worrying about getting electric shocks from their ring!
Cons for Purchasing Stainless Steel Rings & Wedding Bands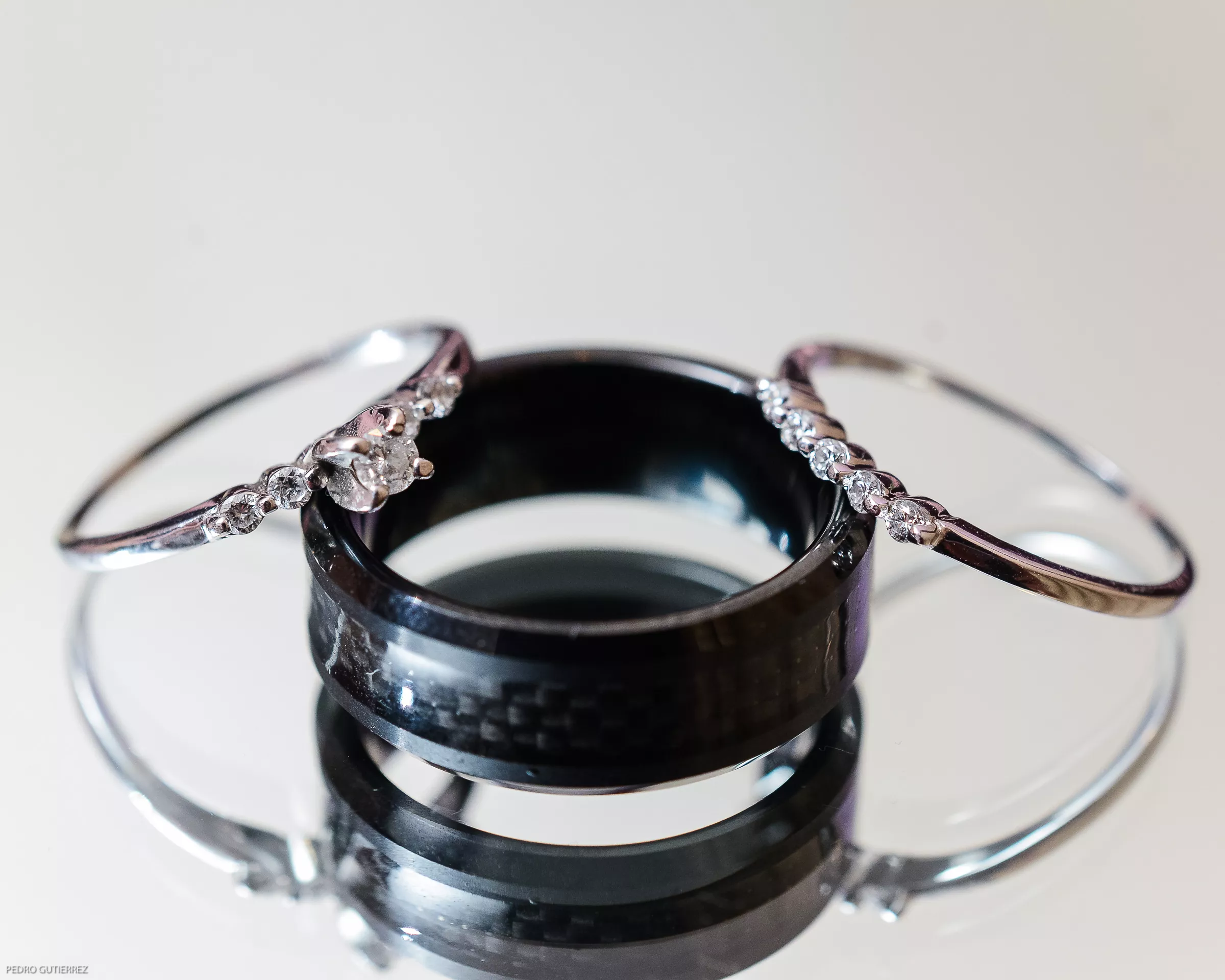 Availability
Stainless steel wedding bands come in limited styles and selections at the moment, hurting availability.

Because they're sold mainly through online retailers, stainless steel wedding bands have limited availability in store.
Maintenance
After years & years of wearing your stainless steel ring, the ring may lose its shine and polish, and therefore may need a quick re-polishing to restore your ring's gleaming shine. This is nothing compared to gold (every 6 months) or silver (multiple times a year), to keep it in the same shining condition.

Stainless steel and chlorine is a very bad combination as the stainless steel is very sensitive to it. So make sure you remove your stainless steel rings before entering a chlorine pool!
Ring Resizing
Due to the durability of the metal, if the ring is not the right size, then the likelihood of getting a perfect ring resizing can be difficult.

Stainless steel ring resizing cannot be done by hand and needs to be handled with specialized machines (such as TIG Welder or a high powered laser welder to accommodate for the high melting point of stainless steel).

Without the required specialized machinery, the jeweler can't do anything, except advise on different ways to wear the ring like on a chain as a necklace.
While many jewelers and repair services might tell you that they can't resize stainless steel rings, Quick Jewelry Repairs has you covered. We have the specialized equipment needed and are happy to resize your stainless steel rings up or down as needed. Here's a short guide for you.
Stainless Steel Ring Resizing – A Short FAQ
How do I know what size I need my stainless steel ring to be?
Check out our recommended method that you can do at home to verify your preferred ring size
2. How does Quick Jewelry Repairs resize stainless steel rings?
The methods vary on the service that you require for the band i.e. sizing up or sizing down. For more information on these methods read here.
3. How much does it cost to resize my stainless steel ring?
Starting from only $55 but check out our prices below!
| | |
| --- | --- |
| Change in Size | Price ($) |
| 0.5-1 | $55 |
| 1.5 | $65 |
| 2 | $75 |
| 2.5 | $85 |
| 3 | $95 |
4. Where can you buy?
Below is a constantly changing list where we like to get our cool stainless steel jewelry from:
Inox Jewelry
Therefore despite what you have been told, it IS possible to resize your stainless steel rings and we are fully behind it, because we can! There is no need to have the worry of buying a stainless steel ring in perfect size right out the gate anymore, especially for wedding band options, so relax and enjoy ring shopping!
Remember to send it over to us if you do end up needing a resize!