Looking for a piece of jewelry to really anchor your collection? We've found the answer: permanent jewelry. This trend is the adult version of those matching woven and beaded bracelets you used to wear with your bestie at summer camp, or you can always find a piece that's just for you. The best part? You'll never have to bother with clasping and unclasping a chain or digging for the piece at the bottom of your jewelry box. It's cute, it's fun — it's no wonder this trend has become a widespread phenomenon. Read on to answer every question you have (and then some) about this craze. 
What Is Permanent Jewelry?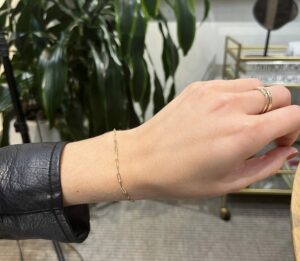 Permanent jewelry is a type of jewelry (typically necklaces, bracelets, or anklets) that is soldered onto you so there's no need for a clasp. Getting zapped into your jewelry might sound scary, but we promise, there's nothing to be afraid of. It's important to understand that these pieces aren't truly permanent; the metals used in permanent jewelry are so fine and delicate that you can take them off easily with a pair of regular scissors. The beauty of permanent jewelry is that you can choose a single piece you'll want to wear everyday, without having to deal with taking it off each night, keeping track of it in your jewelry box, or pairing it with other pieces in your collection. This trend is growing rapidly for a few reasons: it makes accessorizing simple and easy, it looks beautiful and glamorous, and it's a fun grown-up take on friendship bracelets.
Does It Hurt?
Unless you count the painful decision of which chain to choose, there's no pain involved in permanent jewelry. I recently went to get a permanent bracelet with my sisters, and I can attest that it was entirely pain-free (and a lot of fun). 
What If I Have to Take it Off?
Before you commit to permanent jewelry, think about how often you actually take your jewelry on and off. If your job or hobbies require taking off your jewelry, take that into consideration before you have a piece permanently soldered on. Permanent jewelry is rarely an issue at airport security, so you don't have to worry about taking it off when going on a trip. And if you discover you have to take your permanent jewelry off unexpectedly (like for a medical procedure, for example), hold onto it! Most brands will offer re-welding services for a small fee or sometimes for free. 
How Do I Take Care of My Permanent Jewelry?
Most permanent jewelry is made out of high quality gold or silver, so it won't tarnish easily. We usually recommend getting your jewelry cleaned or polished every 6 months, but that's harder to do when you can't take the piece off and send it in to us. That's why it's especially important to use a polishing cloth to remove any residue buildup from things like lotion, soaps, and everyday oils. 
The Permanent Jewelry Process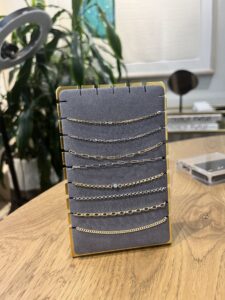 Normally, when you shop for jewelry, you can pop into the store or browse online to find your perfect piece, then as soon as you get home (or receive it in the mail), you can wear it however you'd like. With permanent jewelry, the soldering process is an additional step. Here's what you can expect from your permanent jewelry experience:
Select your jewelry.

The first step is to choose your piece of jewelry. Decide whether you'd like to wear a permanent bracelet, anklet, or necklace. Then you'll choose a chain; most permanent jewelry brands offer a range of different metals, patterns, textures, and charms or pendants you can include to customize your piece. 

Find the best fit. Once you've selected your chain, the jeweler will measure it to fit you. If you're getting a bracelet, for example, the jeweler will temporarily secure the chain onto your wrist with a pair of pliers to test out the fit. Move your arm and hand around to make sure that it's not too big or too small, and ask for adjustments if necessary. 

Pro tip:

If you're going to wear your permanent bracelet on your watch arm, be sure to wear the watch to your appointment. You'll get a better sense of where you'd like your bracelet to fall in comparison to the watch, whether it's above or below, tighter or looser. You'll also avoid any unwanted surprises when you put your watch back on. The same advice applies to necklaces or anklets: bring along any piece of jewelry that your permanent chain is going to rub or bump up against.

Get Zapped! 

The next and final step is to weld your jewelry onto you. The type of soldering equipment used will vary depending on the jeweler or brand; some shops may use a soldering iron, which is a handheld device that looks like a fancy electric pen, while other places have you insert your arm into a bigger machine. Jewelers will usually use a magnifying lens while they solder the piece to make sure the closure is precise. The welding takes only a few minutes, and then, voilá, you're done.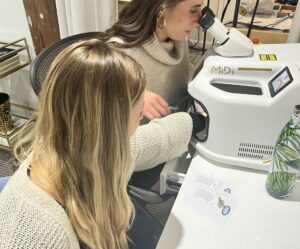 Tips for Getting Fused Jewelry
If you want to join the permanent jewelry trend and anchor your style with a (truly) everyday piece, here are some helpful tips to get you started. 
Find a Brand You Love
Search for jewelry shops near you that provide this service (since you'll have to visit in-person to have your piece soldered on) like Catbird in New York City. Research the types of jewelry they have available to make sure you can get the piece you're dreaming of; most permanent jewelry places offer bracelets, but you'll want to double check for necklace or ankle options if that's what you're looking for. If you're dreaming of specific charms or details that you can add to your jewelry for some extra customization, make sure the shop you choose has the options you need.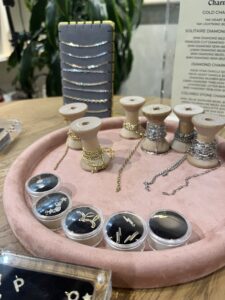 Look Into Appointment Times
If you're planning a permanent jewelry outing in advance, check if the shop you've chosen offers advance appointment bookings. If you're leaning more toward a spur of the moment decision, find out if they welcome walk-ins so you can make up your mind at the last minute. Some shops host regular soldering events, like M. Flynn in the South End of Boston, which hosts Fused Fridays every week. Calling ahead or making an appointment online to confirm your spot will help make sure you're not stuck waiting in the shop for very long.
Grab a Buddy
It's even more fun to get this jewelry with your pals; Get zapped to mark an occasion or celebrate a big milestone with your squad: birthdays, bachelorette parties, or even after brunch. Having a matching bracelet is a fun way to mark a friendship, and you'll think of your favorite people every time you look at your wrist. Of course, it's also a fun activity to do together; get your besties' opinions on which chain to choose, or make the choice as one so you all match.
Have Fun!
Permanent jewelry is a fun style that you can wear as long as you'd like, plus you get to set it and forget it. Before long, you may even forget that it's on; it'll become like a part of you. When the light hits it just right or you're feeling sentimental, all you'll have to do is glance down and see the permanent piece and remember all that it represents for you. Have fun with the process, and enjoy wearing your new forever piece!
Permanent jewelry is super personalized and lends a little extra flair to your style. If uniqueness is your priority, take it all the way with a custom design. Create your own one-of-a-kind piece of permanent jewelry from scratch with Quick Jewelry Repairs' expert bespoke jewelry design team; we'll help you bring your own customized jewelry to life.