Necklace Repair Turnaround Times – Infographic
Written by Annabelle
July 15, 2019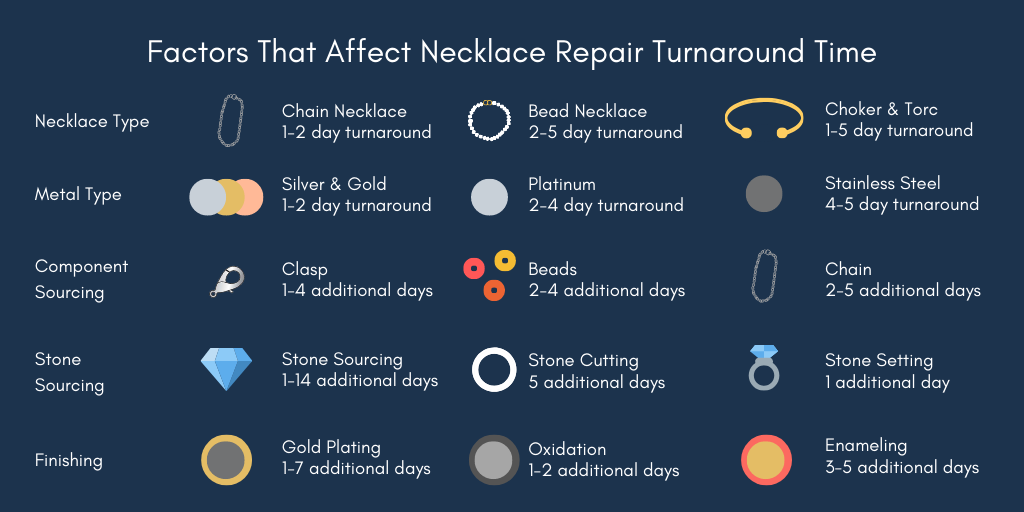 It's the worst feeling in the world when a beloved necklace breaks. Whether it's a sudden cascade of loose beads falling to the floor, or a sharp snap as your chain breaks, the first thought is to get it repaired as soon as possible. But you might be wondering how long before that piece is back around your neck again; if so, read on and take a look at our infographic to learn more about what affects necklace repair turnaround time.
The type of necklace: Chain necklaces are not too difficult to fix, but beaded necklaces are a whole other story. Beaded necklaces can be quite complex, and the work involved in restringing them (especially if there are intricate patterns and beading techniques) can take quite some time. Solid pieces like chokers and torcs can also be difficult to fix depending on the damage- cracks that need mending will require patience and soldering, while hinges are tricky and may need replacement.
The type of metal: Silver, gold, and platinum necklaces are easy to work with since they're standard jewelry material. However, stainless steel necklaces take much more time, since the metal is tough and needs very high heat to work with. It may take a week or more to work with stainless steel depending on the item and the repair needed.
Sourcing components: If the necklace in question needs materials, such as a new clasp or more beads, it may take the jeweler some time to procure them from vendors. Expect an additional day or two if sourcing components is necessary for the repair.
Sourcing stones: Sometimes replacements for missing stones may take a while, especially if the stone is a rare specimen or needs to be specially cut. Sourcing can be unpredictable and take up to even two weeks at a time! Stone cutting takes approximately one week.
Finishing: Necklaces that have gold plating, oxidation, enameling, and black rhodium detailing will need reapplication after work has been performed. The heat from the jeweler's torch as well as abrasion from various tools will wear off the finish, leaving behind unsightly blank spots of metal.

Gold plating: Depending on the base metal of the necklace and how thick the plating should be, this finish will take one to five days.
Oxidation: This chemical process darkens the surface of sterling silver. It may add one to two days to the necklace repair turnaround time.
Enameling: To apply enamel, a layer of paint is added to the jewelry. The item is then "baked" in an oven to cure the enamel, making sure that it hardens into a durable and smooth coating. Enameling can take three to five days for completion.
Black rhodium: Black rhodium is typically used for small detailing in high-end jewelry. It may add one day to the repair turnaround, based on how much detailing is required.
Necklace Repair Turnaround Time Examples
This simple chain just needed a quick reattachment at the clasp area. A bit of chain soldering and it was ready to go in one day.
For this particular pearl necklace, our client requested a clasp replacement. We sourced a beautiful new filigree clasp for him, and the job took approximately three days for sourcing and replacement.

This Fiji-style necklace came in with no string whatsoever. After figuring out with our client the best approximation of the original pattern, we proceeded to restring it. The process took four days.
With these examples in mind, you should now have an idea of how long it'll take to repair your necklace. If you need to fix up one of your favorite pieces, check out our necklace repair services below.
Services Featured In This Article
$25.00Select options