People Behind The Pieces: Carla's Antique Rhinestone Earrings
Written by Annabelle
February 19, 2019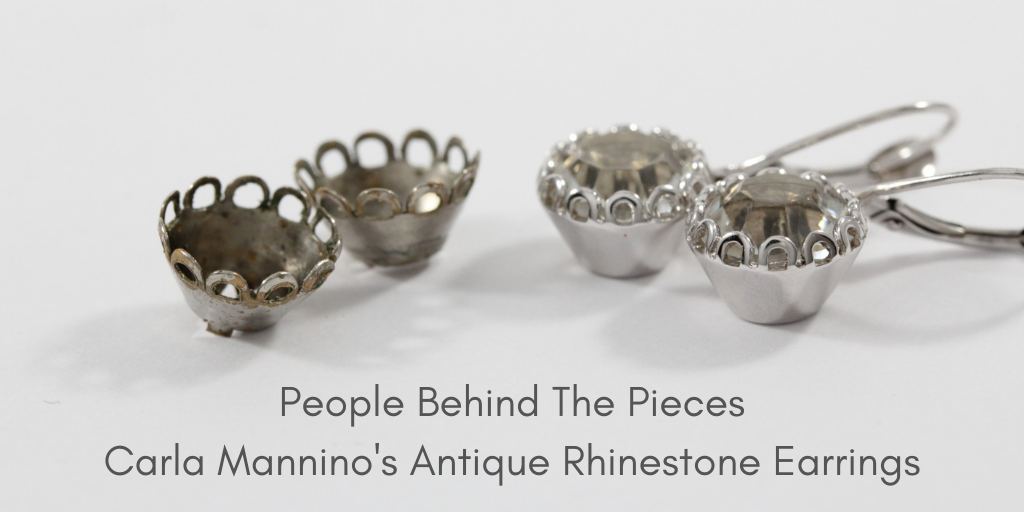 You ever look at some old pieces of jewelry and think; "Wow, I really don't know what I can do with that?" Well, that's why jewelry conversion exists- and one of our clients knew exactly what to do with her stuff.
A couple of weeks ago, Carla sent us a strange custom order: two vintage rhinestones in their original metal settings. She wanted to convert them into earrings, and we called her up for some details. What we found out was nothing short of incredible.
The Order:
On the phone call with Carla, we began by figuring out what she wanted for her earrings. Carla was unsure as to whether or not she wanted the earrings in a stud or dangle style. She also wanted to preserve the unique lacy design of the original setting by replicating it in white gold.
Then she said rather casually;
"These were my great-grandma's buttons, so they're quite old."
We were shocked. When we received the rhinestones we had no clue as to their original usage; we simply assumed they were bits of well-loved costume jewelry. This definitely put an interesting twist on the situation, and it also created a unique challenge for us. The stones were at least a century old and very brittle, and exposing them to any heat would be a potential nightmare. We made a quick note for production references, and continued talking with Carla.
After a few emails, Carla decided to have the rhinestones made into 14k white gold dangle style earrings, with leverbacks for additional security.
The Production Process:
1. The Computer Aided Design
Making Carla's earrings posed a bit of a challenge. The stones were going to be difficult to work with, and her choice of dangle earrings meant a few extra steps. We first created a Computer Aided Design (CAD) for Carla to review.
Once we finished making the CAD, it was promptly sent off to Carla. She gave us her approval to proceed, and we moved onto the casting.
2. Casting & Assembly
In the custom jewelry creation process, the CAD is actually a file that is sent to a 3D printer. The 3D printer prints out the design in wax, allowing the jeweler to take the wax model and encase it in plaster. A process is used to melt the wax within the plaster, leaving behind a hollow space that is filled with molten metal.
For Carla's piece, casting the earrings in 14k white gold was easy- the main issue was assembly, since her earrings needed leverbacks. In the CAD, the settings had been modified to include a small loop at the top. They needed to be opened and soldered back shut in order to securely attach the leverbacks, which would require some exposure to heat. As a result, the jewelers finished all of the metalwork before proceeding to set the stones into the earrings, in order to avoid any possibility of damaging the vintage rhinestones.
3. Finishing
Polishing was kept to a bare minimum, as the metal settings were thin and they only needed a light buff. The earrings were quickly and gently cleaned to remove any residue from polishing.
The Finished Product:
Needless to say, Carla was thrilled by the final result.
"I could not have been more pleased to have found Quick Jewelry Repairs. Quick Jewelry turned my French great grandmother's vintage buttons into beautiful earrings. They even replicated the original metal setting with white gold. Thank you Quick Jewelry Repairs—great grandmother Eulalie would approve!"
We definitely approve of the earrings too! If you've got something similar to Carla's antique buttons, or a piece of jewelry you want to change up, read more about the jewelry conversion process.