How To Become a Successful Jewelry Seller on Etsy
Written by Annabelle
October 8, 2019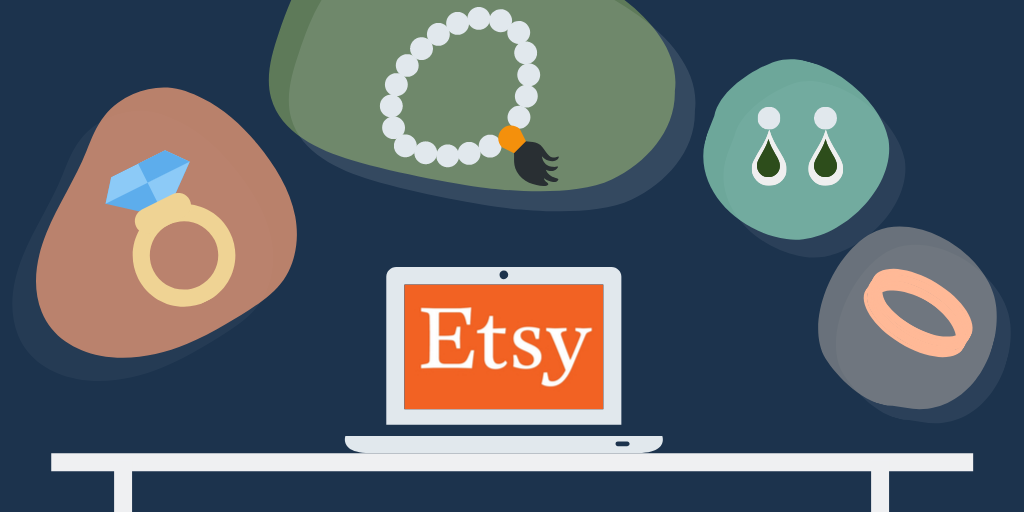 Maybe you've always loved jewelry. Friends and family have always told you to sell your designs online, or trade some of the antique and vintage pieces you collect.
And one day, you do it. You hop onto Etsy, that behemoth marketplace for creatives like you- and you're immediately overwhelmed. Fortunately, you're not alone! Here's how to become a successful Etsy jeweler.
Step 1: Determine the type of jeweler you want to be
It's a good question to ask yourself before you start setting up shop on Etsy. What kind of jewelry seller do you want to be? Do you design your own pieces? Do you scour flea markets, thrift shops, and estate sales for interesting baubles? Or are you interested in purchasing stock from overseas and selling the pieces under your brand name? Most Etsy sellers categorize themselves into one or more of the following types: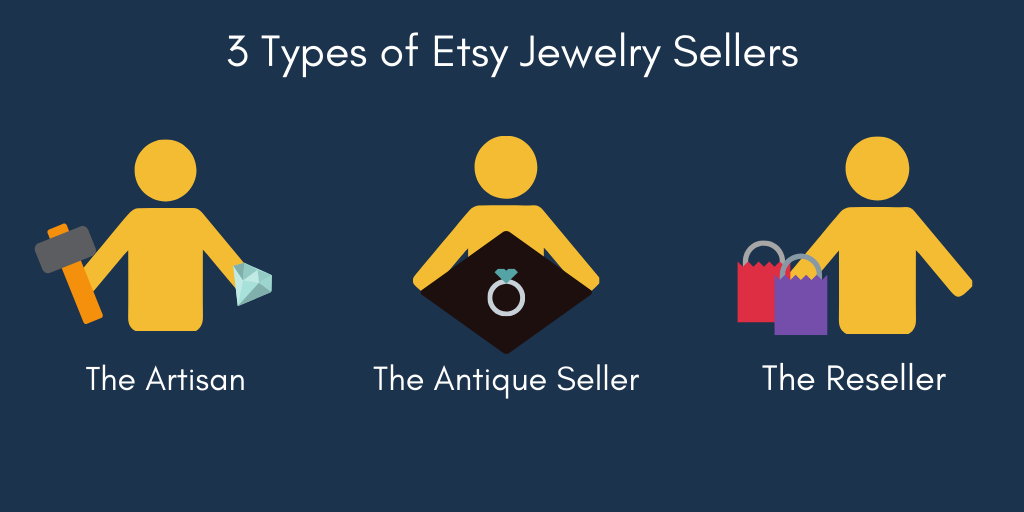 The Artisan: An artisan creates their own jewelry and designs. They pride themselves on their craftsmanship and artistry, and label their items as handmade or artisanal.


esdesigns

creates her items via a lost wax carving method and having them cast at an off-site facility.

Jennifer Tull Westerberg

is a highly skilled NYC-based artisan who carves and casts her pieces from recycled metals at home.

The Antique/Vintage Seller: This kind of Etsy seller finds interesting and unique pieces at thrift shops, flea markets, or experienced vendors, and resells these pieces at a higher price.


ThomasBrothers

offers a wide selection ranging from contemporary estate finds to antique jewelry.

Lillicoco

specializes in Georgian, Victorian, and Edwardian antique pieces.

The Reseller: They center their business on pre-made stock, often from overseas. Their inventory may be tailored around a particular aesthetic that they want their shop to cater to, such as dainty silver jewelry, or customizable name jewelry. They usually do not make their own items.


TheLastJewel

partners with Osensia to get their goods out to the public.

TheWorldofLuxury

works with a manufacturer in Turkey to provide fine gold jewelry to her clients.
Whichever one you are, that's going to affect your business model and how you interact with your clients. Before that, however, you'll need to understand the Etsy marketplace. 
Step 2: Position Yourself in the Etsy Market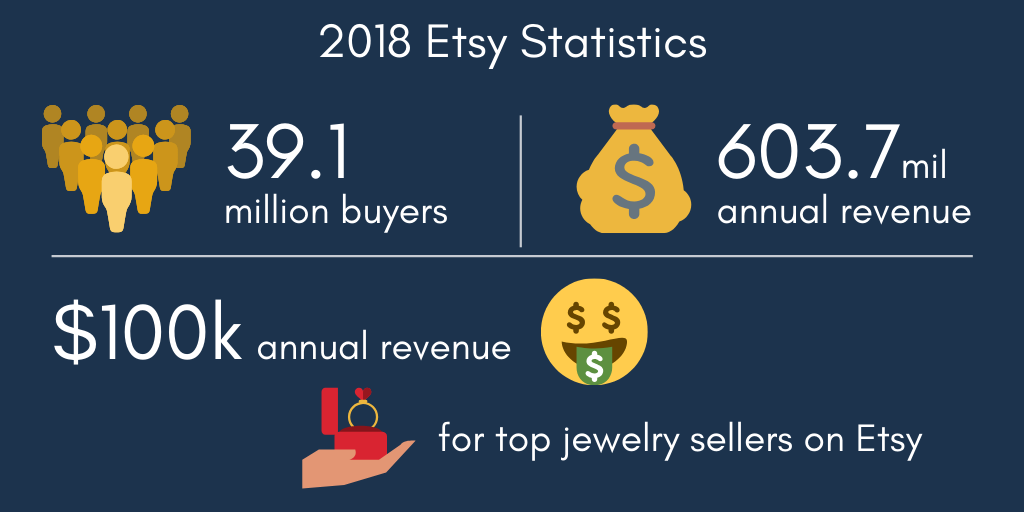 When positioning yourself, you need to take into consideration the arena you're entering into. Etsy is an incredibly attractive marketplace; in 2018 it had over 39.1 million active buyers and brought in a whopping 603.7 million in annual revenue. It already has a fantastic brand reputation for arts and crafts, selling anything from homemade soy candles to 1800s porcelain statues, and the jewelry market is a highly competitive yet lucrative sector on Etsy.
What that means is that you're basically elbowing for room with more people than other sellers of different merchandise. If your product happens to be something that can be easily mimicked by other newbie jewelers at home, such as wire-wrapped jewelry made from findings bought from Michaels, you're in for a rough time unless if you learn how to stand out from the crowd. Then you'll easily hit 100k a year like most top jewelry sellers on the platform. 
Let's get even more granular. Say for instance you've been making blue earrings at home with some beads and wire. Search Etsy for "blue bead earrings" and you'll be aghast at the amount of similar-looking pieces with a wild range of price points. In order to compete on Etsy, you'll need to consider upgrading your product offering- or even your manufacturing capabilities- to differentiate yourself.
For estate, antique, and vintage sellers, you have a bit of an advantage compared to at-home jewelers and designers. You're simply purchasing items and reselling them on Etsy, so the pieces speak for themselves by being relatively one-of-a-kind as they're either batches of unused old jewelry stock or unique individual pieces. This doesn't mean you should start pricing them like they're the British Crown Jewels, however; if you have a Victorian ruby ring, you should be checking out your competition. You'll have a better edge if you take the time to differentiate yourself by cleaning up your stock via antique jewelry restoration.

If you've been purchasing mass-manufactured stock and reselling it as a product under your brand you'll have to contend with the possibility that someone else is buying the same merchandise as you and also selling it on Etsy. You can either try to compete with them by entering into a price war, or offer product options and after-sales services to veer away from being too similar. 
One more thing you need to consider is your business model. Etsy has a fairly modifiable platform that accommodates different selling styles. You'll need to think about how you intend to deliver on the products you're placing up for sale. 
If you're an antique seller or a jeweler who makes unique, individual pieces at home that will not be replicated again, that's fine. Just put a listing for each item and once it's sold the listing will be taken down from your shop. 
For multiple pieces of the same design, however, you'll need to think about how you want to do this. Consider how you're supplying these pieces- are you making each one on an order basis? Do you have an existing inventory of 50 opal rings in different sizes? Turnaround time should be stated loud and clear in the product description based on how the item will be produced. 
Step 3: Differentiate Your Jewelry Shop With The Help Of a Vendor

You may be thinking- "What? I just started, isn't it better for me to keep all my operations internal so I have better control over my business?"
That will work for the first few weeks or months of your business, but if you want it to be lucrative you're going to have to play the big long-term game. Running a business is rarely a straightforward path to profit- you may peak in the beginning as you gain steam, and then drop because you don't have the capabilities to advance. Whether it's an inability to meet customer demand, a dying interest in your products because new competitors have arrived on the scene, or just overall exhaustion from the daily grind of keeping this whole thing afloat, you're going to need a little help on the side if you want to be a successful Etsy jeweler. 
Here's how using a wholesale jewelry repair vendor can help you set your shop apart from the rest:
The Artisan + External Vendor
People who make jewelry vary wildly across the board in terms of skill and experience. You may be someone who buys findings to assemble at home. You may be a bench jeweler, with soldering and polishing equipment at home. You may be an expert at lost wax carving and casting. Regardless, you're still one person, and if people are showing interest in your business, it's in your best interest to speed up manufacturing and compensate for the things you can't do.

As an example, let's picture you as an artisan. You're a findings person; you love getting tinkly gold chains and putting them together to make loop earrings and multi-strand necklaces. You have an idea about setting gemstones and adding them to your designs, but you have zero experience when it comes to stone sourcing, cutting, and setting. In addition, you don't have soldering equipment, and you've received a troubling amount of returns from your clients because the jump rings in your jewelry have unsoldered gaps, causing the pieces to fall apart. You go online, find a jewelry service and repair facility that provides you with wholesale pricing (designed to accommodate your business needs) and start sending your jewelry to them for finishing and stone sourcing. In a few weeks, the number of returns dwindle to nothing, and you have lots of sales thanks to your new garnet and amethyst station necklaces. 

You go above and beyond, however. After a few phone calls with your newfound vendor you find out that not only can they do metalwork and stone sourcing, but also engraving and custom creation via 3D printing. You modify your Etsy shop listing to provide engraving as an option for your bar necklaces, conveniently one-upping other shops who are selling similar but non-customizable designs. In your policy section on Etsy, you include a line about providing after sales service and repair warranties for your products, giving your customers additional peace of mind.

While this example is hypothetical, this is an extremely common scenario in the Etsy world. Etsy sellers will send work in for stone setting, soldering, and ring sizing if they don't have the ability to do so at their own bench. Having an external vendor as an artisan or independent designer doesn't just give your business a boost- it elevates it to an entirely different playing ground. Again, keep in mind that you're in the most saturated market on Etsy. Anything you can do to stand apart from the other jewelers is a plus in the long run.
The Antique Seller + External Vendor
To sell antique, vintage, and estate jewelry on Etsy is quite different from being an artisan. As stated before, your product is already unique piece by piece, but you shouldn't rely on that alone to sell. Antique and vintage jewelry comes in all forms, such as damaged bands, loose or scratched stones, and worn-down or non-existent prongs…the list can go on and on for antique jewelry repair. While you can definitely cover yourself by writing a disclaimer in the product description, do you really want to risk the possibility of an irate customer leaving a 1-star review because the stone dropped out?

This is the reason why experienced antique sellers will invest in their pieces. With an external vendor, the jewelry can be cleaned, repaired, and even improved on by trading out broken gems or stones of lesser value (glass or paste, for instance) with genuine gemstones. You can even make additional profit by converting jewelry like brooches and hatpins into a more sellable format, such as a pendant or a ring. This will allow you to justify higher pricing for the piece, and it will help you differentiate yourself from the other antique sellers who put up their products as-is.

There are other product offerings you need to consider when selling antique jewelry, especially rings. The current market on Etsy loves the romantic trend of antique engagement rings, and that's an audience you should cater towards. Keeping that in mind, your vendor should be able to do engraving and ring resizing so you can offer those in your listings. You shouldn't stop there, of course. Again, antiques are always going to be fragile since they're old and secondhand items, so you want to assure your customers that they're covered by a warranty if they need to get something repaired. With the vendor augmenting your business via these services, you'll be a fully-fledged antique seller.
The Brand + External Vendor
If you're marketing yourself as a brand on Etsy while buying mass-produced jewelry from overseas, you're playing a tricky game. On one hand, you're saving money and headache by having a readily available stock that's cost-effective. On the other hand, you run the risk of competing with hundreds of other Etsy sellers who bought from the same manufacturer and are selling the same goods as you…under their own brand.

So how do you differentiate? How do you close those sales and stand out if you're deciding to be a brand? A wholesale jewelry repairs and services vendor can help with that.

Let's say this batch of sterling silver rings you got from overseas all come in size 6. That's great for the customers who are a size 6, but you're losing all of the other potential clients who aren't size 6. Add ring resizing to your product listing and increase the additional charge per size up to add a little cash and push them to purchase. After that, it's just a matter of letting them know in the product description that there's a bit of turnaround time for sizing, and send the rings off to your repairs provider.

Engraving and plating are two other things we recommend for jewelry brands on Etsy. It's the age of customization and personalization, so giving customers that option and tacking on extra charges for it brings in more money. If by default your stock is all silver, add a gold-plating option, or even a rose-gold plating option. The more you can add to your product offering, the better your business will be in comparison to everyone else who has the same merchandise as you. This is because Etsy shoppers browse…a lot.

The way the market is set up, users can easily do price comparison and find similar items as they're viewing your product. You really can't afford to just keep pricing lower- at some point you're going to find yourself in the negatives in terms of profit, so the only way to compete is to give that extra oomph that others aren't providing.

One more thing we advise for brands to do- as you grow, consider a 50/50 model. There's only so much you can do at some point with mass manufactured designs that aren't unique to your business, even if you're technically selling them under your name at Etsy and marketing it as your stuff to customers. Enhance your line-up by pairing with a vendor who can either offer custom creation dependent on your client's requests, or start manufacturing your own designs with the vendor. At the same time, keep a portion of your shop dedicated to the mass production stock for some easy money, and build out your new offerings to snag those jaded veteran Etsy users who have seen it all and will be cynical of your basic products. With that, you'll be able to capture two audiences; the Etsy newbies who aren't familiar with your regular stock but like your customization options, and those super shoppers who are looking for unique designs.
Running a business, regardless of whether it's jewelry or not, is a complex yet deeply rewarding job. By determining what type of Etsy seller you are, understanding the Etsy market, and successfully differentiating yourself from the competition, you'll be fully equipped to take your Etsy shop to the next level. Given this, we hope that you're a little more knowledgeable about the Etsy landscape! Comment below and tell us a little more about your business- what kind of Etsy seller do you identify as?