5 Unique Ways to Showcase and Display Your Jewelry
Written by Krystyn Lambert
January 28, 2021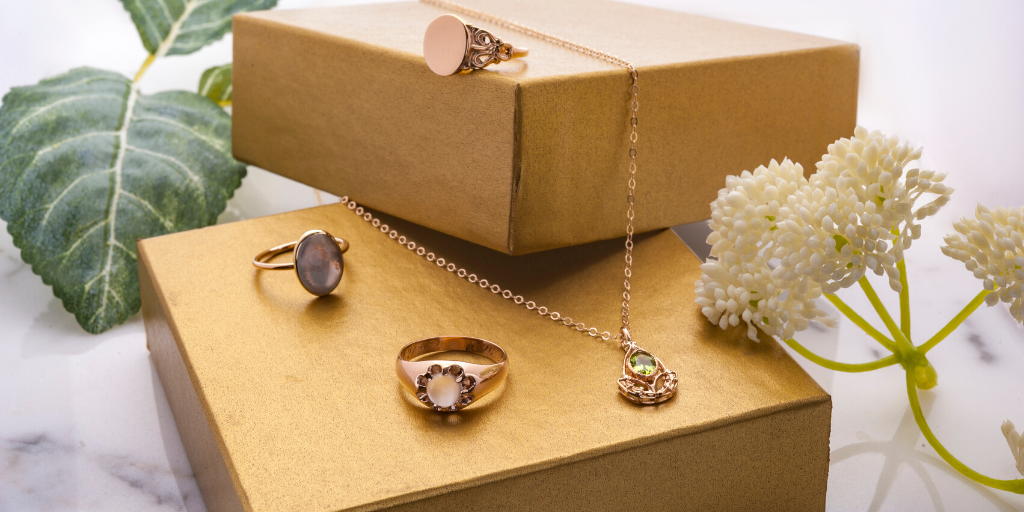 Is your jewelry sitting in a cluttered mess on your bathroom counter? Is it all tangled and hard to access? It's the start of a new year, which is a perfect time to make your collection organized in a gorgeous and inviting display. Here are five inspiring ways to make the most out of what you have:
1. Hang necklaces on the wall in decorative picture frames.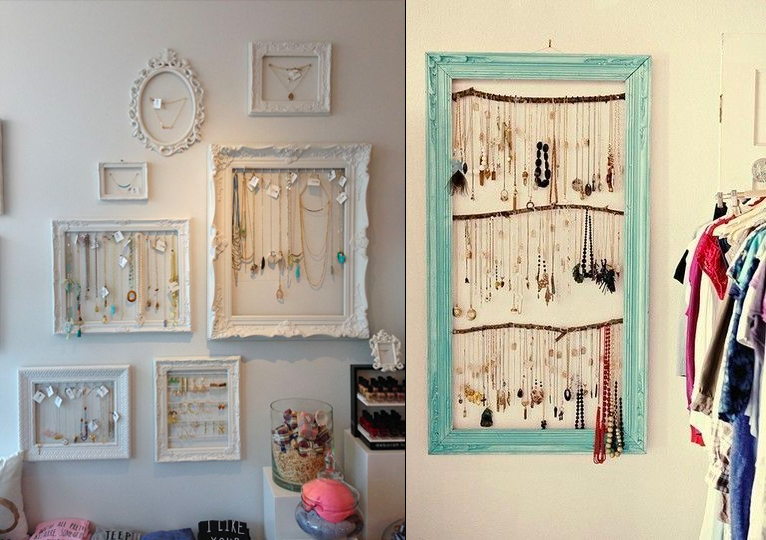 You have beautiful necklaces, so why not show them off on the wall like the pieces of art that they are? Take the backing and glass out of an ornate or metallic picture frame, hang it on the wall, and then add nails within the frame to hang your necklaces on. Bonus: thread pretty beads onto the nails and glue them at the head for added flair. 
2. Place your favorites on a mirror on your vanity or countertop.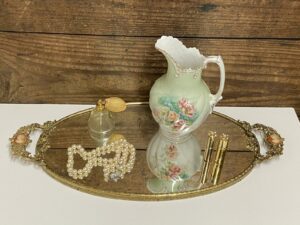 Mirrored displays first became popular in the Victorian era; why not borrow a bit of their lavishness? This is one of the more aesthetically luxurious ways to display your everyday wears, and it creates an air of opulence when you put them on each morning. There's no need to go hog-wild on spending. Try repurposing a small wall or hand mirror. Crunched for space? Opt for one just big enough for a special ring or set of earrings. Better yet, clean them up, and let them shine! The goal is to not overcrowd it to foster the feeling of open space and grandeur. 
3. Put your bracelets on pretty, colored bottles.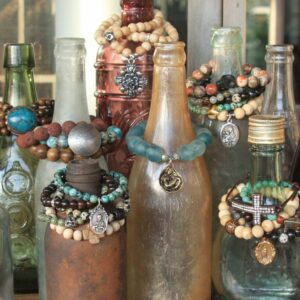 Bracelets can be one of the more challenging things to organize. They're either too bulky or too delicate to go on at the bottom of a necklace tree and can often take up a lot of space. Instead of jamming them into a drawer where you can easily forget what you own, try elevating them on your counter with an attractive bottle. Blue is an enticing color to whet your style appetite. This way you can see what you're working with on a daily basis and create the perfect stack for your outfit accordingly. Bonus: place craft wires into an open bottle, and bend them into loops on the top end to hang necklaces. 
4. Line your drawer with ornamental material to make your collection pop.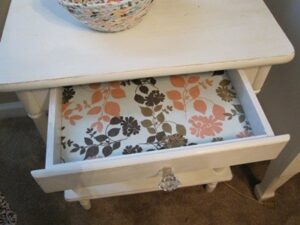 It should be exciting and easy to wear your jewelry; not a drag because it's hard to find things. If you can only openly exhibit key pieces, and thus have to keep the rest of your collection in a drawer, be sure to line it with a striking and non-skid material so that your pieces stay separate and don't get tangled or lost. Try a fluffy white towel if you can't make it to the fabric store. The main thing is that it ought to be fun to admire your treasures, so be sure to organize on the cloth appropriately. This can also be a great way to be sure you don't lose earrings! Simply attach them to the fabric, and you'll always know where to find them.
5. Find a jewelry box that truly suits your needs.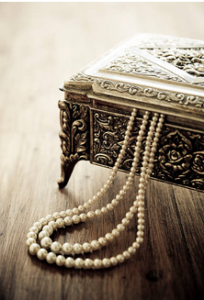 Jewelry boxes can very quickly get out of control if you don't regularly tend to them to keep them arranged properly. It's worth it to invest the time to find the right one for you. Perhaps you just need a few different sized sections and ring pillows, or maybe you need something more comprehensive. In this day and age, there's a box to suit every need. Take the time to scour Etsy, eBay, or the Container Store, and explore the compartments to make sure it will work for your collection. Think about how often you wear each piece you own, so you can maximize the accessibility of what you use most regularly. 
There are countless ways to get creative when you want to display your jewelry collection or show off that perfect piece. Leave a comment with the option you're eager to try, and if you come up with a new method, sound off below!