4 Ways Our Clients Remembered Loved Ones via Jewelry Restoration
Written by Annabelle
November 27, 2019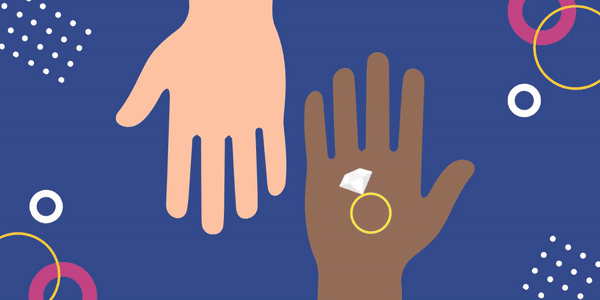 Jewelry is extremely precious, not just for its materials, but also for its significant sentimental value. Over the years, we've heard from a lot of our clients about their pieces, and many of them wear jewelry to commemorate a loved one. Of course, these items have been lovingly worn and show signs of wear and tear, so it's our job to get them back into shape. Read on to learn more about what our clients do with our jewelry restoration services.
Stone Replacement and Setting
This particular client had a retro white gold ring with an empty setting that belonged to her deceased mother. As the diamond had fallen out a long time ago, our client purchased a unique pink garnet with special significance to her, and asked us to set it for her. She needed it in time for her niece's upcoming wedding, so our setter speedily opened the bezel setting to securely set the pink garnet. Once he was finished, our jewelers gave the piece our standard jewelry restoration polishing and rhodium plating to restore the white gold to its original, silvery-white look. We then shipped it off to her within a day, so that she would receive it on time for the wedding.
Custom Chain Extension
Our client Aileen contacted us a few months back with a very unique request; she needed someone to extend the length of a thick gold chain for her son. We were more than happy to walk her through the custom creation process, and immediately started on the project for the necklace. First, we created a CAD, or 3D computer design to recreate the unique links of her necklace. After we received Aileen's approval, we cast the links in 14k yellow gold and carefully cut open the original necklace to attach the new links. Once the necklace was lengthened, we brought the whole piece to a high polish and shipped it off to her.
Aileen was ecstatic once she received it. The length was perfect for her son, and she was more than happy to share the origins of the necklace with us. The piece initially belonged to her mother, and after she passed away Aileen and her siblings divided their mother's belongings among themselves. With three sons, Aileen was wondering how she would pass on her mother's jewelry, until her son asked for a Cuban chain necklace for his birthday. Aileen showed him his grandmother's necklace and he liked it, but it was too short for his neck. After that, Aileen reached out to us to have it extended with custom casting, and fully refurbished with our jewelry restoration process.
"I wanted to just circle back and let you know how THRILLED we are with the work your group did. I am just amazed. The necklace looks brand new, and at least three people examined the chain and we could not figure out which links were new and which ones were old. Basically, the entire necklace (which was probably at least 30 years old) looks brand new!

The necklace was for my son, and I wanted to share with you some of the texts he sent to me when it arrived (I was at work):

Him: "Mom, the necklace came! It's so beautiful (heart eyes emoji).

Me: how's the length?

Him: It's literally perfect! You have got to see it!

Me: I'm so glad you are happy with it. It means a lot to me for you to have it since it was Grandma's

Him: of course, I love it. Best present ever (heart emoji).

Thank you again for everything. It was a big investment for us but well worth it! We are so thrilled with the necklace and amazed that you could replicate the links so precisely. Thank you to everyone for their hard work. We are very pleased customers! – Aileen"
Jewelry Conversion and Creation
When our client Carla sent in her items to us, we were puzzled. In her package were two dusty looking rhinestones, and Carla wanted them to be converted into earrings. After jumping on a phone call with her, we were astonished- the rhinestones were actually her great-grandmother Eulalie's buttons. This complicated the procedure; the stones were set in an unknown metal, and we were concerned about the rhinestones burning as they appeared to be very old glass or early plastic. With Carla, we decided that the best course of action would be to recreate the lacy settings in 14k white gold, and unset, clean, and reset the new stones in the new settings.
Once Carla gave us her approval, we proceeded to make a CAD for production. The settings were cast and assembled with white gold leverbacks to make the earrings drop-style. The rhinestones were removed from their original settings very carefully, as their age made them brittle and susceptible to damage, and cleaned off before we reset them into the new earrings. Carla was astounded by the difference; the dusty looking bits were now sparkling, clean white earrings.
"I could not have been more pleased to have found Quick Jewelry Repairs. Quick Jewelry turned my French great grandmother's vintage buttons into beautiful earrings. They even replicated the original metal setting with white gold. Thank you Quick Jewelry Repairs—great grandmother Eulalie would approve!"
Ring Resizing
There's nothing we love more than hearing about engagement stories, and we especially love it when our clients plan to propose with a sentimental heirloom that was passed down in the family. Our client Donald decided to reuse his grandmother's engagement ring to ask the big question, but it was too small for his beloved. After some research, he sent the ring over to us for resizing, along with another ring that fit his girlfriend's finger for size reference.
Once we received Donald's ring, we immediately noticed that the back of the ring was very thin and fragile. Our jeweler immediately recommended a half-shank replacement to cut off the back and insert a new, thicker piece of gold to strengthen the structure of the ring. Donald gave us his permission to proceed with the work, and we carefully snipped off the thin shank to replace it with a stronger one at the correct ring size. Then we gave the piece a good polishing, and touched up the details with rhodium plating. Needless to say, Donald and his fiance were overjoyed after they received the ring, which looked beautiful after all the jewelry restoration work.
Hopefully we've got you thinking of ways to work on some pieces belonging to dear ones. Whether it's a ring, necklace, earring, brooch, bracelet, or watch, we can work with you to get it back into perfect condition with our jewelry restoration and custom creation services. If you have something you want to work on, contact us by leaving a comment below.