Top Jewelry Highlights from 2019
Written by Annabelle
January 10, 2020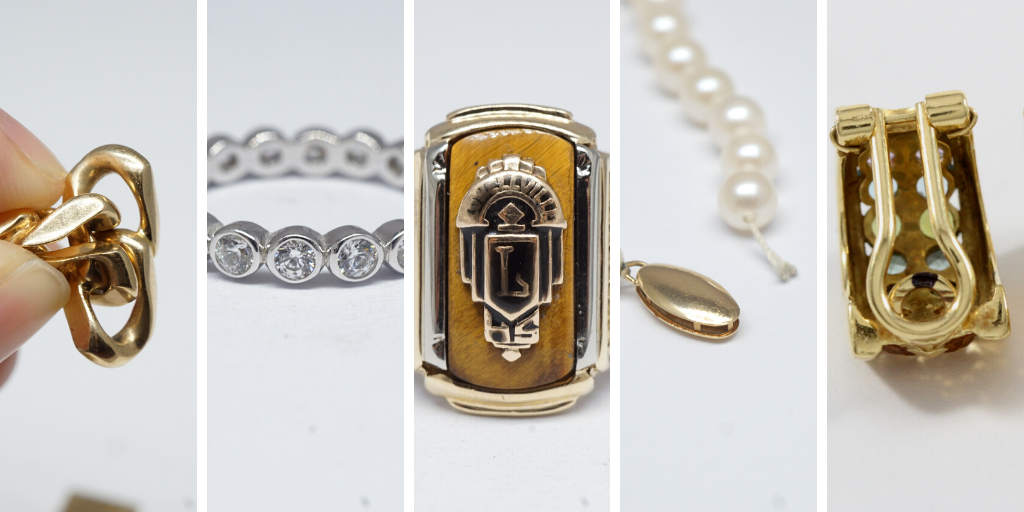 Now that we've officially entered the new decade, we're taking some time to reflect on the past year. Specifically, we're looking back at some of the most popular styles that you sent to us in 2019! From class rings to clip-on earrings, here are the top jewelry highlights from the last year.
Class Rings
Everyone's got school pride, and class rings are the best way to show it. This year we sized and repaired a wide variety of class rings ranging from modern, sleek stainless steel pieces to vintage gold school rings. The complexity of these designs require a lot of work, including stone polishing, custom stone cutting and replacement, enameling, polishing, and sizing. One client needed a class ring restoration for her mother's Christmas present that involved shank repair, engraving, enameling, polishing, and stone polishing!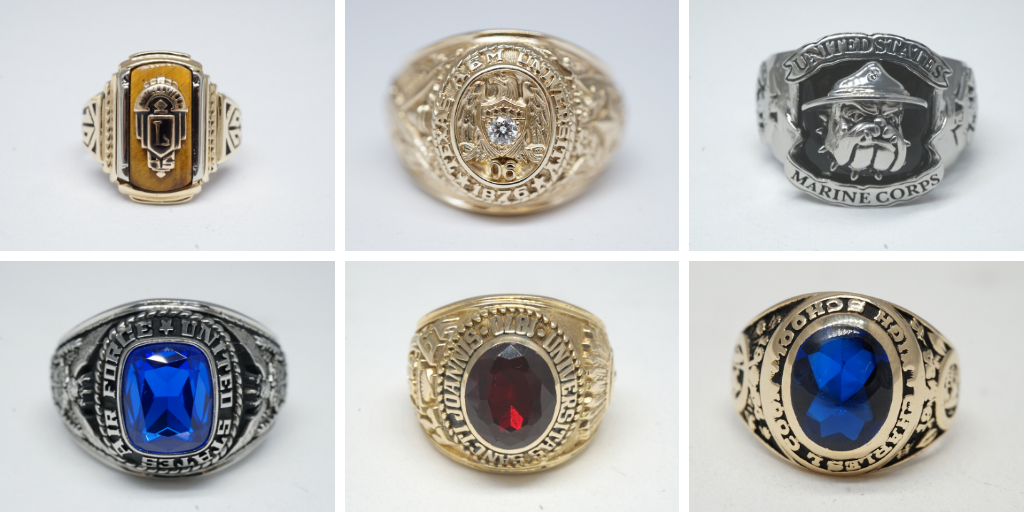 Featured Service: Class Ring Resizing
We were delighted to see how many people took advantage of our stainless steel capabilities to get their class rings sized! Lots of class rings are made out of stainless steel, which cannot be worked on by regular jewelers due to the high heat and special equipment required. Our facilities include specialized stainless steel machinery, which is capable of cutting open, polishing, and heating stainless steel to a malleable state.
Chain Necklaces
Whether it's long chunky Cuban chains or delicate gold rope chains, we've been soldering, modifying, plating, and even custom making a lot of these beauties this year! Get your favorite neck bling jazzed up for the new decade with a quick polishing or shortening, or even a dip of rich yellow gold. If you're feeling especially extravagant, jump on the train with our client Aileen and get your very own solid gold curb chain with our custom CAD creation service.
Featured Service: Gold Plating
Gold plating chains can be quite a complex procedure! Not all chains are created equal and certain metals don't take to the gold plating as easily as sterling silver. Our facility is experienced with handling costume jewelry metals such as brass, copper, and bronze, which need a special coating of nickel or palladium before the gold plating is applied. This particular chain had a lot of sentimental value to our client, and was plated after it was recovered from the ocean.
Sparkly Bands
Thin little bands have been coming in and out of our facility all year round for a variety of things. We've been replacing lost stones, sizing, plating, polishing and cleaning, and even custom engraving all these lovely little stacking rings. One of the sweetest ones we worked on this year was this little sterling silver eternity band that was part of a set; we sized it down by removing exactly one stone.
Featured Service: Custom Engraving
While most shops are limited to a certain selection of fonts, our high-precision engraving laser can be programmed to do custom fonts, images, and logos! One client even reached out to us to get a handwritten note transferred onto the back of their small rose gold and diamond ring. It was a bit tricky, as the original note was not written in a straight line, but a bit of Photoshop and we got the inscription to fit the allocated space.
Pearl Necklaces
Pearls have been back in style, and we expect to see more of them come in if people are going back to that Roaring Twenties vintage aesthetic. They can be fussy to take care of, however, and we've fixed more than our fair share of pearl necklaces this year. Whether it's just a simple restringing, a complex job with additional knots between each pearl for security, or even a full clasp replacement, we've done all of that for our clients in 2019.
Featured Service: Clasp Replacement
Pearl necklaces can be tricky to repair once the clasp is broken and/or missing. This year we've helped our clients replace a lot of them, from finding an exact duplicate of the original, or converting to an easier mechanism for clients with arthritis in their hands. From lobster clasps, box clasps, and toggle clasps, we've supplied them in all sizes and metals to match the customer's requirements.
Earrings
In 2019, clip on earrings became increasingly popular. They're great for people without pierced ears, and they offer extra security for those who like post earrings. We've been replacing and tightening hinges, fixing bent and broken components, and even converting earrings to clip-ons via custom creation for our clients! Take a look at this particular pair we made for a client in gold-plated sterling silver; the original design was stick post-only.
Lost Earring Duplication
One of our most popular services this year was earring duplication. It's easy to lose earrings, and many of our clients came to us to get a new earring recreated so they can have a full pair again! With our CAD/CAM service, we create a 3D design that is used to produce the final result via 3D printing. Take a look at this diamond beauty we remade for one of our clients.
The best thing we love about these jewelry highlights of 2019 is how classic these items are! Even if we're going into a new decade, class rings, sparkly stackers, and pearl necklaces will always be in style. If you're ready to start off 2020 with repairing or servicing some of your 2019 jewelry highlights, comment below and we'll help you out.