In This Week: T-Rex Fossil Meteorite Ring + Star Wars Custom Font Engraving
Written by Annabelle
October 5, 2018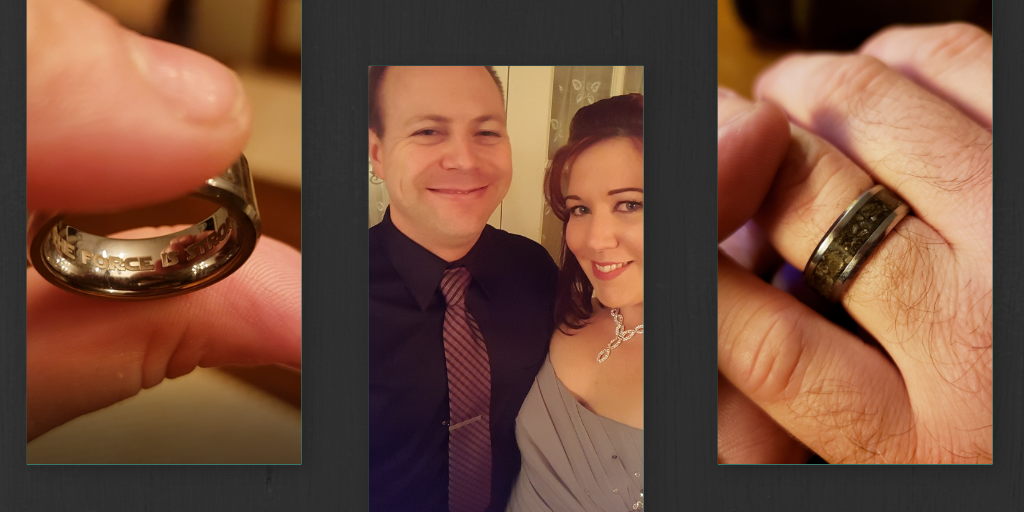 We're going to be honest with you guys- we love jewelry and repairing jewelry, but resizing and stone tightening don't usually make for exciting conversations after work. Engravings, on the other hand, (especially custom font ring engraving) are awesome. Whether it's something simple and sweet like a date, or a beautiful phrase like "Eternal Love," we always find ourselves wondering "What's the story behind this piece?" 
That question certainly came to mind when we received Amber's request. She sent in a very unique ring with an equally unique custom font engraving request; "The Force is Strong With Us" in Star Wars font.
It was an amazing coincidence, since New York Comic Con was just around the corner! We quickly got down to business and sent the newly engraved ring back to her in no time. After it left, however, we were still enamored with the custom font engraving and the ring back at the office (some of us here are huge Star Wars fans.)
So we contacted Amber to share her story with us, and this is what she told us:
"The inlay is T-Rex fossil and Nantan Meteorite. The engraving was inspired by a Valentine's day card that I got my fiance, David, years ago. He still keeps it on his desk at work. When I saw he still had it, I knew I needed to have the tag line engraved.

I purchased such a spectacular ring because we are a pretty "over-the-top" couple and I needed something to hold its own next to the 4.8 carat 152 stone ring he had made for me. I know that's a very vain reason, but I kept picturing the wedding photos of a dinky silver tone band next to this behemoth rock I have, and I knew his needed a story. I did research for days and days – down to what components were durable enough to be worn every day, but unique enough to garner attention.

I am ecstatic with the ring! The turnaround was fantastic, and the quality of the work is impressive. I'm happy to hear that everyone liked my idea!"
We were obviously blown away by her story. T-Rex fossil and meteorite inlay??! This had to be the coolest ring we had ever dealt with, and we're people who look at diamonds on a daily basis. We knew we had to share this with everyone immediately, so a big thank you goes to Amber for sending us her ring and giving us pictures of the finished product (along with a cute selfie with her fiance David.) We wish you two all the best!
At QJR, we love hearing from our customers about their treasured pieces. Be on the lookout for our special series called People Behind The Pieces where we feature our customers and their jewelry stories. If you or someone you know has an interesting jewelry story to share, hit us up!