How to Restructure Your Jewelry Repairs Operations for Top Efficiency
Written by Annabelle
June 9, 2020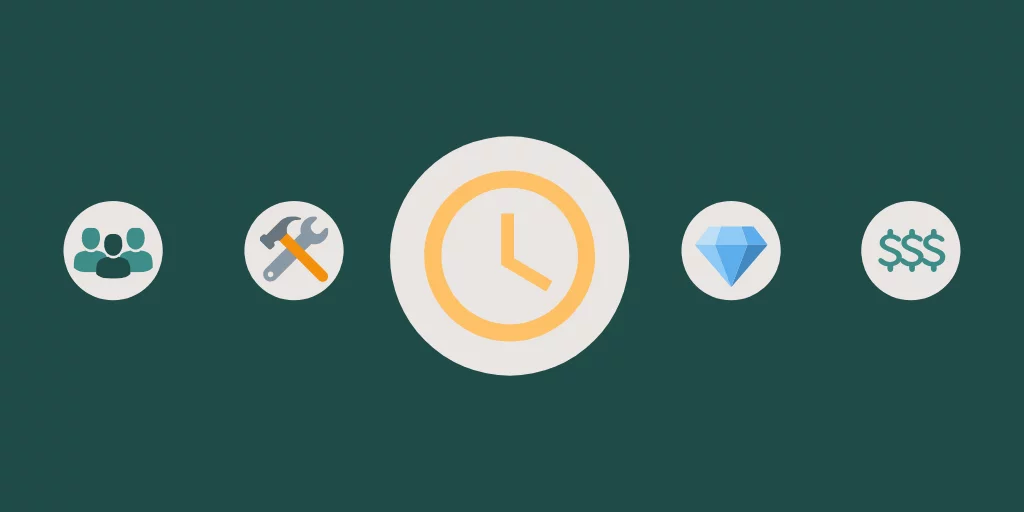 When working in any industry, it is important to understand exactly how the business runs, what the downfalls to the industry are, and how you can improve the efficiency to drive more revenue. This is the same when it comes to handling your repairs. This article depicts what your employees have to deal with when handling the repairs side of the business, and ways to rectify these problems with your jewelry repairs operations. 
What Your Current Business Could Be Dealing With
Paper Receipts
While it's good to have something in writing, paper receipts are incredibly old school and inefficient. Not only are they often illegible, but they aren't always the most up-to-date and searching for information becomes a nightmare. 
Having Multiple Vendors
This means that you have a different jeweler for a different part of the repair process i.e. setting, finishing, plating etc.  This is an important issue as it means that one of your team members has to take time out of their day to visit multiple different people, sometimes in different locations in order to get one item fully repaired. In addition, quality is inconsistent as you're dealing with multiple people.
Price
When dealing with the local jeweler or diamond district, everything becomes focused on price, and how low they can go for you, but this can result in reduced quality. It is important to understand what your balance is between budget and quality.
Time Management
It takes a lot of organization and patience to deal with vendors as they don't always have the pieces ready for you when they say they will. This delay and lack of transparency in your jewelry repairs operations puts a kink in the operations chain and can hurt customer experience. 
Work-Related Damages
Sometimes the jewelers will damage the piece or break the stone while working on it. This can cause issues of trust between you, the vendor, and your customers as you need to figure out how to rectify the situation.
Turnaround Time
When dealing with specialized vendors, it means that it will take one jeweler a X amount of time to do a certain job. Then you need to include time to get the piece to the next jeweler for him to work on and so on until the job is done. As this adds up, your turnaround time may be extended to a few weeks instead of a few days.
Shipping 
Shipping affects both your turnaround time and costs. If you're sending your repairs to different vendors across the country or even internationally, this increases your price point and slows down your operations. Both of these factors can potentially deter customers and hurt your business.
Customer Intake
It can be pretty difficult to manage customer expectations for repairs as many jewelers don't have an easy check in system to see where the job is and the estimated completion date. Oftentimes, your employees have to call the jeweler themselves. This takes time out of their day, and the jeweler may not even pick up the phone! This could lead to a poor customer service experience and reduction in customer loyalty. 
How to Make Your Jewelry Repair Operations More Effective and Efficient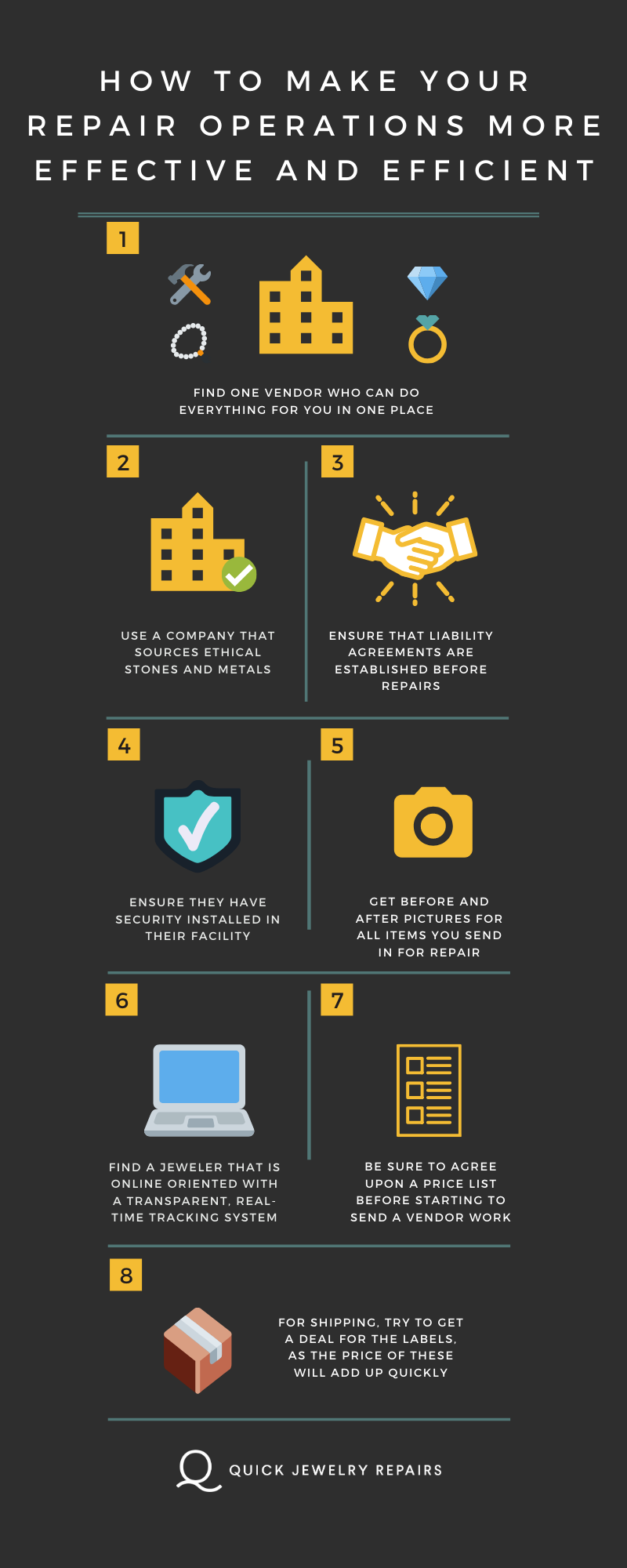 Find one vendor who can do everything for you in one place. It takes less hassle, less time out of your team's day and allows them to get on with other ways to bring in money. 

Preferably use a company that is certified by an organization or recognized institution for sourcing ethical stones and metals. By using a company that is for example RJC compliant, it will be a benefit you can promote to your customers. 

Make sure that when you enter upon the agreement with a repair house that they will fix anything that gets damaged under their supervision and notify you in advance if they anticipate issues with a particular repair.

Ensure they have security installed in their facility, including camera surveillance, security guards, and secure vaults. 

Find a repair house that provides before and after photos of each of the items that enter their facility. This will provide evidence and peace of mind to both you, the client, and the vendor. 

Find a jeweler that is online oriented with a transparent, real-time tracking system. This will keep all the notes, before and after photos, prices, current status for every repair and comments on the work done in one place for everyone to see. This will be helpful in the long run as they can simply invoice you at the end of every month, with both parties knowing exactly what it is that they are invoicing you for. Your shop employees will also have access to the online tracking system, which will be able to provide your customers with up to date information on when to expect their items back or even with general update questions. 

Be sure to agree upon a price list before starting to send a vendor work. Once you have a confirmed price list, it is easy to monitor budgets, rather than waiting for estimations for each piece.

For shipping, try to get a deal for the labels, as the price of these will add up quickly. You can also try consolidating your parcels so when the package is divided between the different items being sent to repair, it doesn't come to that much per piece. 
International Repairs
Some companies will ship their unfinished products to different countries and companies. This  automatically becomes a 4-6 weeks turnaround time, as well as a customs headache as you need to fill it out each time the product needs to see the next part of the process.  For example, a company may source their stones in India, their gold from Korea, their silver from Thailand and then have it manufactured in China and shipped back to the US. This is difficult to manage and hard to make sure that the quality is up to standard.
 With today's economy, try and find a local business to support. Companies based in the US would be grateful to see the business and companies like QJR have a high standard of quality that we adhere to. In addition, you can advertise your products as "Made in the USA!"
So go online and research who can tick every box that you need to make your jewelry repairs operations efficient! 
P.S. If you need a helpful starting point- start by looking at our website, and click here to learn more!