A Quick Guide To Best Chains For Pendants
Written by Annabelle
May 21, 2020
If you've got a pendant and you're looking for a chain, you might want to think about what style of chain is the best for your needs in terms of aesthetic and durability. Here's a guide to the best chains for pendants
Pendants and Chains
Before you rush off to buy a chain, keep in mind that chains and pendants come in different shapes and sizes. Here are a few things you need to consider before you get a chain for your item.
Pendant Bail Size
The loop at the top of your pendant will restrict the width of the chain that you can wear the pendant on. Take a look at the pendant's bail and check how wide it is in millimeters.
If you don't mind modifying the pendant for a larger bail to accommodate a thicker chain, have a jeweler provide you with a larger bail for the desired width that you need.
Pendant Weight
Some chains are fragile in construction and do not take weight well. If you have a particularly weighty pendant, consider a chain style that can take the weight of your item, as other chain styles such as rope chains, ball chains, and snake chains might stretch out or snap. 
Best and Worst Chains for Pendants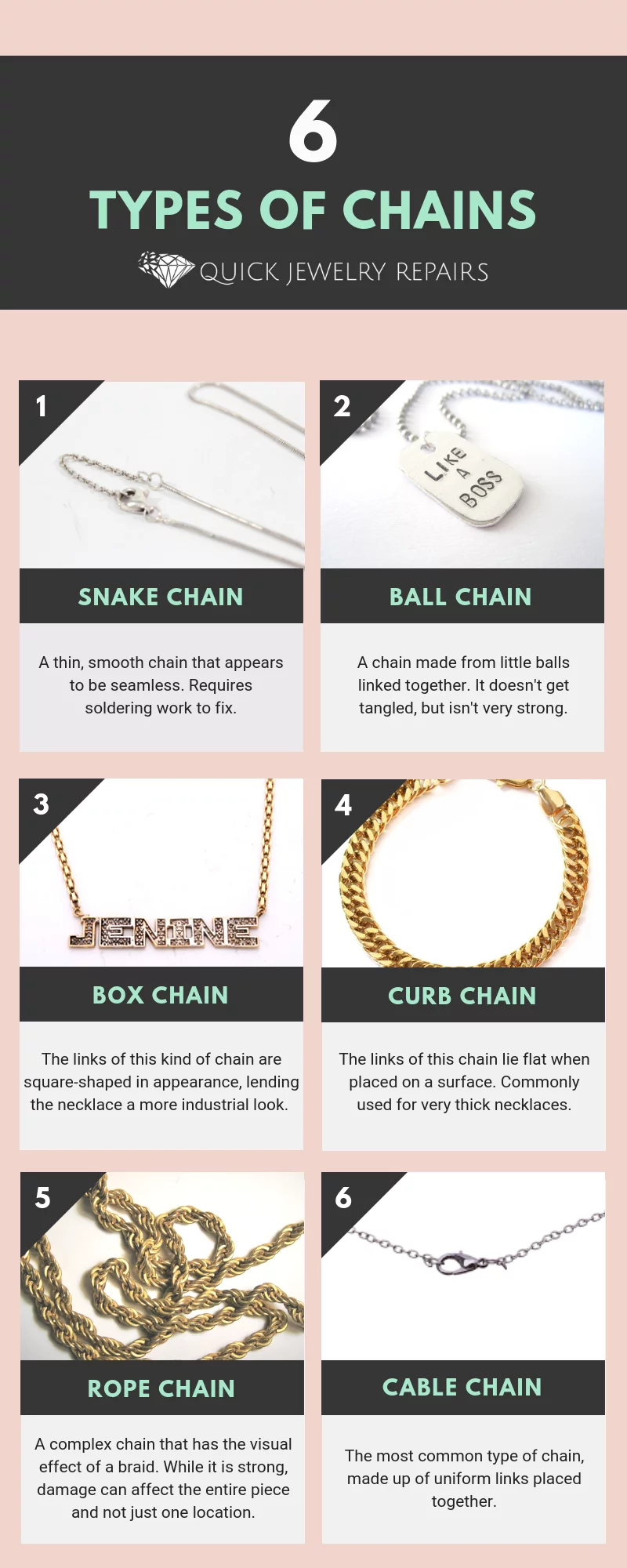 Cable chains, box chains, curb chains, figaro chains, and wheat chains are all great chain styles to consider for pendants. Again, adjust the width accordingly if you decide to wear these chains with a heavier pendant for extra durability. 
Patterned or woven chains such as herringbone chains, rope chains, ball chains, and snake chains are not ideal for pendant wearing. Herringbones are notoriously delicate and will immediately kink or snag at the slightest touch, while hollow rope chains cannot withstand significant weight. Once they snap, they're never the same again in terms of integrity, and they will continue to break at the previous area with enough pressure. 
Snake chains can handle some light pendants, but heavier pendants will eventually stretch out and snap the chain. They can be repaired, but there will be a noticeable area at the location of repair. 
Putting a Pendant On a Chain
Sometimes even with the correct chain width it can be difficult to put a pendant onto a chain. The jump ring at the end of the chain may be too wide to go through the pendant bail, or you want the pendant to be fixed in place on the necklace. Ask a jeweler to assist you with placing the pendant onto the chain and ensuring that it's securely attached.
Now you're up to date on the best chains for pendants! If you need help with a chain, pendant, or bail, or even a chain replacement, comment below and we can help you get started.