5 Hoop Earring Styles To Consider For 2020
Written by Annabelle
April 15, 2020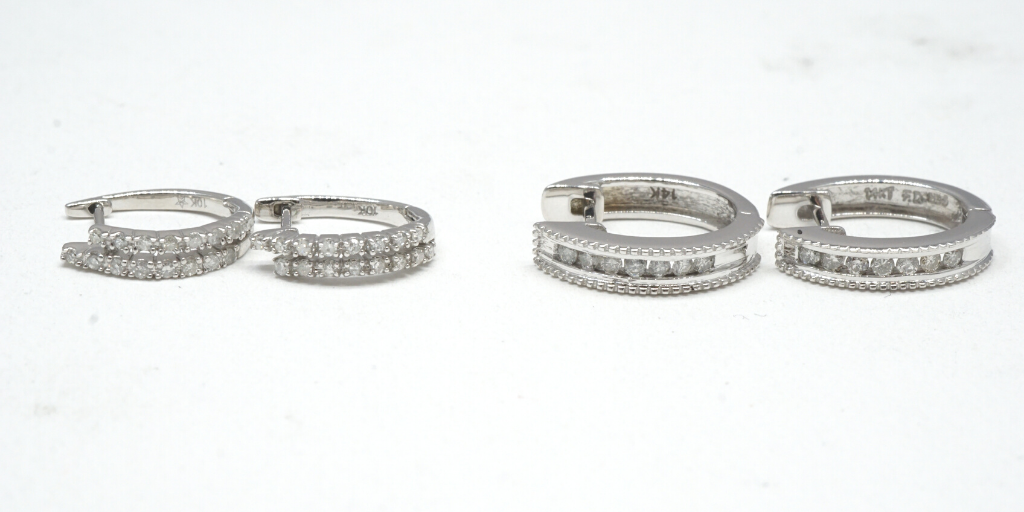 Looking to loop into the hoop craze this year? From cute and subtle huggies to statement making pieces, we have a few suggestions for you to consider before you plunk down your money. Read on to learn more about 5 hoop earring styles for 2020.
5 Hoop Earring Styles
Huggie Hoops
Needless to say, these tiny hoops can be classic and elegant or peppy and fun! Most huggies measure at 7-10mm, and depending on how you want to wear them you can have a bit of space between the hoop and your earlobe or get something that's flush. If you want a close fit, you can measure the distance between your piercing and the edge of your ear to get an approximation. Look to simple plain gold huggies, or get pave-set stones with either diamonds or even rainbow colored patterns for a summery aesthetic. 
Good Old Gold
Stone-less gold hoops have a charm all their own, because they're simple and showcase the ageless beauty of the metal. Creative designers are now coming up with eye-catching designs such as braids, diamond-cut patterns, and two-tone aesthetics to focus on the material, but you can still opt for a classic plain pair of gold hoops. Experiment with different sizes for different looks!
Dangly Charm Hoops
If there's one thing we love, it's charms! Whether it's a simple jewel or a complex design, dangling charms from your hoops create a nice, noticeable touch. Try for something pretty and celestial like a north star motif, or go "rock" with a raw crystal like an amethyst or clear quartz. These charm hoops come in all different shapes and sizes, so you're bound to find something that will fit in with your aesthetic. 
Resin Hoops
It's retro, but with a 2020 facelift! Resin has become a popular material these days for its ability to make unique patterns and styles that nothing else can. Try out a marbled pair of resin hoops, or opt for a geometric, flattened hoop that makes a bold statement when viewed from the side. The best thing about these hoops is that they come in a variety of colors, so you can collect a whole bunch to pair with your wardrobe!
Pearl Hoops
We love pearl hoops, and with good reason! This style combines the top two jewelry trends of 2020 into one. From dainty, seed pearl studded huggies to large, baroque pearl hoops, the gems of the sea mesh incredibly well with this type of earring. For something new, try looking up colored pearls and put your own twist on this hoop earring style.
Now you're up to date on 5 hoop earring styles to consider wearing in 2020! While we're in love with the huggies and pearl hoops, everyone has their own sense of style. What tickles your fancy? Let us know in the comments below!