Special Occasion Jewelry: How to Accessorize for Weddings, Graduations, and More
Written by Anna Currell
May 26, 2023
Half of the fun of attending a special event is getting dressed. When it comes to dressing up for big occasions, choosing the right jewelry is just as important (and fun!) as picking the perfect outfit. The right jewelry can complement your ensemble and elevate your look, making you feel confident and stylish. But with so many types of special occasion jewelry available, and all the different dress codes to navigate, it can be overwhelming to know what to wear and when. In this article, we'll explore the best ways to accessorize for different kinds of events and how to pick the right special occasion jewelry for all your upcoming celebrations.
A Quick Note on Dress Codes
Keep in mind that while dress codes are a helpful way to ensure you show up wearing the appropriate style for the occasion, they aren't always strict or rigid. Sometimes you really should follow a dress code to the letter (like at the office or a formal event), but other times, it's okay to honor the spirit of the event. Don't let a dress code stress you out or overwhelm you; instead, consider it a guideline and then dress in the way that feels true to you within those boundaries. 
Weddings
Do you have a wedding coming up? You might be looking for the right accessories to wear with your wedding guest attire. The jewelry you wear can vary based on the dress code — and there are plenty of dress codes these days! Depending on what kind of wedding you're attending, here are some tips to help you choose the perfect special occasion jewelry:
Casual or Beach Wedding
For a casual or beach wedding, less is more; wear simple, lightweight jewelry that won't weigh you down or overheat you. Opt for delicate stud earrings, a pendant necklace, or a dainty bracelet. For a beach wedding, you could even choose a simple anklet. No need to wear your best diamonds for these kinds of weddings — you wouldn't want to upstage the happy couple, and you definitely don't want to lose precious pieces in the sand. Instead, choose jewelry that is understated and comfortable to wear. 
Semi-Formal or Cocktail Attire Wedding
If the dress code is semi-formal or cocktail attire, you have an opportunity to dress up your outfit by wearing more formal, fancy jewelry. You can wear statement earrings, a bold necklace, or a striking bracelet; a great approach is to plan your accessories around your outfit. Pair a collar necklace with a strapless dress, or choose some (not too noisy) bangles to accentuate something sleeveless. It's a good idea to match the tone of your jewelry and your outfit — think a step above casual dress, and a step below fully formal attire.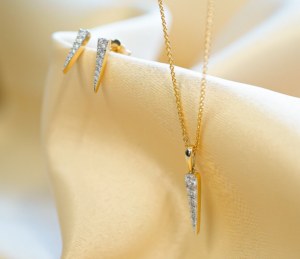 Formal or Black Tie Wedding
Formal or black tie weddings are your chance to wear your fanciest accessories. Choose elegant and sophisticated jewelry that you don't get to show off everyday. Diamonds, pearls, or other precious stones are a great choice for these kinds of occasions. Consider chandelier earrings, a gemstone necklace, or a tennis bracelet. Keep in mind that your jewelry should be elegant, but not too flashy; you don't want to draw attention from the couple on their big day.
Graduations
Graduations also may require dressing up, and the jewelry you wear can vary depending on the dress code. The same basic premise applies: make sure to check if there's a dress code before picking your pieces. Here are some tips to help you choose the perfect jewelry for graduations:
High School Graduation
For a high school graduation, your best approach is to wear simple and elegant jewelry. Opt for stud earrings, a delicate necklace, or a bracelet. While some high schools may have more formal traditions, many high school graduations expect relatively casual attire. Since most are during the spring and early summer, you can take inspiration from casual or beach wedding dress codes. 
College Graduation
For the most part, college graduations tend to be a bit more elevated and formal. If the dress code is semi-formal or formal, select jewelry to match. You can wear fun earrings, a pendant necklace, or a bold cocktail ring. However, keep in mind that your jewelry shouldn't overpower your outfit, and unless you're the one graduating, you probably don't want to be the center of attention.
And no matter the dress code or type of celebration, if you're the one graduating (congratulations!) be sure to avoid jewelry that will feel uncomfortable with your cap and gown or whatever else you're wearing to the event. Graduations often involve a lot of sitting and waiting, so you'll be glad you stopped to consider comfort.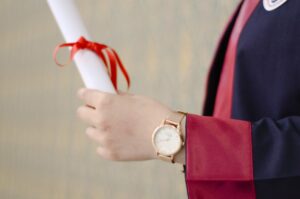 Other Special Occasions
Besides weddings and graduations, there are plenty of other special occasions that require dressing up, like proms, formal dinners, and holiday parties, just to name a few. Here are some tips to help you choose the perfect jewelry for these occasions:
Prom
Prom is a fun and exciting event, and it's a great opportunity to wear bold and glamorous jewelry. Have fun with the event's theme, or find jewelry that matches your outfit. Some schools have a more formal tone and some are more semi-formal, so as always, choose jewelry that suits the dress code. At the same time, your prom is a once-in-a-lifetime event, so remember to have fun and choose jewelry that really speaks to you; bold earrings, a chunky necklace, interesting bangles, or a fun stack of rings.  
Formal Dinners
For a formal dinner, it's a good idea to wear elegant, sophisticated jewelry. Follow formal wedding guidelines for this kind of event; you can wear shoulder-drop earrings or a gemstone pendant necklace for example. When in doubt, ask the host what's most appropriate. If the dinner you're attending is a work event, it's probably best to keep your jewelry simple and understated.  
Holiday Parties
Holiday parties are festive events, so you can choose jewelry that's more fun and playful. Opt for statement earrings, a themed necklace, or some festive bangles that fits the holiday vibe. You can choose to keep your jewelry simple if you're wearing a bold outfit, or dress up an understated outfit with fun, eye-catching jewelry. Go with pink and red beaded jewelry for a Valentine's Day event, skeleton earrings for Halloween, or all-emerald everything for a St. Patrick's Day party. 
Additional Accessorizing Tips
Choosing the right jewelry for special occasions will complete your outfit and elevate your overall look. Remember to respect the dress code, and keep in mind that your jewelry should complement your outfit and not overpower it. 
It's also important to consider the comfort factor when choosing jewelry for special occasions. You'll likely be wearing your jewelry for several hours, so make sure it's comfortable and not too heavy. Consider the type of metal or material used in the jewelry to ensure it won't cause any allergic reactions; there's nothing worse than feeling uncomfortable and distracted at a fun and memorable event.
Lastly, don't forget to have fun with your jewelry choices. Special occasions are a great opportunity to experiment with new styles and accessories that you don't get to wear every day, so don't be afraid to try something new and step out of your comfort zone. With these tips, you'll be able to choose the perfect jewelry for whatever special event you attend. Have fun with your special occasion jewelry choices, and be sure to get your pieces professionally cleaned and polished before the big day so they shine as brightly as you do.